The new trailer for Shazam! Fury of The Gods ignites the fury of a united family at San Diego Comic-Con in the most electrifyingly fun way possible.  Check it out below:
There's a good deal to unpack here.  First off, while I was skeptical of the much-publicized new suits for Shazam and his family upon first seeing them a few months ago, they look fine in motion and maintain the comic-bookish look and aesthetic that the DCEU has gone for.  Second, it's good to see the entire cast (barring Mark Strong's Thaddeus Sivana) back in full force here along with some brand new characters, action, and world-ending threats. 
The initial teaser from a few months ago saw the cast promising Fury of the Gods would be more of a spectacle, and while we don't get much time with the new villains played by Helen Mirren and Lucy Liu, it can be presumed that they'll cause plenty of destruction in their fight against the Shazam Family.
RELATED: WATCH THE INCREDIBLE SHAZAM: FURY OF THE GODS BEHIND-THE-SCENES VIDEO FROM DC FANDOME 2021 NOW!
It also seems that the main plot element here will be young Billy Batson finding his place in a world full of DC superheroes like Batman, Superman, and The Flash among others. 
As a large part of the appeal of the original Shazam! was that its hero was a young teen slowly realizing the responsibility that comes with such powers, it makes logical sense that he'd struggle with how he fits into a world with so many other caped crime fighters.  Of course, he'll have his foster family there to help him work through this as well as any more grounded teenage woes that come his way.  The heart of the original film was Billy bonding with his newfound family after all, and that heart appears to be present here amongst all the superhero shenanigans.
Where Shazam Goes Shenanigans follow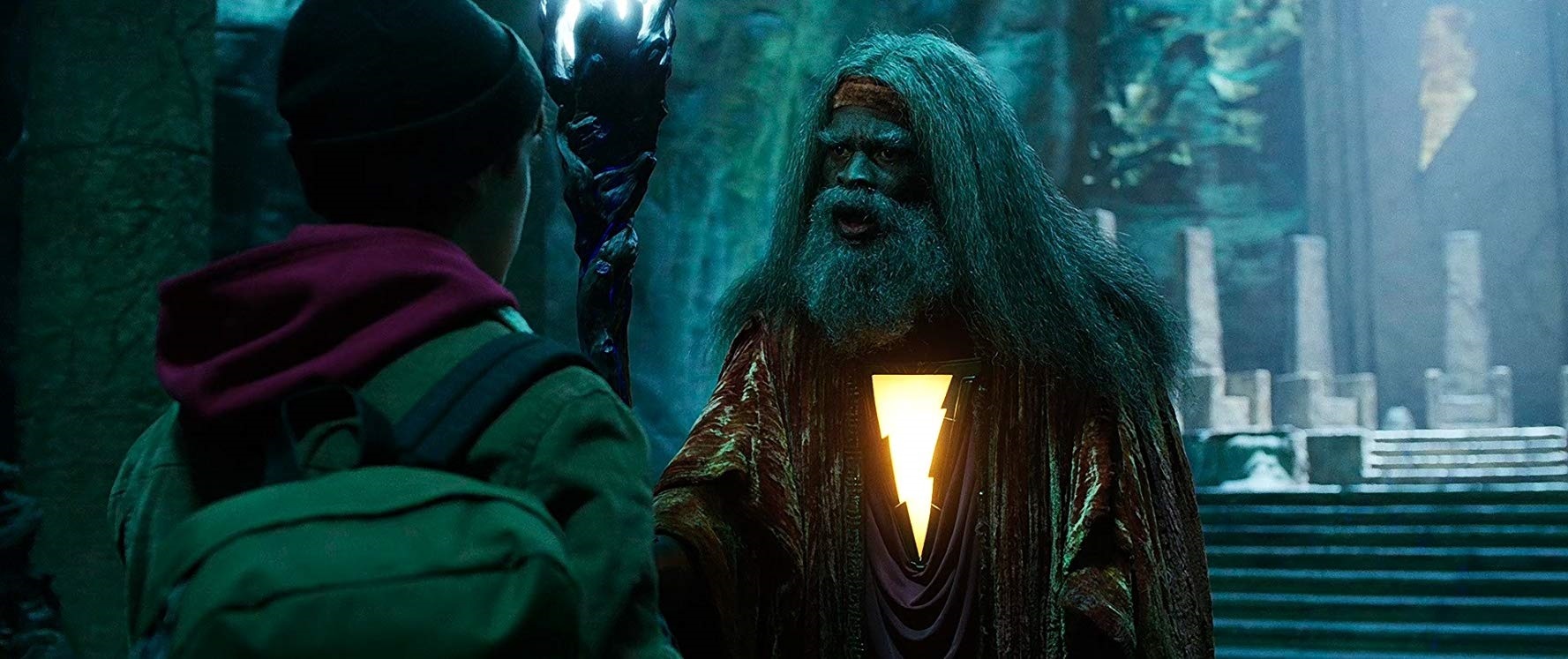 Speaking of said shenanigans, it seems as though Djimon Hounsou's Shazam is back this time as well.  As Billy tells us, he was the wizard that gifted our young hero his powers back in the original film shortly before dying.  He'll likely be back to help explain the presence of Helen Mirren's Hespera and Lucy Liu's Kalypso, but could also serve as a mentor figure for Billy and his family as well as maybe get in on more of the action this time. 
RELATED: WONDER WOMAN TO APPEAR IN SHAZAM! FURY OF THE GODS: EXCLUSIVE
The film is clearly leaning farther into its fantasy elements this time around than the original did, which could lend its heightened stakes a grander feel while still grounding itself in its characters.  It's also nice to see the comedy of the original film has been maintained here as well as Billy's youthfulness (my favorite line is his reaction to throwing a bus at a dragon), as a premise like this taken too seriously could undercut the fun of the enterprise. 
The original film knew just how seriously to take itself while still being mostly light-hearted and fun, and with David F. Sandberg returning to the director's chair, I have confidence the sequel will push its world farther while still emphasizing the elements that made audiences fall in love with it in the first place.  This is only an initial trailer, and with the film coming out in December of this year, we'll probably get another one in a few months with more details on what the overall plot will be.  We at The Iluminerdi will electrify you with more news on Shazam! Fury of the Gods as it becomes available.
What do you think of the trailer for Shazam! Fury of the Gods?  Are you excited to see more of the Shazam Family in action?  What did you think of the original film?  Let us know in the comments below and on our Twitter.
KEEP READING: MMPR/TMNT 2 COMIC-BOOK SERIES ANNOUNCED AT SDCC