Black Panther: Wakanda Forever is bringing the magical world of Wakanda back to the big screen later this year!
Marvel Studios is currently hosting their San Diego Comic-Con Hall H panel and, as usual, has revealed some massive new announcements.
RELATED: NEW SHE-HULK: ATTORNEY AT LAW SDCC TRAILER HAS LANDED AND IT'S A SMASH!
Kevin Feige revealed the final Phase 4 timeline, and Black Panther: Wakanda Forever will bring it to an end.
Black Panther: Wakanda Forever Cast at SDCC
Director Ryan Coogler opened with a tribute to Chadwick Boseman.
Following the tribute, the film's cast joined him on stage, and they officially welcomed newcomers Dominique Thorne and Tenoch Huerta as Riri Williams/Ironheart and Tenoch Huerta as Namor.
RELATED: PREY: COMANCHE DUB AVAILABLE ON RELEASE
Huerta addressed the crowd and spoke on the importance of inclusion and representation in Hollywood. Black Panther is a symbol of inclusion in the MCU, and Huerta is proud to push those boundaries further in Wakanda Forever.
The Wakanda Forever cast closed out Marvel Studios' SDCC panel with the release of the teaser trailer for the film. The trailer showcases the war between Wakanda and Atlantis and shows the legacy Boseman's T'Challa has left behind. The footage brought Hall H to tears as the teary-eyed cast embraced afterward. Check it out below.
Black Panther: Wakanda Forever Official Trailer
Marvel Studios' History at San Diego Comic-Con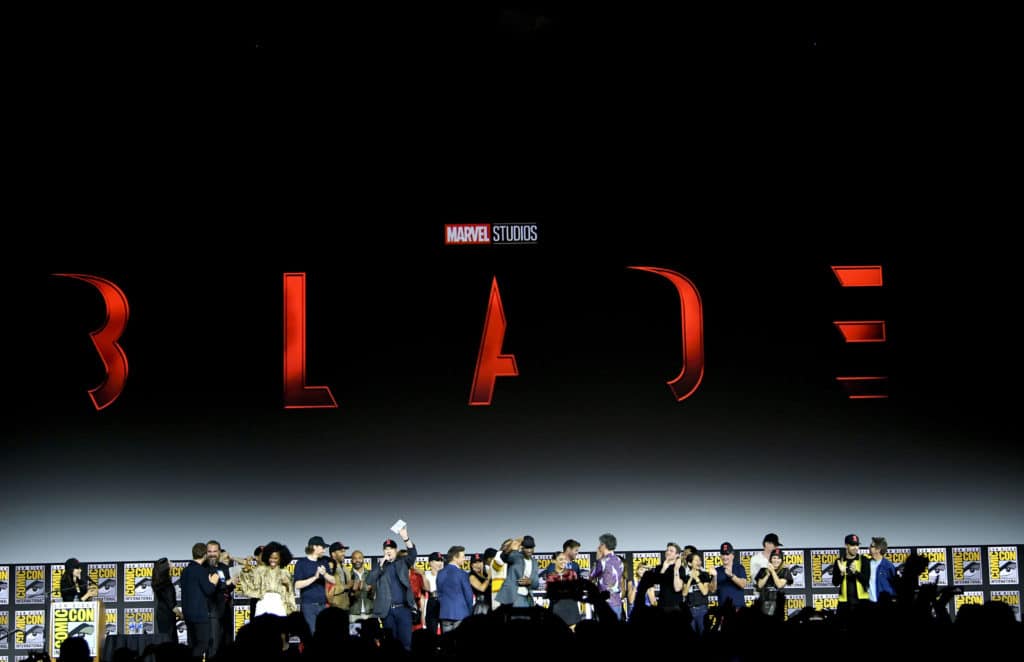 Marvel Studios has officially returned to San Diego Comic-Con and Hall H. The company is known for making massive announcements at SDCC even though they have been missing from the convention for the last few years.
RELATED: WEREWOLF BY NIGHT: MICHAEL GIACCHINO CONFIRMS HE WILL DIRECT MARVEL SPECIAL
At their last SDCC in 2019, the studio revealed Black Widow, The Falcon and the Winter Soldier, Eternals, Shang-Chi, WandaVision, Doctor Strange 2, Loki, What If, Hawkeye, and Thor: Love and Thunder.
The final title in that lineup, Thor: Love and Thunder, landed in theaters earlier this month. Before SDCC 2019, Marvel Studios also decided to skip SDCC 2018 but gave attendees many surprises the year before at SDCC 2017. Thor: Ragnarok was the big movie of this panel as Marvel Studios showed attendees some clips, debuted a new trailer, and held a Q&A with the cast. The studio also showed off Ant-Man and the Wasp, Captain Marvel, Black Panther, and Avengers: Infinity War.
RELATED: TARON EGERTON ADMITS TO MEETING WITH MARVEL STUDIOS ABOUT PLAYING WOLVERINE
At SDCC 2016, Marvel Studios gave fans a look at the Black Panther cast, Doctor Strange, Guardians of the Galaxy Vol. 2, Spider-Man: Homecoming, Thor: Ragnarok, and announced Captain Marvel with Brie Larson. The studio was a no-show at the 2015 convention, but SDCC 2014 saw the announcement of Ant-Man and its cast, Guardians of the Galaxy Vol. 2, and a look at Avengers: Age of Ultron.
SDCC 2013 featured the announcement of Avengers: Age of Ultron. Thor: The Dark World, Captain America: The Winter Soldier, and Guardians of the Galaxy were all shown off also.
Black Panther: Wakanda Forever Roundup
Black Panther: Wakanda Forever will be Marvel Studios' second adventure into the world of Wakanda. This time, unfortunately, without the incredible Chadwick Boseman.
Wakanda Forever will see the return of Lupita Nyong'o, Danai Gurira, Martin Freeman, Letitia Wright, Winston Duke, Angela Bassett, and introduce MCU newcomers Dominque Thorne and Tenoch Huerta as Ironheart and Namor.
RELATED: I AM GROOT: WATCH THE ADORABLE NEW TRAILER FROM SDCC 2022
Director Ryan Coogler is also returning, and Kevin Feige will produce.
Black Panther: Wakanda Forever hits theaters on November 11, 2022. What do you think about all the Black Panther: Wakanda Forever news announced at SDCC? Is it what you expected? Are you excited for Namor and Ironheart? Let us know what you think, and follow our Twitter, as we'll be live covering SDCC all weekend!
KEEP READING: DAREDEVIL BORN AGAIN: NEW TITLE, LOGO, EPISODE COUNT, AND MORE REVEALED AT SDCC 2022