A new unexplored era of WWE is incoming with Vince McMahon's retirement and part of it may be it being in talks to be bought.
Rumors of WWE looking to be bought have been circling the internet off-and-on for a while now. The rumored reason the now co-CEO Nick Khan was hired was rumored to be because WWE wanted to look more appealing to be bought.
McMahon's retirement has made WWE very appealing and raised the WWE stock price several percentage points. This is seen by some analysts as a sign WWE is looking to be bought.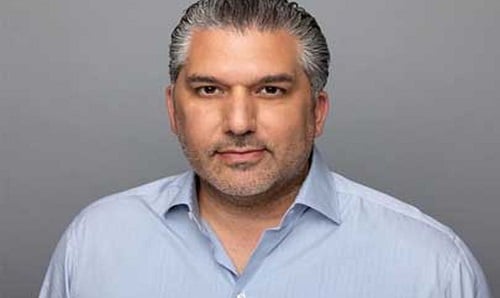 It also led to an expectation of a more than 23 percent increase to their revenue from the same time last year. 
Khan has stated in the past that they were open to take offers. It appears that is where they currently stand according to a CNBC article. They aren't looking to be sold, but if a good offer comes in they may consider it.
RELATED: VINCE MCMAHON HAS SHOCKINGLY OFFICIALLY RETIRED FROM WWE AT AGE 77
A Potential List Of Who May Want To Buy WWE
The list of speculated potential buyers is full of big name companies. According to Deadline, an analyst Alan Gould of Loop Capital has listed the potential buyers as Comcast, Disney, Amazon, Netflix and Fox.
Some of those companies are already working with WWE. Fox owns the US TV rights to SmackDown. NBCUniversal, whose parent company is Comcast, owns the rights to Raw and exclusive live streaming rights for WWE through their app, Peacock. Peacock is also where the WWE Network moved all their archived content like classic wrestling matches to in the US. NBCUniversal would be the most obvious, but Gould did mention Comcast may be hesitant or not be willing to make the jump as they just made a $39 billion acquisition of Sky.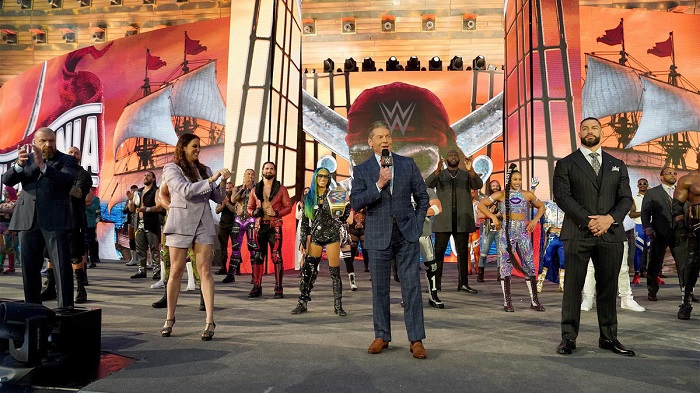 Another big name thrown into the mix is Disney. They are already airing UFC programming on some of their broadcast platforms. WWE and pro wrestling would be a very good way to continue down that path and get more combat sports type programming. Spike TV did it back in the 2000s and MMA and wrestling helped each other. However, according to Gould Disney is already currently spread thin due to recent agreements to acquire 20th Century Fox and Hulu.
The last two big names Gould brings up are outside the box, but they also make a lot of sense and could provide some really cool opportunities. Amazon has been acquiring sports programming recently and WWE would fit into their programming really well.  It could also give WWE a budget and global opportunities unheard of prior.
RELATED: RAW MAY BE RATED TV-14 FOR MATURE AUDIENCES IN THE NEAR FUTURE
Netflix is another perfect buyer. They would provide the best opportunity to boost their streaming content once WWE's contract with NBCUniversal ends in 2026.  However, Netflix has not been very keen on having sports programming. The good news is the company is "sports entertainment", so it doesn't exactly fall into the sports category. It wouldn't even be the first time Netflix had wrestling content on their platform as they used to have Lucha Underground.
A Shocking Buyer Could Really Shake Up Pro Wrestling
The CNBC article also listed a few more potential buyers which are also interesting. Paramount Global and Apple are two big companies with their streaming platformers, Paramount+ and Apple TV+, gaining more and more momentum. However, the most interesting is that of Warner Bros Discovery. Warner Bros Discovery currently airs the wrestling company's only viable US competition, AEW Dynamite and Rampage. Potentially they could own WWE and be airing their only real competition.  Wouldn't that be crazy, but we did just see the co-founder of AEW jump to WWE and McMahon retire so crazy and pro wrestling have gone together really well lately.
Do you think WWE is actually looking to sell in the near future? With McMahon's retirement and Triple H taking on a major role do you think selling is more or less likely now? Out of the potential buyers, who would you most like to see and least like to see buy the company? Leave a comment on our social media let us know if you are excited or terrified at the idea.
KEEP READING: LIV MORGAN'S PUSH IS DIRECT RESULT OF TOP WOMEN SUPERSTARS' ABSENCE
Sources: Wrestling Inc., Deadline, CNBC, Wrestling Inc.