Earlier this week the Hasbro Power Rangers team went live on Instagram to give some announcements for the brand, including a brand-new Power Week, as well as show off new figures for the fan-favorite Power Rangers Lightning Collection!
POWER WEEK
The biggest announcement was that August will bring plenty of news in the form of Power Week from August 22nd-August 28th. This week will be celebration of the 29th anniversary of the brand and will be filled with reveals and info from all mediums of Power Rangers from the toys, the show, the comics, and more! Power Week is a successor to 2021's Power Month, which saw new product reveals every week under a different theme.
Unlike last year, this Power Week will be condensed into one literal week, but it will be one that will surely make fans excited, especially following the unusual drought of brand announcements recently.
MORE WAVE 12
Of course the team had some product reveals to show off, these being the new Lost Galaxy Green Ranger and Mighty Morphin Black Ranger (Adam version) figures for the Lightning Collection. These new figures join the previoulsy revealed back in May Wild Force Blue Ranger and the already released oversees but yet to be announced Dino Thunder Yellow Ranger figures.
Lost Galaxy Green includes both versions of his Quasar Saber, his Transdagger with special effect piece, swappable hands, and a Damon civilian head likeness. With this release all of the male members of the Lost Galaxy team are complete in the Lightning Collection.
RELATED: NEW DETAILS ON HASBRO'S POWER RANGERS LIGHTNING COLLECTION WAVE 12
Next up is Mighty Morphin Black (Adam version). While a figure of MMPR Black was already released back in Wave 6 during 2020 that release was for the original Season 1 Zack appearance of the Black Ranger. This time the figure is for Adam, who took over for Zack following his departure in Season 2. This new Adam figure sports a slightly different civilian head from other releases of the character as well as all 3 versions of the Blade Blaster weapon.
Instead of including the iconic Power Axe weapon Adam will come with a extinguisher weapon seen in one episode of MMPR Season 2, while this weapon was actually used by Zack in the show and never by Adam it was stated by the Hasbro team that rereleasing figures gives them the chance to include things they couldn't before, such as seen in this case.
Both of these figures are up for pre-order for $24.99 on most major retailers with a release later this fall.
ZAP DRAGONZORD BOX
Before they left the team also showed off the box for the upcoming Zord Ascension Project Dragonzord. The figure itself is still in the prototype stage and went up for pre-order during SDCC a few weeks ago but now the box can be seen from all of the artwork to the recreation of the Zord cockpit console in the interior of the box.
RELATED: POWER RANGERS: HASBRO LAUNCHES NEW LIGHTNING COLLECTION TOMMY OLIVER ITEMS AT SDCC
Dragonzord is currently up for pre-order for $131.99 on most fan channel retailers for an early 2023 release.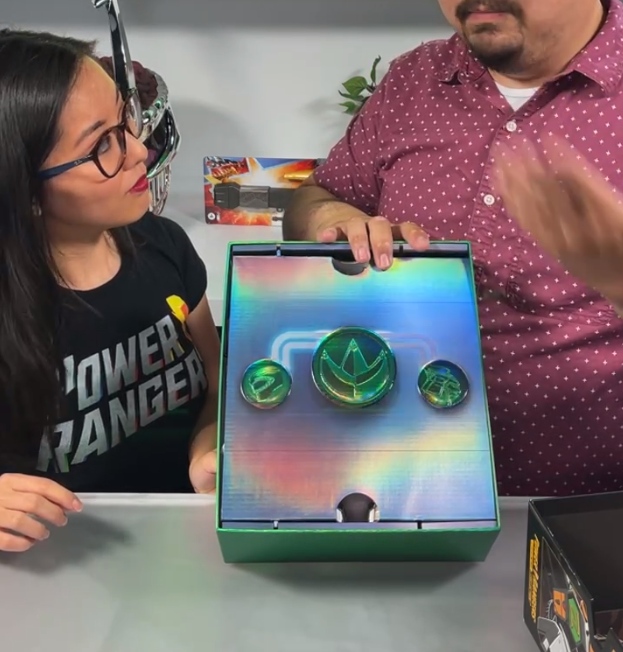 To stay up to date with all the news for the Power Rangers Lightning Collection fans can check out The Illuminerdi's Josh Perry on his weekly Lightning Storm YouTube series every Saturday at 9:00 am Pacific or on Twitter at @LightningFigPR. What would you like to see during Power Week? Leave your thoughts in the comments below or on our social media.
KEEP READING: UPCOMING POWER RANGERS LIGHTNING COLLECTION WAVE LISTINGS FROM WALMART
Source: Hasbro