WWE is rumored to want Roman Reigns to only have one championship but also doesn't want him to lose.
Reigns are currently the Undisputed WWE Universal champion.  He holds both the WWE Championship and has for 163 days since defeating Brock Lesnar at WrestleMania.  Reigns have held the Universal Championship for 744 days.  He has certainly been the most dominant champion of the modern era.
RELATED: DAKOTA KAI EXPLAINS JUST HOW LITTLE NOTICE SHE HAD PRIOR TO HER BIG SUMMERSLAM RETURN
However, according to a tweet from WrestleVotes WWE is looking to change Reign's champion status.  They want to have two world champions going into 'The mania season and WrestleMania itself.  The problem is they also don't want him to lose.
"The situation w/ the world titles & Roman Reigns is "complex" according to a source. They would like to go into "Mania season" & WrestleMania itself with 2 champions, but they also don't want Reigns losing AT ALL prior. I'm told HHH & co are open to all things creatively here." Via WrestleVotes
Roman Reigns In The WWE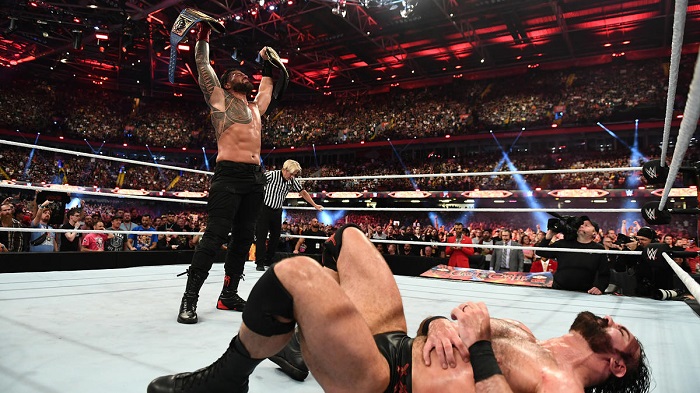 Roman Reigns is WWE's top guy so it makes sense they want him to look strong going into WrestleMania.  Rumors have also been circling that he may be facing The Rock at WrestleMania to find out who is the head of the Anoa'i family.  It would make sense they would want Reigns going into a match that will surely be a WrestleMania main event if it does happen with a lot of momentum.
However, Reigns holding both championships and only working a part-time schedule holds those championships hostage. The question of how to take one of the championships off him without him losing is the "complex" part.
Give The Title To Theory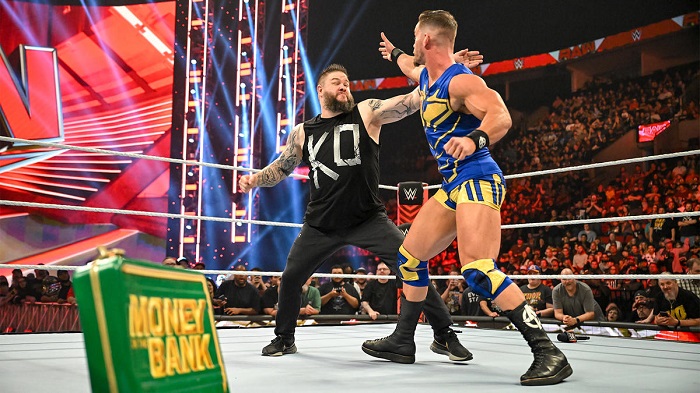 One possible and heavily rumored idea is to have Austin Theory cash in his MITB briefcase and pin Roman Reigns' opponent.  He has already almost done this multiple times, but he was stopped right before he could cash in.  This would give one of the championships to someone who could lose it right away to someone WWE deems a better champion going into 'The mania season.  The theory just started feuding with Kevin Owens and he could take the title off him.  Another issue is that Reigns is so dominant that losing to a lot of people is not realistic. 
According to Xero News, who I have never heard of and didn't source this rumor at all, take this with a grain of salt.
"1 idea being thrown around at wwe for the belts situation is simply Hunter appearing on tv and making the demand.

Work raw or hand over the belt.

This protects Roman from being pinned then the Tournament can begin for the new WWE Champion." Via Xero News
Take A Page Out Of AEW's Book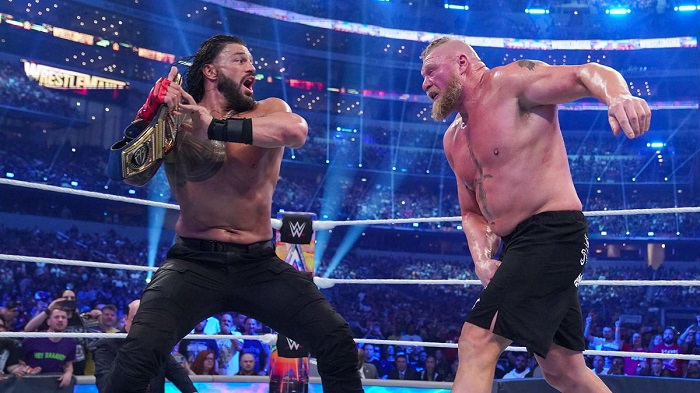 Essentially the rumor says WWE wants Reigns to vacate one of the championships. This would solve the WWE not wanting Reigns to lose issue, but is a stupid idea. The Tribal Chief character is not just going to give up a championship because Triple H said so. However, if he was stripped of one of the championships along with one from the Undisputed Tag Champions The Usos because they attacked Triple H or got into a backstage brawl CM Punk vs. The Elite style. I think that would work well and AEW and more specifically MJF has mentioned Triple H and WWE a lot lately, so it only seems fair to hit back.
RELATED: TRIPLE H DISCUSSES WHAT IT'S LIKE TO WORK WITH A "WHIRLWIND" LIKE BRAY WYATT
If WWE were to strip or have Reigns vacate a championship the rumor is they would have a tournament for the championship no later than Day 1. They should rename Day 1 to King of the Ring and hold a KOTR tournament and the winner gets to call themselves King of the Ring and the championship.
Two Viable Options For Reigns To Lose To
If WWE just wants to suck it up and have Reigns lose they should do it now before we get into 'Mania season.  The good news is two people have just made their return to WWE and both have a believable chance of defeating Reigns.  Karrion Kross and the former Universal Champion Braun Strowman.  Kross has already had some interaction with Reigns.  Strowman has already met Reigns in the ring and may have picked up some new moves outside the WWE ring.
Do you want to see Reigns only hold one championship?  Does it matter which one?  How would you want to see him lose it?  Would you rather see him stripped/vacate the championship or lose it?  Who would you want to see him lose it to?  Let us know if you would like to see a tournament for the championship or just have one match to crown the new champion.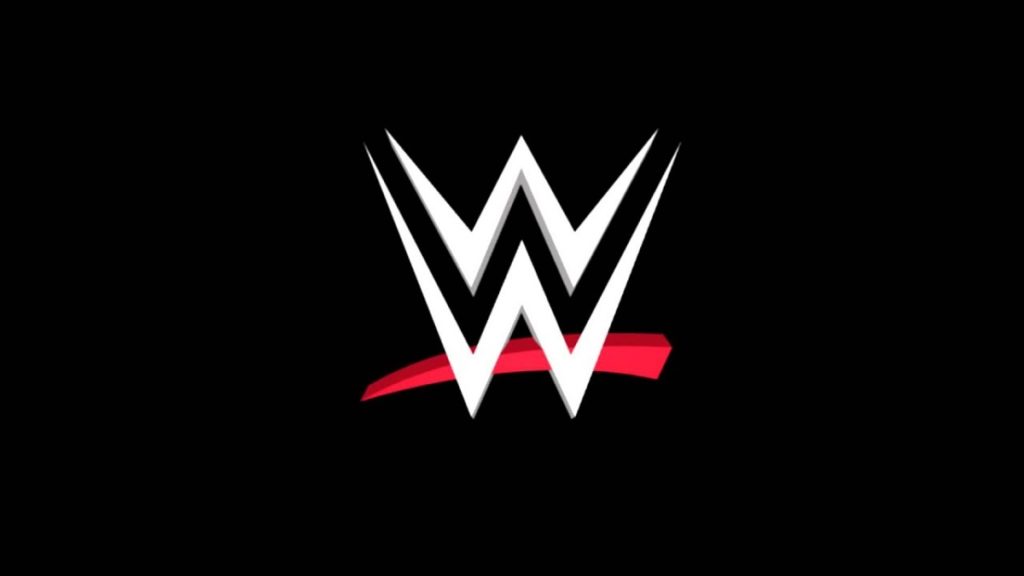 KEEP READING: STEVE AUSTIN COMPLIMENTS MARK CALAWAY FOR BEING THE ONLY MAN WHO COULD EVER HAVE PORTRAYED THE UNDERTAKER
Sources: SportsKeeda, Xero News, WrestleVotes