Crunchyroll has announced the details of the official voice cast for the highly-anticipated new anime series, Chainsaw Man, ahead of the show's upcoming premiere date next month. The show will have its official Crunchyroll simulcast premiere from Japan on Tuesday, Oct. 11.
You can get an early look at the lineup for the cast from the official promo graphic from Crunchyroll below: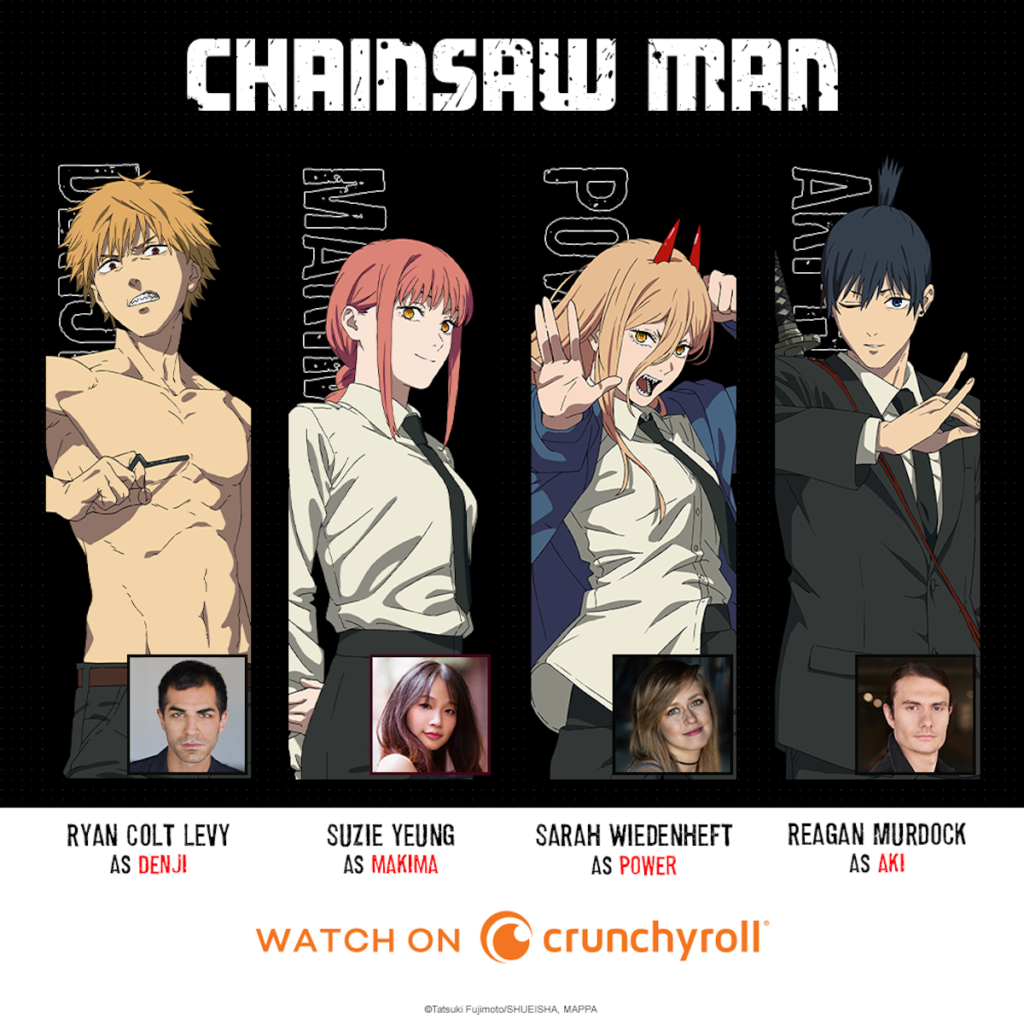 RELATED: CRUNCHYROLL EXPO 2022 IS BRINGING THE BEST OF ANIME TO FANS IN PERSON AND VIRTUALLY
CRUNCHYROLL REVEALS THE OFFICIAL ENGLISH VOICE CAST FOR CHAINSAW MAN
Based on the highly popular and much buzzed about Shueisha manga of the same name created by Tatsuki Fujimoto, Chainsaw Man is coming from Studio MAPPA. Per Cunchyroll's press release, Mike McFarland (Attack on Titan, Fullmetal Alchemist: Brotherhood) will be handling the English ADR direction for the series.
Voicing the protagonist Denji, aka Chainsaw Man himself, is Ryan Colt Levy (My Hero Academia: World Heroes' Mission, Moriarty the Patriot). The voice of Makima is Suzie Yeung (Demon Slayer: Kimetsu no Yaiba, Wonder Egg Priority). Reagan Murdock (Dragon Ball Super, Don't Hurt Me, My Healer!) will portray Aki. Lastly, Sarah Widenheft (Black Clover, Dr. Stone, Dragon Ball Super) voices Power for the English dub.
To go along with the casting news for the upcoming series, Crunchyroll also debuted a new English dub trailer for the upcoming anime series, which you can also check out below:
Additionally, fans attending the New York Comic-Con in October will get a first look at the show's English dub version of Chainsaw Man. Crunchyroll and NYCC will present the "Chainsaw Man English Dub Cast Panel and US Premiere" on Friday, Oct. 7 at 12:45 pm local time on the Empire Stage.
While the Japanese simulcast of Chainsaw Man debuts on Tuesday, Oct. 11, the English SimulDub airing of the show will start at a later date. Additionally, Crunchyroll has confirmed that the streaming service will also have available dubs for the show in Latin American Spanish, Brazilian Portuguese, French, and German. The casts for these versions will be announced later on.
CHAINSAW MAN IS BUILDING ANTICIPATION AHEAD OF ITS OCTOBER DEBUT
MAPPA also confirmed the following updated list of Japanese voice talents for the show as well, including the characters of Pochita, Himeno, Kobeni Higashiyama, Hirokazu Arai, and Kishibe:
Kikunosuke Toya as Denji
Shiori Izawa as (Nanachi in Made in Abyss) as Pochita
Tomori Kusunoki (Natsume in Deca-Dence) as Makima
Shogo Sakata (Karin Sasaki in Fire Force) as Aki Hayakawa
Fairouz Ai (Jolyne Kujo in JoJo's Bizarre Adventure: Stone Ocean) as Power
Mariya Ise (Reg in Made in Abyss) as Himeno
Karin Takahashi (Suika in Dr. STONE)as Kobeni Higashiyama
Taku Yashiro (Tanuma Tsubasa in Kaguya-sama: Love is War) as Hirokazu Arai
Kenjiro Tsuda (Kento Nanami in JUJUTSU KAISEN) as Kishibe
RELATED: CRUNCHYROLL HITTING COMIC-CON INTERNATIONAL WITH DYNAMIC SLATE OF PROGRAMMING IN 2022
The new anime series follows the young teenage boy Denji, who lives with his pet Chainsaw Devil, Pochita. After inheriting the massive debt left by his father, Denji has hit rock bottom in life to pay off his parent's debt. He does so by harvesting devil corpses with Pochita. After being killed, Denji makes a pact with Ponchita, reviving him as "Chainsaw Man," a human with a devil's heart and chainsaw protrusions from his head and arms.
MAPPA also confirmed that the opening theme song for the show is "KICK BACK" by Kenshi Yonezu. The show will have a different ending theme for each episode. Another new trailer was made available for the show today as well:
Chainsaw Man looks like it will be an anime series worthy of its popular manga namesake. It definitely appears that MAPPA is bringing the studio's A-game for the show. Hopefully, it does not disappoint.
What do you think about the news of the voice cast? Are you going to check out Chainsaw Man? Will you watch it subbed, dubbed, or both? Let us know what you think about the casting news for the show on our official Illuminerdi Twitter account.
KEEP READING: DRAGON BALL SUPER: SUPER HERO REVIEW – THE 21ST DRAGON BALL FILM FEELS LIKE A NEW BEGINNING
Source: Crunchyroll