Werewolf By Night is a thrilling but flawed experiment for the Marvel Cinematic Universe. 
In terms of format, Werewolf By Night is unlike anything else in the Marvel Cinematic Universe. Promoted as a Halloween Special and a love letter to Universal's classic monster movies, Werewolf By Night tells a one-off story with less runtime than most episodes of Daredevil. Running for roughly 48 minutes without credits, this special never feels like it has enough time to say everything it wants to say.
The storyline is fairly simple, and the narrative generally runs smoothly. Several monster hunters are gathered at the estate of Ulysses Bloodstone, a famous hunter in their secret society, to fight for his magical bloodstone. Among these hunters are Jack Russell and Elsa Bloodstone, two characters beloved by fans of Marvel's comic book monster stories. The bloodstone itself is attached to Man-Thing, and for 45 minutes, the secrets of this trio intersect throughout the hunt, causing chaos and death.
WEREWOLF BY NIGHT: A DISNEY+ HALLOWEEN SPECIAL FOR THE REST OF US 
It would be too easy to give into the comic book fan inside myself and write a review of pure, unbridled praise for Michael Giacchino's Werewolf By Night. As a longtime fan of the Werewolf By Night and Man-Thing characters, this special transported me to that magical land of enchantment one only arrives at when witnessing a great live-action adaptation of your favorite superheroes. I was on literally the edge of my seat when these monstrous heroes put their powers on display. Director Michael Giacchino has a wonderful handle on all of the source material he's working with here, showing us that he understands the heart and soul of Werewolf By Night, Elsa Bloodstone, and Man-Thing.
RELATED: COULD SPIDER-MAN: FRESHMAN YEAR FEATURE MUTANTS & CROSSOVER WITH X-MEN '97?
The soundtrack, composed by Michael Giacchino complements the Halloween Special perfectly, even outshining the visual narrative at times. Giacchino is most famous for his work as a composer (The Incredibles, Ratatouille, The Batman), but he proves that he can direct with style, passion and skill through Werewolf By Night. I hope that he continues to work with these characters, and that his next project with them is longer, with a tighter script.
WEREWOLF BY NIGHT WILL LEAVE YOU WANTING MORE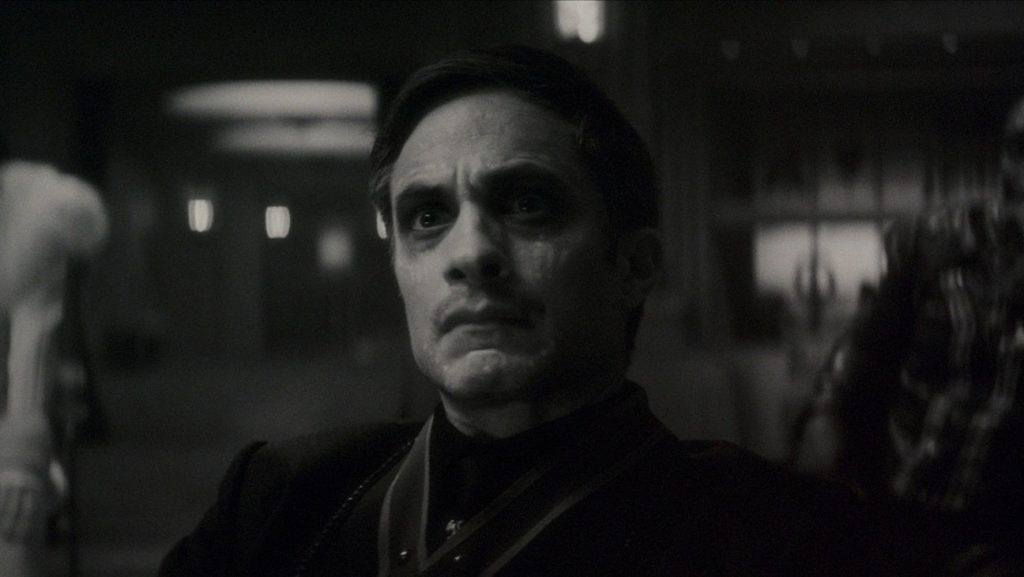 We never really get past the surface level with Elsa, Ted/Man-Thing, or Jack Russell/Werewolf By Night. Elsa is a bitter, hardened fighter with family issues and a need to leave her past behind. Jack is a kind soul who struggles with the beast inside. He is a loyal friend to Ted, a creature who reacts emotionally and impulsively. Their histories are briefly explained and/or teased, and their interactions are generally entertaining. But Elsa and Jack's conversations feature some rather wooden dialogue, and their relationship never blossoms in a truly meaningful way.
Furthermore, I struggled with the believability of several scenes. For example, Elsa Bloodstone has her head slammed into a concrete wall three times in a row, only to immediately shake it off and kick her assailant with the force of Black Widow. Shortly afterwards, she is hiding from the same hunter, and the camerawork makes it look like he definitely would have found her, had the script not demanded her escape in that scene. In the third act, a monster with unknown strength and capabilities is put into what looks like a giant birdcage…a very fragile cage which the creature easily escapes from. Why these world class monster hunters thought placing the beast in there would work is beyond me. 
RELATED: TITANS SEASON 4: FRESH FIRST LOOKS AT JINX, BROTHER BLOOD & MOTHER MAYHEM 
The story generally works, as long as you don't put it under a magnifying glass. The action sequences are choreographed well, and there are even a couple jump scares throughout. The horror never really shocks, though the violence is certainly satisfying for a TV-14 project.
WEREWOLF BY NIGHT: HOW DOES IT COMPARE TO OTHER MCU PROJECTS?
Additionally, hardcore MCU fans are liable to compare Werewolf By Night directly against a few other franchise projects. The penultimate episode of She-Hulk aired the day before this Halloween Special, and it told a far stronger story with a powerful message. In terms of visual design, this is the third MCU project to go black and white, before switching back to color. Wandavision and Agents Of ShIeld both had in-universe explanations for the change, but Werewolf By Night does not. That's an admittedly nitpicky critique, but a story reason for this stylistic choice might have been interesting to witness.
RELATED: 'BLACK PANTHER' WARRIOR M'BAKU & MORE FROM WAKANDA COMING TO AVENGERS CAMPUS
Werewolf By Night is a fun, short and occasionally messy watch. With a mature rating and a feature length runtime, it might have been so much more, but perhaps that could come to pass in the future of the MCU. As a Man-Thing fan, I'd give this a 10/10, but speaking critically, this is a mediocre, unbalanced entry into the franchise. That being said, I am invested in and excited for the live-action future of these monsters. 
What did you think of Werewolf By Night? Let us know your thoughts in the comments below or on our social media! 
KEEP READING: REVISITING DC'S SWAMP THING BEFORE MAN-THING COMES TO THE MCU