Black Adam is a superhero passion project made for the fans, by their biggest fan. 
Dwayne "The Rock" Johnson stars as Black Adam in the 2022 DC movie, but his time with the role started many, many years ago. In the time that he was cast, and even before then, The Rock has become a Black Adam superfan. For roughly 15 years, Dwayne Johnson has had nothing but time to dream up the perfect movie for his favorite DC character. 
The wait has been long. The promises have been huge. The expectations have grown huger accordingly. So after all this time, all this intense buildup…was the anticipation worth the wait? Did Black Adam deliver? 
RELATED: BLACK ADAM IS A HUGE SUCCESS BECAUSE OF THE FOCUS ON LEGACY
One week after release of the film, fans new and old are still responding with thunderous applause. Black Adam boasts an impressive 90% on Rotten Tomatoes, which is arguably a more important metric than the abysmal critical score, which currently stands at 40%. 
Black Adam introduces a new corner of the DC universe that's impressive and easy to love. This is arguably The Rock's strongest performance to date, although an argument could be made for his role as Spencer Strasmore on HBO's Ballers. He still has a few mannerisms and line deliveries that are distinct "Dwayne Johnson-isms", but the same can be said about Ryan Reynolds as Deadpool and fans seldom complain about that, so this nitpick is fairly inconsequential. 
RELATED: BLACK ADAM IS A HUGE SUCCESS BECAUSE OF THE FOCUS ON LEGACY
Furthermore, it is thanks to the Rock's passion for not just his character, but for the entire DC universe that elevates the movie beyond the typical superhero fare. Like Ryan Reynolds with Deadpool, this is a passion project brought to life by the lead actor and it shows. 
BLACK ADAM: A PASSION PROJECT FOR THE AGES
After years of patiently fighting for a chance to share his love for this flawed antihero, The Rock was able to craft the ideal adaptation of Kahndaq, the Justice Society, and the Black Adam family. Kahndaq is depicted as a country that would have become like Wakanda if not for the rise of tyrannical dictators and invaders. The people of this fictional Middle Eastern country are strong, resilient folk with pride in their country despite all they've suffered. 
Adrianna Tomaz, her brother Kareem, and her son Amon are incredible improvements over their comic book counterpart. Adrianna is stronger here, though still supportive of Black Adam's lethal fight for their country, and their eventual romance is only teased. Sarah Shahi steals the spotlight in several conversations throughout the film, even from seasoned thespians like Pierce Brosnan.
RELATED: BLACK ADAM: ALDIS HODGE ON HIS VERSION OF HAWKMAN & HIS SUPERHEROIC PERSPECTIVE OF JUSTICE
Black Adam sees the life he lost in Adrianna Tomaz's family, and so he strives to save Amon from Intergang. Amon Tomaz is a spunky kid with a passion for superheroes and an even brighter fire burning for his people in Kahndaq. Bodhi Sabongui gave one of my favorite performances from a child actor ever as Amon, and I can't wait for him to eventually become Black Adam's sidekick, Osiris.
Karim, Amon's uncle and Adrianna's younger brother, played by Mohammed Amer brought so much comedy and heart to Black Adam. And the other main group of supporting characters, the Justice Society, was also amazingly adapted for this film. 
BLACK ADAM BRINGS THE JUSTICE SOCIETY INTO THE DCU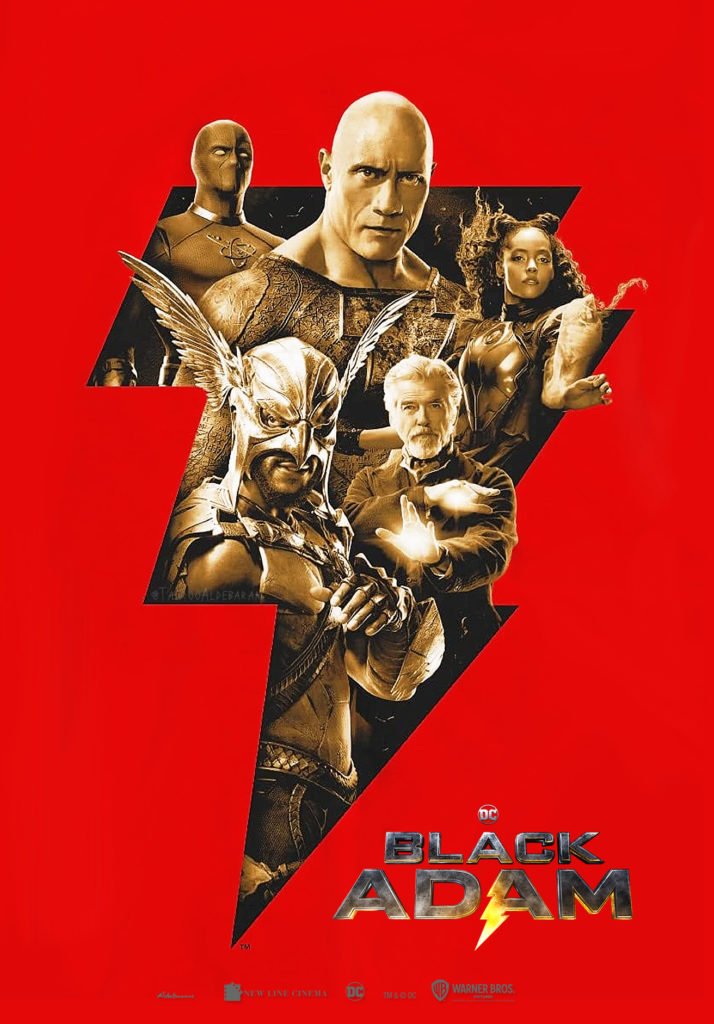 Doctor Fate and Hawkman are the senior members of the team, and they are wonderfully flawed but ultimately lovable heroes. Fate is a contradictory man possessed by a power that is so powerful it's become something of a curse over the ages. But he loves his friend Carter/Hawkman, and he has a heart of gold buried underneath all of his cryptic mysticism.
Hawkman is fiercely protective of his own ideals, and of the orders, he's been given. But if you're taking orders from Amanda Waller, or even just working alongside her, your "righteous path" may be nothing more than dangerous American ethnocentrism. Carter's confrontations with Black Adam display a degree of toxic masculinity that may be off-putting, but then again, he acts how any man might be expected to act when faced with a fight against a stronger man. Their thematic debate about the ethics of lethal justice is quite engaging.
RELATED: BLACK ADAM: SARAH SHAHI EXPLORES ADRIANNA TOMAZ'S COMPLICATED RELATIONSHIP WITH "TEAM BLACK ADAM" 
Atom Smasher is played by Noah Centineo, and alongside Quintessa Swindell's Cyclone, these two young heroes complete the Justice Society of the DCU. Cyclone was given a tragic and brief backstory best left unspoiled, but don't blink or you might miss it. Swindell's performance was heartfelt and sympathetic, but a somewhat stronger focus on Cyclone would have done Black Adam well. 
Noah Centineo's performance was, to be blunt, the one I expected the least from. But I left the theater shocked at just how much I enjoyed his role as Atom Smasher. The legacy hero was caring, passionate, and goofy. Most importantly, he was delightfully and realistically awkward. Atom Smasher would continually say the wrong thing in the most earnest way possible, and it always puts a smile on my face. 
BLACK ADAM: THE LEGACY OF KAHNDAQ
The antagonist of this film is Ishmael/Sabbac, the champion of Hell and the underworld. In the same way that Black Adam says "Shazam!" to activate his powers, Ishmael can say "Sabbac" and turn into a flaming Demon from hell. Ishmael's storyline is about one man's turn towards evil in the pursuit of a legacy. It's a sort of dark mirror to Black Adam's arc throughout the film, a tried and true trope of the genre. 
The question of what to do with Kahndaq's throne is the central debate between Black Adam, Sabbac & Intergang, Amanda Waller & the Justice Society, Adrianna Tomaz, and even Superman, who appears in a post-credits scene. Black Adam's answer to that question is a wonderful twist on the source material that makes this Antihero even stronger in live-action.
Black Adam features some experimental and intense action sequences and a body count that truly fits the character. Some of these experiments turned out beautifully, and a few looked a bit silly. There may have been an overabundance of slow motion, but all in all, the action was one-of-a-kind and thoroughly entertaining. The powerful musical composition from Lorne Balfe complemented these moving beats of violence wonderfully. 
This is DC back on top of their game. Black Adam is one of the stronger installments in the DCU, thanks to unique characters, a message about imperialism and American overreach internationally, and dynamic action that doesn't relent. This is what happens when you Black Adam's biggest fan makes a movie for his fellow fans.
Consider the hierarchy of power changed, DC Universe.
What did you think of Black Adam? Who was your favorite JSA character? Let us know your thoughts in the comments below or on our social media!
KEEP READING: DECISION TO LEAVE REVIEW (2022): PARK CHAN-WOOK'S ROMANTIC THRILLER IS SUPERB