WandaVision creator Jac Schaeffer will take a seat in the directing chair for her highly mysterious new MCU show, Agatha: Coven of Chaos.
MCU fans have some exciting months ahead of them. Black Panther: Wakanda Forever premiered with rave reviews and is just around the corner for everyone to see. Marvel Studios has also dropped the teaser trailer for the highly anticipated Ant-Man and the Wasp: Quantumania, which gave us our first look at the MCU's next big bad: Kang the Conqueror. And the Guardians of the Galaxy are also back with the first trailer for their Holiday Special.
We also got an official confirmation that Aquaman star Yahya Abdul-Mateen II is set to play the MCU's Simon Williams/Wonder Man in his Disney+ series. We at The Illuminerdi have also exclusively revealed that Marvel wants Breaking Bad and Better Call Saul star Bob Odenkirk to co-star.
RELATED: MARVEL STUDIOS CASTS YAHYA ABDUL-MATEEN II AS WONDER MAN IN SURPRISING NEW DISNEY+ SERIES
But before that is about to unfold another series is nearing its production start. WandaVision scene stealer Kathryn Hahn is set to return as Agatha Harkness in her own Disney+ show. Variety has revealed that Heartstopper breakout Joe Locke is set to join her in an undisclosed role. Furthermore, we were able to exclusively confirm that Parks and Recreation star Aubrey Plaza is set to join the series as well.
Now we at The Illuminerdi can shed some more light on the crew, as well as the number of episodes of the highly mysterious upcoming show.
WHO WILL DIRECT AGATHA: COVEN OF CHAOS?
Our sources have indicated that Agatha: Coven of Chaos creator Jac Schaeffer will direct at least one episode of the show. Furthermore, our sources have also indicated that Gandja Monteiro is directing at least one episode of the show as well.
Monteiro is best known for her work as a director and producer of several episodes of the Showtime show The Chi. She also directed episodes of the Netflix Limited Series Brand New Cherry Flavor and two episodes of the upcoming and anticipated Wednesday series.
But that is not all, as we can also exclusively confirm that Agatha: Coven of Chaos is set to be a 9-episode Limited series. That would set it on par with its predecessor WandaVision and the most recent MCU show She-Hulk: Attorney at Law. It remains to be seen if the 9 episodes will have a similar runtime as those aforementioned Disney+ shows or if they'll clock in closer to a hour. Just like WandaVision, it looks like Agatha's solo adventure will only last for one season.
RELATED: WEDNESDAY: WATCH THE WICKED NEW TEASER TRAILER FOR ADDAMS FAMILY SPINOFF SERIES NOW!
Schaeffer has had an interesting career. She started her filmmaking journey in 2001 as the director of the short film called Invoking Marilyn. Then 8 years later she broke into Hollywood with Timer, an R-rated romantic comedy that she wrote, directed, and produced. Funny enough, Emma Caulfield played the leading role, who would later join Schaeffer's MCU adventures as Wanda's Westview neighbor Dottie. One short film later, she got the chance to write the screenplay for the Frozen spin-off short Olaf's Frozen Adventure and penned The Hustle, another comedy feature film starring Anne Hathaway and Rebel Wilson two years later.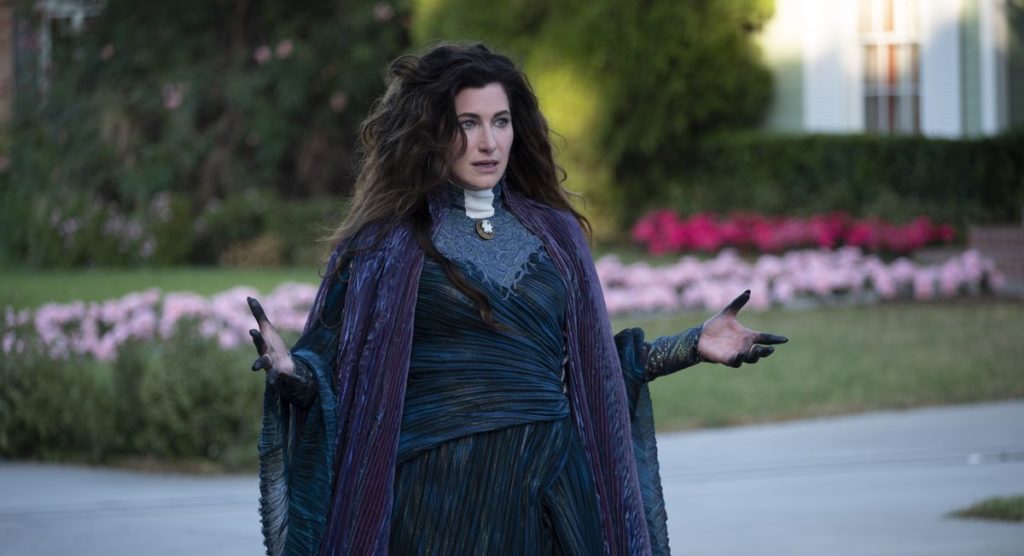 That's when she was discovered by the talented people at Marvel Studios who brought her on to co-write the screenplay for Captain Marvel, for which Schaeffer never got the writing credit. But she left a lasting impact as she was brought back to develop the story for the Black Widow solo film and then was chosen as the creator of Marvel Studios' first-ever series: WandaVision. She worked as the head writer, creator, and executive producer on the show and went on to get an Emmy nomination for writing the first episode.
After the immense success of the Emmy-winning show, it was no surprise that Disney and 20th Century Television offered her a 3-year overall deal. Soon after, the news broke that Schaeffer was developing another spin-off show focused on the scene-stealing Agatha Harkness. She again serves as the head writer, creator, and executive producer, but will seemingly also take a seat in the directing chair again. In addition, Schaeffer's other project is rumored to focus on Paul Bettany's Vision, where she is reported to be set as the executive producer.
RELATED: RUMOR: VISION MIGHT BE GETTING HIS OWN UNEXPECTED DISNEY+ SERIES
Agatha: Coven of Chaos is set to star: Kathryn Hahn, Aubrey Plaza, Joe Locke, Emma Caulfield, Ali Ahn, and Maria Dizzia.
Agatha: Coven of Chaos is set to premiere on Disney+ in Winter 2023/2024. What do you all think? Are you excited about the show? What do you think about the episode count? Let's discuss everything in the comments down below and on our social media.
KEEP READING: AGATHA: COVEN OF CHAOS: AUBREY PLAZA CAST IN MYSTERY ROLE AND NEW SHOOTING DETAILS: EXCLUSIVE