Chelsea Green says she is open to a return to WWE.
Green was an up-and-coming indie wrestler who was just starting out when she appeared on the 2015 season of Tough Enough. She placed fourth in the competition, but it was easy to see she had a bright future if she continued to wrestle.
In 2018 Chelsea Green was signed after a WWE Tryout.  In the time between her Tough Enough appearance and getting signed, she developed her skills wrestling in high profile promotions like Lucha Underground and TNA/IMPACT. In November 2020 she made her SmackDown debut. However, she broke her wrist in the match and was released by WWE in April of the following year.
Making A Name For Herself Elsewhere
Following Chelsea Green's release she went back to IMPACT and wrestled for ROH. She has become one of the hot free agents in women's wrestling. This has led fans to wonder if she will end up in AEW or back in WWE with Triple H taking over.  
RELATED: RONDA ROUSEY NAMES HARDCORE SPOT WWE FORBID IN EXTREME RULES MATCH
In a recent interview with WrestleZone, Chelsea Green explained if she would rather go to AEW or WWE:
"I think that I wouldn't go to AEW, and that's just a reality for me. It's not gonna happen," Green said. "With WWE, I'm really glad that I left on good terms, although I was sad that I didn't get to fulfill myself creatively as a wrestler. I still had a great relationship with Triple H. I had a great relationship with Vince, so I am really happy that I'm able to hold my head up high knowing there's an opportunity for me to possibly go back if they decide it's the time and the place.

But this time would be different because I went into it the first time, and I was just so doe-eyed and naive, and just thought that I deserved to be listened to and deserved to be heard. Now I realize it's not always like that. And it's not always wrestling. It's just show business. Acting is the same way. You're not going to get everything that you 'deserve' or everything that you work for, and all you can do is just go in with a totally open mind and just let things happen. So if I did get the chance to go back, and if someone contacted me, I would absolutely have that conversation."
Chelsea Green Has Learned A Lot Outside WWE And Will Return Better
Chelsea Green doesn't just seem open to going back to WWE, but wants to. She didn't leave the company because of backstage issues or because she wasn't up to the level WWE wanted. 2020 and 2021 were the years of budget cuts and she just got caught up in that because she was injured and they didn't have plans for her.
WWE was rumored to like her and have plans for her prior to her injury. The match she was injured in was a Survivor Series qualifier match to fill a spot on the Women's Survivor Series team. She was originally planned to win the match and earn the spot, but it got changed to Liv Morgan going over because of the mid-match injury.
RELATED: MATT CARDONA SAYS HE WILL MAKE BIG WWE RETURN UNDER 1 CONDITION
Green is married to Matt Cardona who was Zack Ryder in WWE. Cardona has also expressed an openness to making a WWE return, but is not as dead set on it as Green seems to be. They have both been wrestling for IMPACT off-and-on recently and seem to be a package deal.
However, Chelsea Green expressed a desire to return to WWE even if that means Cardona may not accompany her. She explained why their mindset on a WWE return may be a bit different than her husband.
"I think so. I can't say that I wouldn't," Chelsea Green said. "I really think that there's more left there, and I know that people lump me and my husband [Cardona] together, but they forget he had 15 years there. He might be totally okay with closing that chapter and moving on, and this is the next chapter and he doesn't need to reopen that. Who knows.

But I'm different. I was only there for like a split second, and I didn't get to hold the titles like he did or have those storylines and those memories like he did, and I think that's something that if I don't go back and I don't get to experience again. I will definitely wonder what could've been."
Chelsea Green Has Serious Unfinished Business In WWE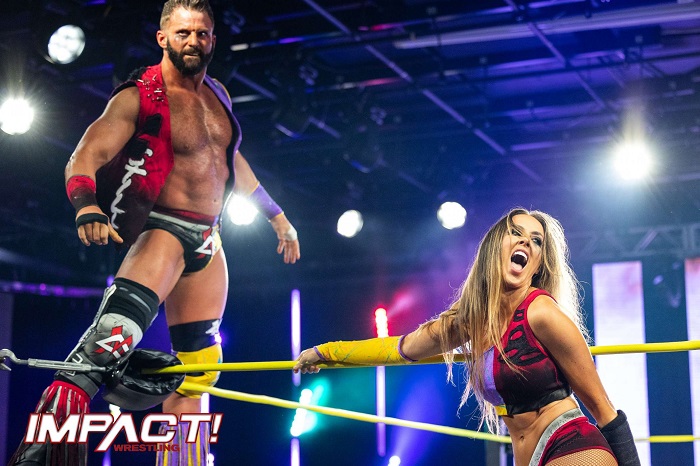 Green wrapped up her run in IMPACT in early October when she lost her tag title. The wrestling landscape is wide-open for her. The WWE women's singles division is not exactly great. I can only see the same four women wrestle so many times before it gets boring. Mia Yim just returned last night on Raw and Emma recently returned. Adding Green to the mix could make things interesting until Charlotte Flair and Becky Lynch return and possibility Sasha Banks and Naomi.
If in the next few weeks we see Cardona on WWE TV then we can be sure Green will be coming back shortly after.
Would you be excited to see Chelsea Green return to WWE? Do you think she would do better in WWE,  AEW, if she stays in IMPACT or in NWA? Do you think if Cardona and Green return it will be as a duo or will they be separate? Leave a comment below and let us know if you think she should join the Raw or SmackDown roster.
KEEP READING: SASHA BANKS TEASES SOMETHING BIG LIKE A POSSIBLE WWE RETURN
Source: WrestleZone