Julia Louis-Dreyfus Valentina Allegra De Fontaine may be looking for more trouble as a new rumor suggests war is about to start in the MCU.
We're only a few days away from the highly anticipated Black Panther: Wakanda Forever. The film has already garnered critical acclaim and is set to be a strong end for the MCU's Phase 4. While the next entry in the Marvel Cinematic Universe is already in the starting blocks, Marvel is planning. Back in July Marvel Studios head Kevin Feige announced a ton of exciting projects like Captain America: New World Order, Daredevil: Born Again and Avengers: The Kang Dynasty, and Avengers: Secret Wars.
RELATED: MARVEL REVEALS CRAZY THUNDERBOLTS LINEUP AT D23
Another exciting new reveal was a Thunderbolts film that is set to end the MCU's Phase 5 in July 2024. But other than a nice-looking title card Kevin Feige didn't reveal anything more about the project at SDCC. Fast forward two months later Feige again takes the stage, this time at Disney's D23 presentation. He again confirms a Thunderbolts film is in the works, but this time shares a concept art that showed the team's roster: Yelena Belova (Florence Pugh), Bucky Barnes (Sebastian Stan), Red Guardian (David Harbour), U.S. Agent (Wyatt Russel), Ghost (Hannah John-Kamen), Taskmaster (Olga Kurylenko) and Valentina Allegra De Fontaine (Julia Louis-Dreyfus).
After the reveal, Feige also brought everyone on stage to thunderous applause. Only Florence Pugh couldn't be there as she was busy filming Dune: Part Two in Budapest, but she did send over a video.
Since September there have been a lot of rumors surrounding this film. Baron Zemo will reportedly still appear in it and Harrison Ford, who has been cast in the role of General Ross, previously played by William Hurt might also appear in the film. But besides these roster additions rumors, we don't have an idea what the plot of the film could be.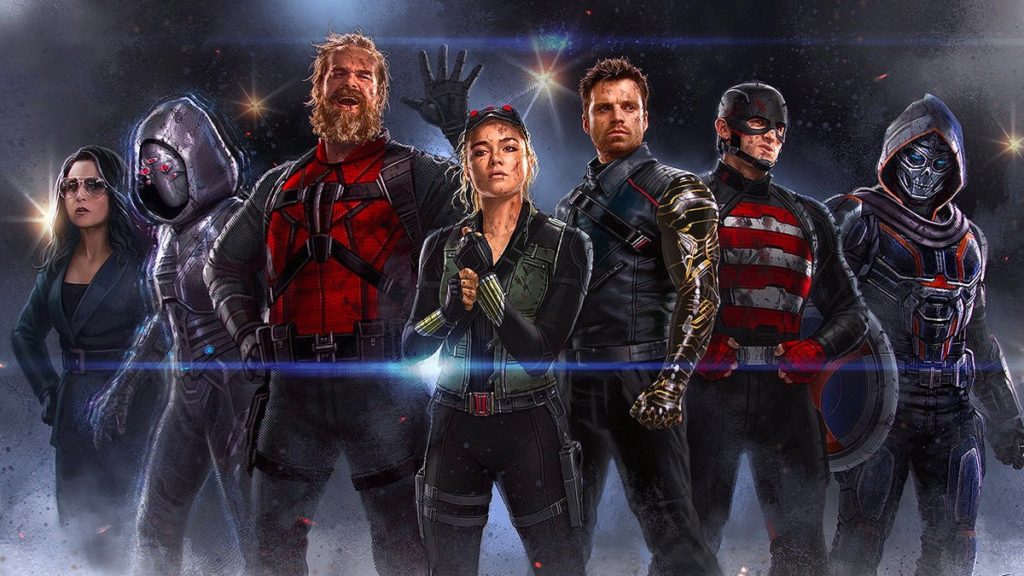 RELATED: DANIEL BRÜHL ON BARON ZEMO'S UNBELIEVABLE ABSENCE FROM THE THUNDERBOLTS ROSTER
A new rumor that involves the mysterious Valentina Allegra De Fontaine could shed some light into that.
WILL JULIA LOUIS-DREYFUSS BE READY TO START A WAR?
We first met Julia Louis-Dreyfus's character in the Disney+ show Falcon and the Winter Soldier where she recruited U.S. Agent. Then just a few months later she appeared in the post-credit scene of Black Widow, where she sent Yelena Belove after her sister's "killer", Clint Barton (Jeremy Renner). But we can't tell what her end goal is.
A new rumor by Daniel Richtman claims that Marvel Studios is developing a project about the U.S. Government led by Valentina Allegra De Fontaine leading a war against Wakanda. It is unknown whether or not this might be explored in the upcoming Thunderbolts movie or will be a different project.
If that is indeed the plan for the character, we could know a lot more very soon when Black Panther: Wakanda Forever hits theatres. In this film, Wakanda will get drawn into a war against Namor and his Talocan army. We've also seen in the trailers that Queen Ramonda (Angela Basset) will join a United Nations meeting.
We still don't know how Everett Ross (Martin Freeman) will be involved in the plot. Julia Louis-Dreyfus' Valentina has long been rumored to appear in the film, so maybe we can see her planting seeds for a potential war, especially with Wakanda's focus on Talocan. Maybe this could be the foundation for a potential Black Panther 3, as it seems unlikely that the Thunderbolts team start a war against the most powerful nation, especially with Buck Barnes on the team who even lived there for a good period.
Black Panther: Wakanda Forever hits theatres on November 11, 2022. Thunderbolts hits theatres on July 26, 2024.
RELATED: WAKANDA FOREVER – TENOCH HUERTA TALKS ABOUT BEING THE "BAD GUY WHO DESTROYS…" WAKANDA
What do you guys think? Do you think this rumor could turn out to be true? Are you excited about Thunderbolts? Let's discuss everything in the comments down below and on our Social Media.
KEEP READING: TITANS SEASON 4 EPISODE 3 "JINX" REVIEW: NIGHTWING SURE KNOWS HOW TO BE A DICK
Source: Daniel Richtman