Paramount Pictures started off the week on a high note by dropping the latest trailer for the upcoming live-action Dungeons & Dragons: Honor Among Thieves movie. The film's release is just over a couple of months away, and fans can enjoy the trailer right now.
You can check out the latest trailer for the upcoming adaptation of the longtime, fan-favorite tabletop role-playing game below:
D&D MOVIE HONOR AMONG THIEVES RECEIVES NEW TRAILER RELEASE
The new trailer definitely appears to be pushing its Guardians of the Galaxy style meets medieval fantasy setting much further. It also provides a greater sense of the film's plots, characters, and villains. It appears Edgin the Bard and his party are tricked into giving a powerful magical object to a group of Red Wizards, who are now raising an undead army. It's now up to Edgin, Holga the Barbarian (Michelle Rodriguez), Xenk the Paladin (Regé-Jean Page), Simon the Sorcerer (Justice Smith), and Doric the Druid (Sophia Lillis) to save the realm.
RELATED: DUNGEONS AND DRAGONS: HONOR AMONG THIEVES SDCC 2022 BARES WONDERFUL SURPRISES AND TRAILER AT THE NEW FILM
Besides the new live-action movie, Hasbro and its entertainment wing, eOne, have a new documentary in the works on the history of the classic tabletop roleplaying game. It's being directed by D&D writer and official ambassador, Joe Manganiello along with Kyle Newman. The documentary is due out next year and will coincide with the classic tabletop game's 50th anniversary.
It's almost hard to believe it's been nearly 50 years since Dungeons & Dragons first debuted. It was first published by Tactical Studies Rules, Inc. in 1974. Since 1997, the game has been published by Hasbro's subsidiary, Wizards of the Coast. Gary Gygax and Dave Arneson were the original creators of the game.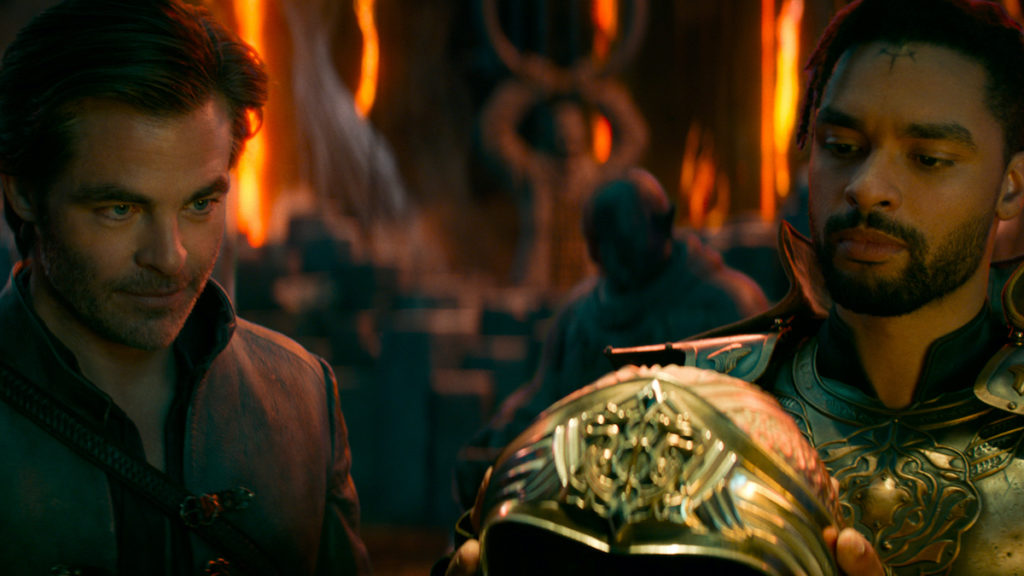 In the classic game, overseen by a Dungeon Master, players form an adventuring party and go on quests throughout various fantasy worlds. Dungeons & Dragons has seen over 50 million players since it was first released.
While there have been other Dungeons & Dragons movies in the past, it looks like considerably more money was spent on the new film. The film looks like it has a giant budget, along with a big-name cast, featuring such huge stars as Chris Pine of Star Trek and Wonder Woman fame, Michelle Rodriguez of the Fast and Furious film series, and Hugh Grant. It will be interesting to see how the film turns out and if it manages to launch a new blockbuster film series for the tabletop gaming franchise.
RELATED: DUNGEONS & DRAGONS REVEALS SLICK TITLE FOR NEW CHRIS PINE LED FILM ADAPTATION COMING 3/3/23
Along with the new trailer, Paramount Pictures also released new poster artwork for the film, which you can check out below:
Based on Hasbro and Wizards of the Coast's Dungeons & Dragons game, the film also stars Hugh Grant, Chloe Coleman, and Daisy Head. It's directed by Jonathan Goldstein and John Francis Daley from a screenplay they co-wrote with Michael Gilio. The screen story was written by Gilio and Chris McKay. Dungeons & Dragons: Honor Among Thieves arrives in theaters on March 31, 2023.
What do you think of the new trailer? Does it have you excited about the film? Do you plan on checking out Dungeons & Dragons: Honor Among Thieves in theaters, or would you rather wait for streaming or home video? Let us know what you think about it on The Illuminerdi's social media.
KEEP READING: 'DUNGEONS AND DRAGONS' DOCUMENTARY IN WORKS FROM HASBRO'S ENTERTAINMENT ONE; JOE MANGANIELLO & KYLE NEWMAN DIRECTING
SOURCE: Paramount Pictures, YouTube