Crunchyroll has announced a partnership bringing the Crunchyroll button to BRAVIA remote controls. The anime streaming service has partnered with Sony to provide a direct line for BRAVIA Televisions in 2023. This new feature grants instant access to the platform so anime fans can easily continue watching from the library of titles available. The new controller will be part of the new BRAVIA models that will be available in various regions coming this year.
The streaming platform has gifted fans around the world with various anime titles and growth for the platform has dramatically increased. The Anime Awards 2023 shows the reach of the platform, as the awards show had 18 million votes cast for the various categories presented.
RELATED: CRUNCHYROLL ANNOUNCE STAR-STUDDED PRESENTERS FOR ANIME AWARDS 2023
Many languages have also been introduced for fans of anime, including Castillian, Portuguese, and Arabic dubs available for the iconic releases found on the platform. Other popular streaming platforms have already included a button for remotes to allow instant access, including Netflix and Prime Video. 
Crunchyroll Button For Sony's BRAVIA Controls 
Crunchyroll, the global brand serving fans with the ultimate anime experience, has partnered with Sony Corporation to bring the platform to the 2023 BRAVIA line-up of televisions with frictionless access to the world's largest library of anime via the Crunchyroll button featured on BRAVIA remote controls. 
Speaking on the news, Crunchyroll President Rahul Purini commented, "Anime is a global phenomenon, and this partnership between Sony Corporation and Crunchyroll will make anime available faster than ever before. We're excited for fans worldwide to use the Crunchyroll button on BRAVIA remote controls to enjoy their favorite anime series, welcoming them into our community."
With a click of the special button, BRAVIA television owners can instantly dive into 18,000+ hours of anime content made up of more than 44,000 episodes and feature films. BRAVIA's best-in-class picture and sound quality enhance the streaming experience for a medium recognized for its intense visual storytelling.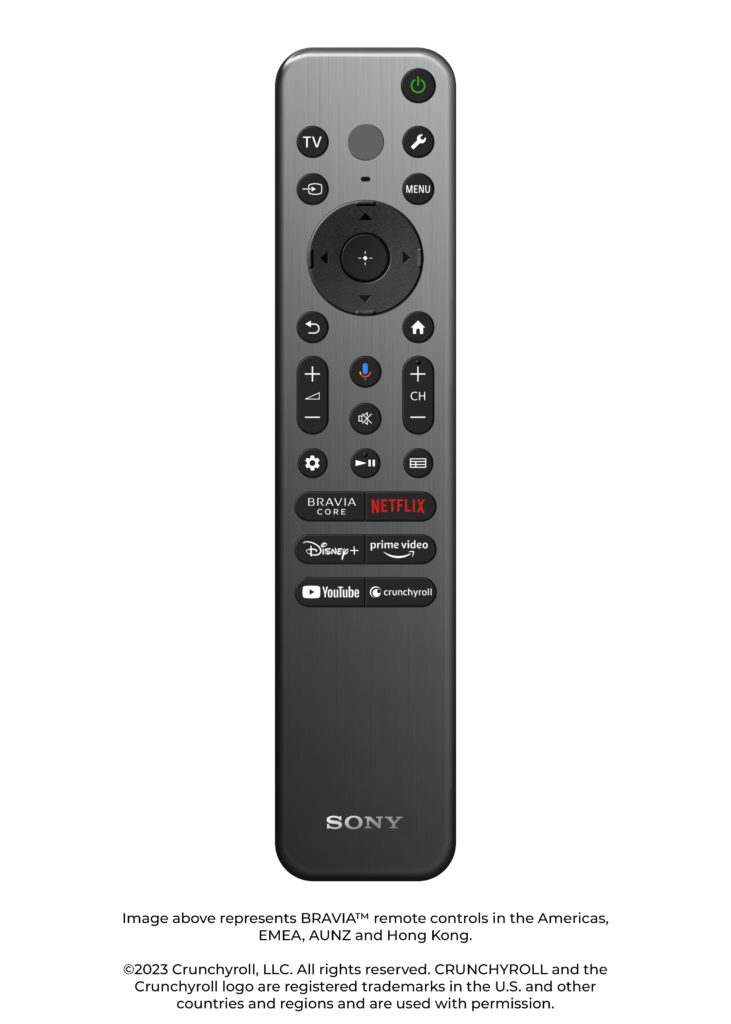 Meanwhile, Sony Corporation Head of Entertainment Business Group Yoshihiro Ono commented, "We are thrilled to partner with Crunchyroll, a leader in the rapidly growing anime community, to inspire emotion among audiences around the world. We are excited to have the Crunchyroll direct button on TV remote controls to let BRAVIA customers instantly enjoy a variety of anime content, with just one click."
The anime streaming platform has grown a huge audience in recent years so it's fantastic that it will finally be an integrated platform. Although it may seem like a small feature on a controller, this is a huge leap forward as anime will be instantly accessible for fans that support the platform.
This will hopefully become a common addition to controllers in the future and will continue the trend with other models. It would also be great if this could be done for other TV systems since some platforms such as Sky Glass TV are yet to support the beloved anime streaming service.  
RELATED: MASHLE: MAGIC AND MUSCLES COMING TO BRING AWE & WONDER TO CRUNCHYROLL IN APRIL 2023
The BRAVIA Controls with the new button will be available with the 2023 BRAVIA new models, which distribute to the Americas, Europe, Southeast Asia, Australia, and New Zealand. Features, content, and availability of programming are subject to subscriber status and vary by region. 
What do you think of the Crunchyroll Button? Will you be getting the latest BRAVIA 2023 models? Do you think the streaming platform should be easily accessible on all makes and models? Let us know on social media and keep following The Illuminerdi for more anime news.  
KEEP READING: CRUNCHYROLL REVEALS 2023 ANIME AWARDS WINNERS
SOURCE: Crunchyroll