Disney's The Ghost and Molly McGee's creators Bill Motz and Bob Roth want to spread positivity in the world.
In the darkest timeline of reality, there is a spark of pure positivity, and that is the Disney Channel animated series The Ghost and Molly McGee, created by the legendary Bill Motz and Bob Roth. The series is about a cantankerous ghost who has pretty much given up on the world and is grouchily set in his ways, that is until he meets to exuberant tween Molly McGee. Molly's positive attitude and spirit are infectious and inspiring, uplifting those around her and even giving the old grump ghost a new life… figuratively speaking. We had the chance to speak with Motz and Roth and learn about what inspired them to create the series.
What inspired Bill Motz and Bob Roth to Create The Ghost and Molly McGee
We were fortunate enough to get a chance to talk with the series creators and learn about what inspired them to create the series.
The Illuminerdi: Can you share where your inspiration to en-happify the world comes from and how you're able to translate that into the series?
Bob Roth: Look outside your window. It's pretty depressing out there. Bill Motz: [Laughing] Bob Roth: We wanted to not contribute to that, but to fight against it. Looking around the world, it's pretty easy to despair and we wanted to say that's not necessarily the path forward, and there's a brighter way to be that is not naive, doesn't hold its head in the sand about the problems out there. But lights a candle in the darkness, to quote a cliche. Bill Motz: We had a no-cynicism rule, essentially. Bob Roth: The cynism needs to get slapped down pretty hard. In the who's right, who's wrong, Molly or Scratch, Molly is going to come out on top at the end of it all. Bill Motz and Bob Roth, Creators and Executive producers of The Ghosts and Molly McGee
RELATED: Lilo & Stitch Joyously Reveal They Have Found Their Lilo for the Live-Action Remake
It's a very rare thing to have so much positivity, but also be real about the problems and on top of that, still be a thoroughly enjoyable program. The show is obviously geared towards children, but it is one of those series that works on multiple levels that everyone of all ages will enjoy it. The Ghost and Molly McGee has something for everyone.
The Ghost and Molly McGee is currently in full stride of Season 2 with new episodes premiering every Saturday at 5pm on the Disney Channel, as well as streaming on Disney+.
About The Ghost and Molly McGee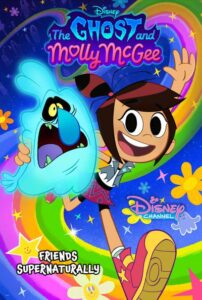 Release: Season 2 now airing on the Disney Channel and Streaming on Disney+ Created By: Bill Motz, Bob Roth Executive Producers: Steve Loter, Bill Motz, Bob Roth Producer: Bitta Reitman Editors: Tony Molina (S1), John Royer (Current) Production Company: Disney Television Animation Cast: Ashly Burch, Dana Snyder, Jordan Klepper, Sumalee Montano, Micaela Dietz, Lara Jill Miller
Synopsis: The Ghost and Molly McGee is the story of a ghost and the girl who brings him back to life… figuratively. When a cantankerous ghost named Scratch places a curse on exuberant tween Molly McGee, it backfires and leaves him forever cursed to be in Molly's presence.
Now he's forced to go everywhere Molly goes and do everything Molly does… which, in Molly's eyes, makes him her best friend! As Molly drags reluctant Scratch along on all her misadventures, a funny thing happens: Scratch comes to like Molly, and an unlikely friendship blossoms.
Are you caught up with The Ghost and Molly McGee? Is it possible to watch this show and not smile? Are you more like Scratch or Molly? Let us know your thoughts and share your love of the series with us on social media!
KEEP READING: Disney Lorcana Gameplay Revealed Ahead of Highly-Anticipated Summer Launch