Funko Games is revolutionizing trading card games with their new game, Star Wars Rivals!
Funko Games has announced the upcoming release of their all-new expandable card game experience, Star Wars Rivals. The game, set to arrive in late spring 2023, is sure to be a hit among fans of the iconic franchise, featuring endless layers of strategy and fun within every era of the Star Wars galaxy.
The Star Wars Rivals Game is a card game that challenges players to choose a side and build a squadron of iconic characters in an attempt to collect the most location cards and win against their opponent. Each character from across the Star Wars galaxy has three unique action cards featuring exciting abilities, creating endless strategies when combined with other characters during their fight for the galaxy.
RELATED: Funko Games Unveil 4 New Exhilarating Indiana Jones Tabletop Games
"The latest collaboration with Lucasfilm for the Star Wars Rivals Game has continued to elevate Funko Games' collectible offerings through its all-new art style, including awesome hologram variants," said Deirdre Cross, Head of Funko Games. "We're excited to introduce fans to new immersive gameplay, allowing them to experience unforgettable Star Wars locations as they join the light or dark side of the Force and battle it out with their favorite characters from every era."
Star Wars Rivals
The Premier Set offers fans four character-themed game movers and character cards, an exclusive prism die, 14 action cards, 18 tokens and markers, and 12 location cards, which include four that are exclusive to the set. For Star Wars fans of all skill levels, the game system features fast-paced gameplay that's easy to jump into with exciting dice-rolling and card-revealing moments.
In addition to the Premier Set, Funko Games is also offering Light Side and Dark Side Character Booster Packs. Each pack includes one character-themed game mover and character card, two location cards, game die, five action cards, and 16 tokens and markers. These booster packs can be combined for immediate play or added to Premier Sets, intensifying gameplay and sparking an epic showdown featuring characters from every era of the Star Wars galaxy.
The game also boasts never-before-seen art stylization in miniature sculpts and card art, providing a unique visual experience for fans. The fully expandable game experience allows for endless possibilities, ensuring that the game will stay fresh and exciting for players of all levels. Additional information and images below.
Star Wars Rivals – Premier Set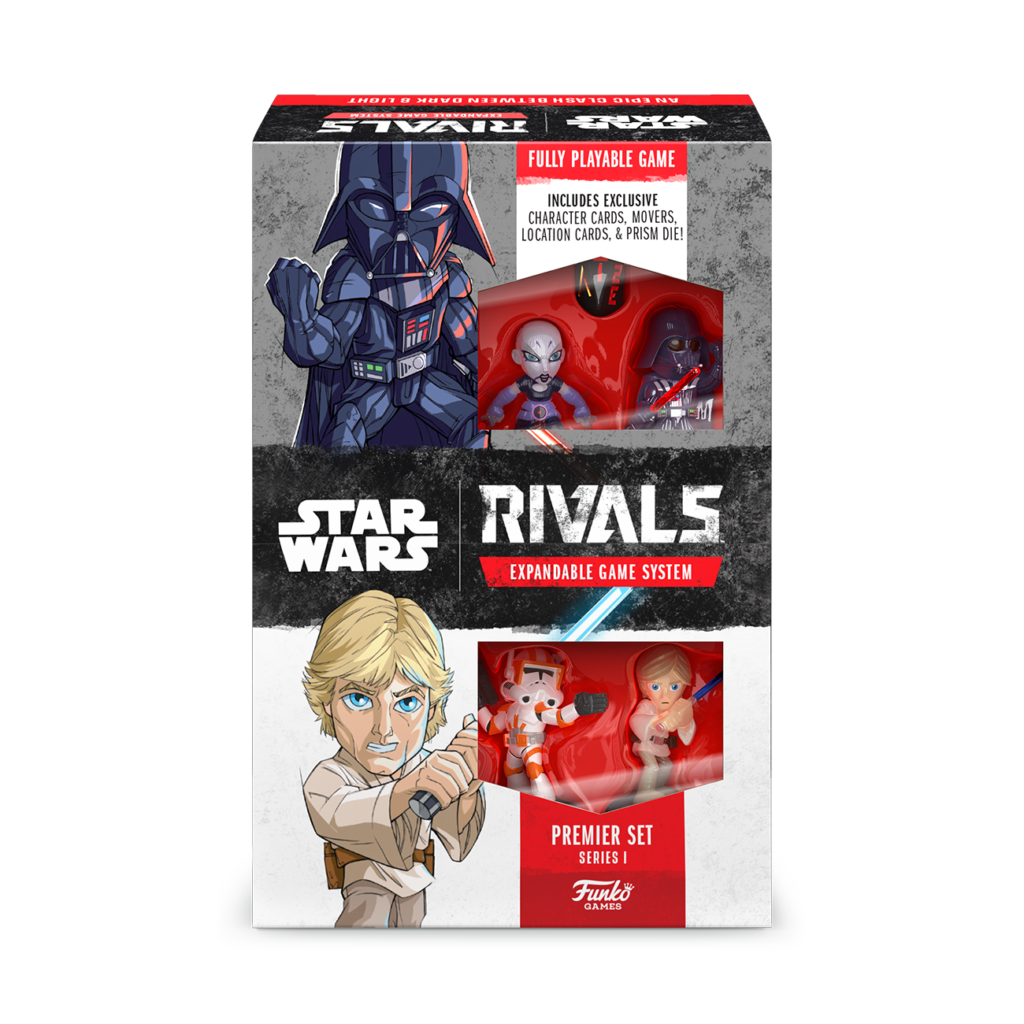 Ages 7+
2 players
MSRP: $19.99 USD
RELATED: Bandai Announce New Digimon Card Game Gameplay Changes

Star Wars Rivals – Character Booster Packs (Sold Separately)
Ages 7+
2 players
MSRP: $4.99 USD each
Star Wars Rivals is the latest addition to Funko Games' impressive lineup of tabletop games. The award-winning gaming studio has already made a name for itself with popular titles like Disney's Villainous and Marvel Battleworld: Mystery of the Thanostones. With the addition of Star Wars Rivals, Funko Games is sure to solidify its place as a leader in the tabletop gaming world.
Fans of the franchise are sure to be thrilled with the release of Star Wars Rivals, as it offers an immersive and exciting way to engage with the beloved characters and locations from the Star Wars universe. The game's combination of strategy and fast-paced gameplay is sure to appeal to both casual and serious gamers alike.
The upcoming release of Star Wars Rivals is a highly anticipated event for fans of the franchise, Funko Games fans, and tabletop gaming in general. With its unique visual stylization, endless possibilities for gameplay, and fast-paced action, the game is sure to be a hit among players of all levels. Be sure to mark your calendars for late spring 2023 and prepare to join the dark or light side of the Force in this epic battle for the galaxy.
Are you going to join the fight for the galaxy with Star Wars Rivals? Are you part of the light side or the dark side? What other Funko Games do you play? Let us know and share your game night pics with us on social media!
Source: Funko Games
KEEP READING: Disney Lorcana Gameplay Revealed Ahead of Highly-Anticipated Summer Launch