Armored Core VI Fires Of Rubicon's first Gameplay Trailer has been revealed teasing Intense Mecha Action. The latest from by FromSoftware finally gives players a preview of the upcoming installment in the Armored Core franchise. Along with showcasing the epic combat featured in the game, the trailer also reveals that pre-orders are available now for the game releasing this summer. Check out the epic experience package teased for mecha fans of the fast-paced action game.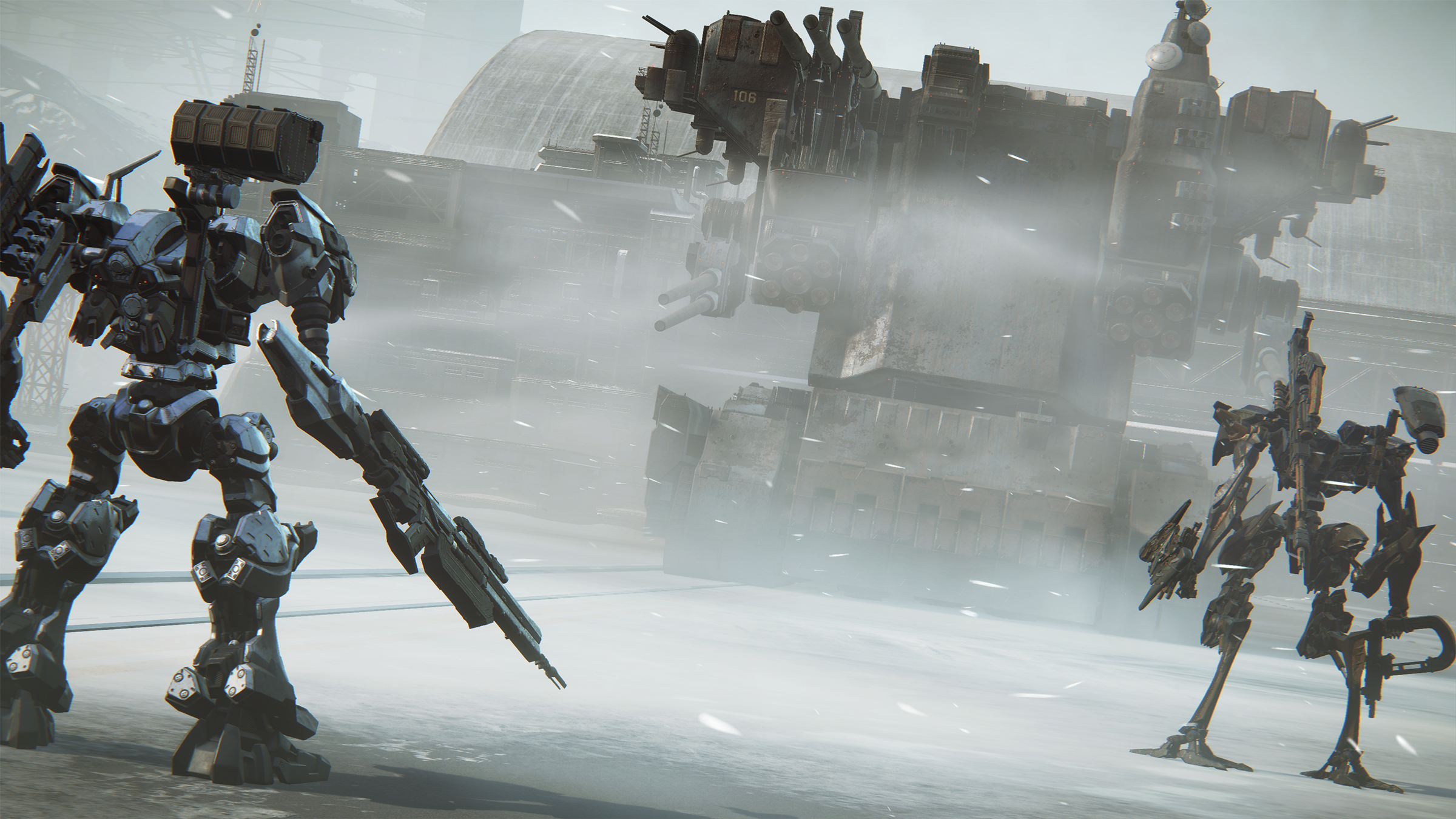 RELATED: Bandai Namco Europe And Fromsoftware Announce New Action Game Armored Core VI Fires Of Rubicon Coming 2023
The last game release from the Armored Core series was Armored Core: Verdict Day in 2013, which was a standalone expansion to Armored Core V. The games were originally released on PlayStation consoles, but fans were gradually blessed with releases on other platforms such as Xbox consoles from 2007. The third-person mecha action game has always featured piloting Armored Cores with high-speed action and even included large-scale combat against goliath-sized bosses in later releases. 
Armored Core VI Fires Of Rubicon Trailer Teases Gameplay
ARMORED CORE™ VI FIRES OF RUBICON™, the latest high-octane action game by FromSoftware, Inc. and Bandai Namco Europe S.A.S., will release globally on 25th August. Combining the 25 years of experience developing the ARMORED CORE franchise and action games in the ELDEN RING and DARK SOULS franchises, ARMORED CORE VI FIRES OF RUBICON is full of mech action, including fast-paced battles, in-depth customization, and thrilling boss fights. The game is coming to PlayStation 5, PlayStation 4, Xbox Series X|S, Xbox One, and PC via Steam.
A mysterious new substance called "Coral" was discovered on the remote planet, Rubicon 3. As an energy source, this substance was expected to dramatically advance humanity's technological and communications capabilities. Instead, it caused a catastrophe that engulfed the planet and the surrounding stars in flames and storms, forming a Burning Star System. Almost half a century later, Coral has resurfaced on Rubicon 3, a planet now contaminated and sealed off by the catastrophe. Extra-terrestrial corporations and resistance groups fight over control of the substance. The player infiltrates Rubicon as an independent mercenary and finds themselves in a struggle over the substance with the corporations and other factions.
RELATED: KingOhger's latest images offer breathtaking full look, Ranger Backgrounds, and Premiere Date
Featuring highly mobile and highly customizable mechas, ARMORED CORE VI FIRES OF RUBICON will put players in fast-paced battles where they can make full use of offensive and defensive maneuvers on both land and in the air to overcome foes. To be the most successful and profitable mercenary on Rubicon 3, players must master rapidly changing combat distances, using the environment for protective cover, and omni-directional battles to overcome challenging enemies and situations. 
In the first-ever gameplay reveal for ARMORED CORE VI FIRES OF RUBICON, these crucial elements are highlighted in a new trailer available below.
Pre-order now and get ready for the global launch of ARMORED CORE VI FIRES OF RUBICON on 25th August. The game will be part of PlayStation Free Upgrade and Xbox Smart Delivery.
For the latest information, please visit our website, and follow the game's social channels on Facebook and Twitter .
The return of the Armored Core franchise is a blessing for Mecha fans that miss piloting these iconic machines for insanely rapid battles. The locations and environments are incredibly detailed, adding to an engaging experience for players to immerse themselves in. The combat retains the excitement offered in past versions of the game, and enjoying the title on various platforms allows many players to participate. The premium edition will also send fans wild as the Figurine + Garage will be hard to pass up for any mecha fan, along with the other bonuses in the package.
Armored Core™ VI Fires Of Rubicon™ will be released on August 25, 2023, with pre-orders now live for the latest release from the Armored Core franchise. Various editions of the game will be available including Standard Edition, Deluxe Edition, and Launch Edition. A Collector's Edition and Premium Edition will also be available featuring Armored Core Figurines and various bonuses including an art book and pin badges.
What do you think of Armored Core VI Fires Of Rubicon? Which edition of the game will you be pre-ordering for your preferred platform? Did you play past releases from the Armored Core franchise? Let us know on social media and keep following The Illuminerdi for more. 
KEEP READING: EXCITING CRUNCHYROLL ANI-MAY 2023 CELEBRATIONS
Source: Bandai Namco