Perhaps one of the projects surrounded by the most amount of secrecy from Marvel Studios is the upcoming Disney Plus series Agatha: Coven of Chaos. We know that Kathryn Hahn is returning as the titular character, and a few members of the cast as well, but as far as plot and character details go, we are quite in the dark.However, scouting the Internet to find some new details about who is and isn't in the show can sometimes bring some interesting results.
New Villains Coming To Agatha: Coven of Chaos
Apparently, according to Daniel Richtman's Patreon page (via ComicBookMovie.com), the antagonists of the story will be Salem's Seven, led by Okwui Okpokwasili (who has not yet been confirmed to be in the series). The insider says that the group will be traveling to Westview seeking revenge against Agatha Harkness in the series.
While he didn't elaborate further, it sounds plausible that this could also be the inciting incident of the series, and thus what snaps Agatha out of Wanda's spell. At the same time, the group's reappearance as powerful entities could also incite Agatha's allies to liberate her.
RELATED: Agatha: Coven of Chaos: More Story Details Revealed: Exclusive
In the comics, the group includes Vertigo, Brutacus, Gazelle, Hydron, Reptilla, Thornn, and Vakume. The Illuminerdi revealed a few months ago that Agatha will be liberated from her spell by a new Coven of Witches, with Aubrey Plaza playing one of them. Whether these two groups are the same, or they are at odds with each other, we don't know yet.
What we know about Agatha: Coven of Chaos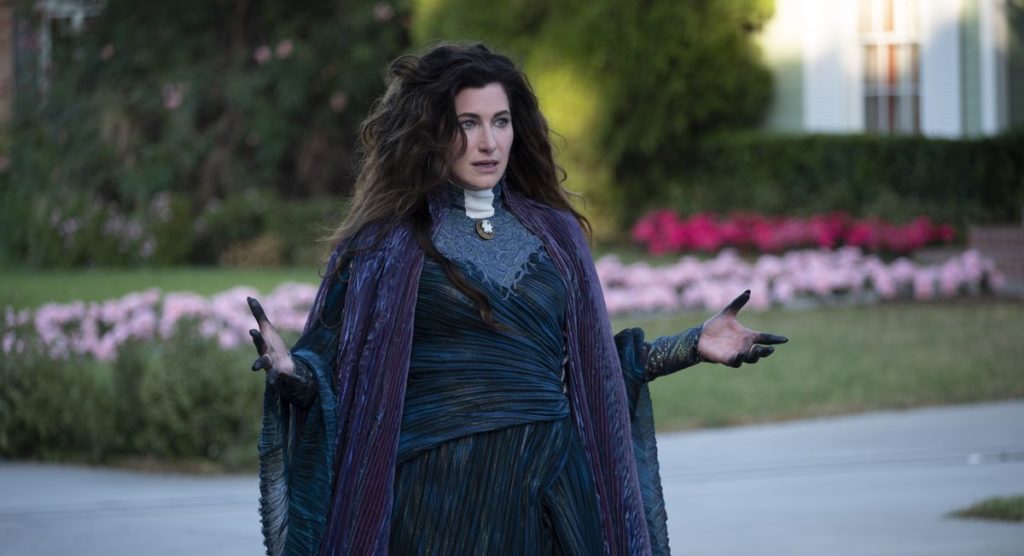 The series will be a spin-off from 2021's WandaVision, and sees Kathryn Hahn reprising her role from that show. A late 2023/early 2024 release date was initially announced for the series, but that is looking less and less likely every day, especially in light of recent announcements of Loki season 2 coming out in October and Echo in November. Next in line would be the Dominique Thorne-led Ironheart, which wrapped filming months ago.
As we've revealed, the Agatha: Coven of Chaos will be nine episodes long. Jac Schaeffer is returning as writer, executive producer, and director, possibly of multiple episodes; Gandja Monteiro will also direct at least an episode. Besides Hahn, Emma Caulfield is also returning as Dottie from WandaVision, but the rest of the cast is mostly new.
CHECK THIS OUT: Agatha: Coven of Chaos: Aubrey Plaza Cast in Mystery Role and New Shooting Details: Exclusive
Perhaps the role that has inspired the biggest amount of speculation is the one Aubrey Plaza will be playing. It's currently surrounded in big secrecy, but is rumored to be a very powerful witch who isn't held up by a code of ethics and who could perhaps even rival the Scarlet Witch in power. Speaking of which, all seems to indicate that Elizabeth Olsen is not a part of the series, though as with everything Marvel, plans can shift in a day and they could always sneak her in to shoot a post-credits scene. For now, Olsen insists she hasn't heard about her next time working for Kevin Feige.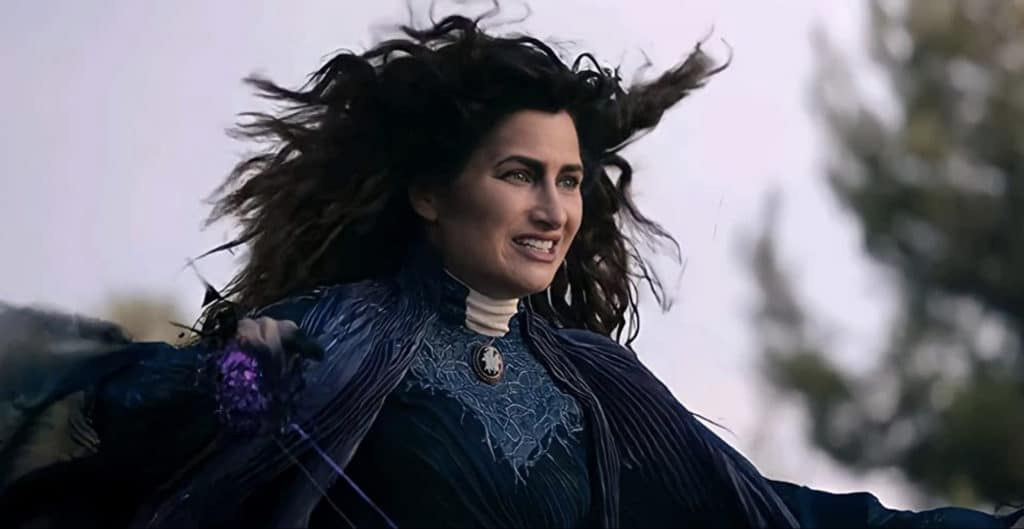 The cast also includes Heartstopper's Joe Locke, who is heavily rumored to be playing an older version of Billy Maximoff, aka Wiccan, who would be a queer character in the show. Other cast members include Ali Ahn, Sasheer Zamata, Patti LuPone, and Maria Dizzia. Ahn, Dizzia, and LuPone are playing witches, and the latter has also confirmed the series will feature singing numbers, like we probably should have expected after seeing WandaVision. Also, we'd be remiss if we didn't mention that Sacha Baron Cohen is heavily rumored to be appearing as Mephisto in the show.
RELATED: New Character Descriptions Reveal Joe Locke's Agatha: Coven of Chaos Character: Exclusive
Production began in Atlanta earlier this year and should be mere weeks away from finishing. So far, it looks like it hasn't been affected by the ongoing writers' strike, unlike fellow Marvel series Wonder Man and Daredevil: Born Again.
What do you make of these new details about Agatha: Coven of Chaos? How excited are you about it? Is WandaVision your favorite Marvel show so far? Where do you think the story of Agatha will fit into the main MCU? Let us know on our social media, and stay tuned for more!
KEEP READING: DOCTOR STRANGE ACTRESS REFLECTS ON HER CUT SCENE AS STEPHEN'S DEAD SISTER