If you have kids, you probably have heard of the hit book series, Timmy Failure. Written by New York Times best-selling cartoonist, Stephan Pastis, the story follows an eleven-year-old who is building the most amazing investigative empire known to man. However, he can't do it all alone. That's why Timmy has Total, his business partner, who also happens to be a very large polar bear.
Are you intrigued? Want to know more? Lucky for you Disney+ just shared the first official trailer for their upcoming film, Timmy Failure: Mistakes Were Made. Check it out:
Directed by Academy Award winner Tom McCarthy (Spotlight), Timmy Failure: Mistakes Were Made is based on the first book in the hit series. The film adaptation was written by McCarthy and Pastis, the mastermind behind the graphic novels. Joining McCarthy on the production team is Jim Whitaker, who's known for hit kid films such as A Wrinkle in Time and The Odd Life of Timothy Green, along with executive producers Michael Bederman and Kate Churchill.
Timmy Failure: Mistakes Were Made will be screening in the "Kids" section during the Sundance Film Festival at the end of this month. However, you won't need to plan a trip to Utah to see it. Because starting on Friday, February 7th, you will be able to stream it exclusively through Disney+. Mark your calendars because while this movie is geared towards children, it has the makings to be a hit for the whole family.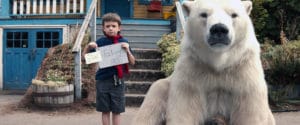 Disney+ had a successful launch into the streaming game towards the end of 2019 and with films like Timmy Failure: Mistakes Were Made kicking off 2020, Disney fans can rest assured that there is great content yet to come. Perhaps, this is the antidote to the recent wave of classic Disney remakes, as fans are always eager for new, original content from the Mouse House.  
Timmy Failure Official Synopsis:
Directed by award-winning filmmaker Tom McCarthy, Disney+'s "Timmy Failure: Mistakes Were Made," based on the best-selling book of the same name, follows the hilarious exploits of our quirky, deadpan hero, Timmy Failure, who, along with his 1,500-pound polar bear partner Total, operates Total Failure Inc., a Portland detective agency. An elementary school oddball, the clueless but confident Timmy (Winslow Fegley) must navigate the world of adults around him, including his overburdened mother (Ophelia Lovibond), her well-meaning boyfriend (Kyle Bornheimer), his teacher/nemesis (Wallace Shawn) and a school-mandated guidance counselor (Craig Robinson), all in his quest to become the best detective in the world.

Directed by Tom McCarthy, who won an Oscar® for his "Spotlight" screenplay, "Timmy Failure: Mistakes Were Made" is written by McCarthy & Stephan Pastis based on the book by Pastis. The producers are Jim Whitaker, p.g.a., and Tom McCarthy, p.g.a., with Michael Bederman and Kate Churchill serving as executive producers. The film stars Winslow Fegley, Ophelia Lovibond, Kyle Bornheimer, Wallace Shawn and Craig Robinson.
Timmy Failure: Mistakes Were Made premieres on February 7th, 2020 on Disney+. What do you think of the new trailer? Let us know in the comment section below!