In the latest news of WWE Superstars being pulled out of matches last minute, Apollo Crews is no longer in the men's Money in the Bank match.
WWE has been putting in an extra effort to showcase Crews in recent weeks. Crews defeated MVP to earn a spot in the men's Money in the Bank match.  
RELATED: THE WWE CAIN VELASQUEZ EXPERIMENT COMES TO A CLOSE
On Raw this week, Crews teamed up with Aleister Black and Rey Mysterio to take on Zelina Vega's team of Andrade, Angel Garza, and Austin Theory. Later that night Crews challenged Andrade for his United States Championship. However, during the match Crews had his knee focused on. This led to a referee stop. Later in the night Crews was seen with ice on his knee and using crutches.
WWE announced Crews is out of the Money in the Bank match because of his knee injury. This is of course the kayfabe reason for his withdrawal from the match.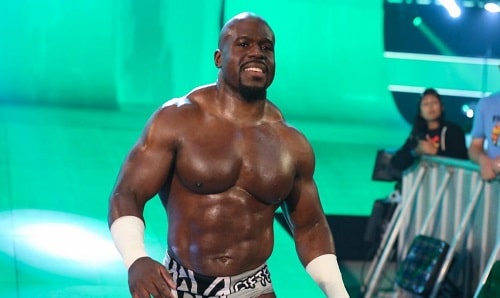 Lineup For The Match Still Looks Strong Without Crews
The men's Money in the Bank match now only has Daniel Bryan, Aleister Black, King Corbin, and Rey Mysterio. On Smackdown this week Otis will wrestle Dolph Ziggler for a spot in the match. This leaves one spot open if they are doing a six man match this year.
RELATED: AJ STYLES "DEVASTATED" BY THE RELEASE OF LUKE GALLOWS AND KARL ANDERSON
All this coronavirus quarantine stuff has led to some real odd matches and decisions when it comes to pro wrestling. Personally, I would love to see Kevin Owens, AJ Styles, or Ricochet, in the Money in the Bank match.
Apollo Crews Didn't Really Belong In The Match
The lineup for the match seems pretty strong, but Crews didn't really belong. I can't see him being in the top-tier title picture. He has gotten a push off and on over the years, but he always falls back down to the wrestling wasteland. Apollo Crews is actually pretty good in the ring, but lacks charisma and lacks the fans to make his push worth it. Personally, I think he should have been released during the recent group of releases, instead of Rusev or Luke Gallows and Karl Anderson.
I would be interested as to why Crews was removed. He doesn't have a reputation of having any kind of attitude backstage. Hopefully something will come to light in the next few days.
The Money in the Bank PPV will be held on Sunday, May 10th, at 7 p.m. EST and 4 p.m. PST. It will be held at the, you guessed it the WWE Performance Center.
What do you think of Apollo Crews being removed from the Money in the Bank match? Who would you like to see be the final entrants into the match? We would love to hear your answers down in the comments and on social media.
KEEP READING: WWE 2K BATTLEGROUNDS IS THE DIFFERENT WRESTLING GAME WE'VE BEEN WAITING FOR
Source: ProWrestling