Popular NXT Superstar Riddle is rumored to be called up to the main roster soon.
With a huge list of WWE and NXT Superstars being released because of budget cutbacks, spots have opened up on the main roster.  A NXT standout is reportedly the next Superstar to get called up according to ProWrestling, via PWInsider's premium Elite section.  If reports are true, Riddle will be joining Smackdown Live.
RELATED: BRAY WYATT DEBUTS NEW PANDEMIC FRIENDLY FIEND MASK
Riddle had success in the UFC, but was fired for violating their wellness policy. He then set his sights on pro wrestling. In 2015 Riddle made his pro wrestling debut and was signed to NXT in 2018.
To describe Riddle's style is like trying to grab lightning with your bare hands. He is a ball of energy and his charisma is overflowing. His in-ring style may most closely resemble Kurt Angle's but with more knees and strikes.
Most recently, Riddle has had success in the NXT Tag Division tagging with Pete Dunne to form the BroserWeights.  The team won the 2020 Dusty Rhodes Tag Team Classic and earned the number one contendership at the tag titles which they won by defeating the Undisputed Era.
The End Of The BroserWeights?
However, because of the coronavirus craziness the team was put on hiatus. Dunne is not able to travel from England during the pandemic. Riddle is currently feuding with Timothy Thatcher and the pair's Steel Cage match just may be the last time we see Riddle on NXT.
Riddle's Call Up Is Overdue
There is no information on when he will be called up to the main roster.  If he doesn't debut by the Smackdown Live after Backlash in June then I'd say his debut will be pushed back to early August at the earliest to set-up a feud for SummerSlam later that month.
RELATED: STARDOM'S HANA KIMURA DEAD AT 22 AFTER ENDURING CYBERBULLIED
According to PWInsider, there were talks of bringing him up as early as WrestleMania in early April, but was ultimately postponed.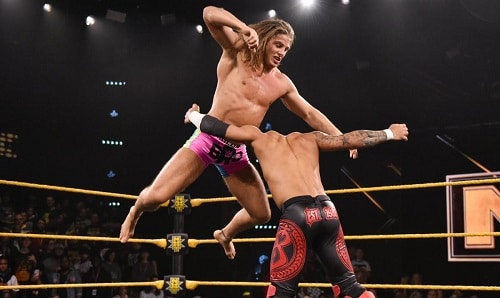 Bro!!! You Need To Spice Things Up
Having all the weekly and PPV's take place at the Performance Center has made the shows very stale and the novelty has worn off long ago.  WWE needs to do something to spice up the shows.  Calling up talent is a good start.  His MMA background makes for some interesting matchups.
A match-up I'd love to see is the King of Strong Style himself Shinsuke Nakamura having a feud with Riddle.  Nakamura never gets to use strong style in the WWE and Riddle is someone who could take it.  Both have fought MMA professionally before entering pro wrestling.  Another Superstar who would have some great matches is Daniel Bryan with a MMA type of wrestling style.
However, the feud I would love to see on the main roster is Brock Lesnar vs Riddle. Again both have a MMA background and Riddle has talked about wanting to wrestle Lesnar and retire him. "Smaller" guys always look really good when they wrestle Lesnar because they can get ragdolled around the ring and look great when they can take a good bump. Riddle has the charisma and the laid-back personality to be the polar opposite of Lesnar's intensity. It would make a pretty entertaining feud.
Do you think Riddle will make a good addition on Smackdown Live?  Is he ready to be called up?  Do you have any Superstars you'd like to see him work with or against?  Let us know by dropping a comment below and on social media.
Sources: PWInsider, ProWrestling