Vince McMahon and Triple H discuss ratings and bouncing back from a ratings drop in the midst of the COVID pandemic, among other things, during their annual shareholder meeting.
RELATED: WWE HALL OF FAMER LITA TALKS ABOUT THE "FUN OPPORTUNITY" TO RETURN TO THE RING
It's no secret that the ratings and viewership for WWE products have dipped in recent years.  WWE has received a lot of criticism regarding the way it chooses to use certain Superstars, including not utilizing certain talented Superstars to their full potential.  Honestly speaking, everything WWE does gets picked apart by fans.
Vince's Plan To Boost Ratings
During the shareholder meeting, Vince went into how he plans to use talent to boost revenue and ratings in the near future.
"We have a 30-plus year track record of creating compelling characters and engaging a variety of audiences, and we obviously remain confident we can continue that with our collective ability, even in the most challenging environments with no live audience.

The media echo system obviously has changed. We change with it. Our engagement metrics across platforms are understandably and obviously, however, the importance of linear programming is paramount in all of our businesses. We consistently have seen year-over-year increases in a variety of digital metrics and engagement. And positive trends have continued, even during COVID.

Conversely, TV viewership trends have been negatively impacted by COVID, obviously, and the lack of a live audience. We are still nonetheless the number-one television show on USA [Network] and consistently the number-one broadcast show on Fridays among key demos.

We expect a combination of valuable promotional inventory from our TV partners with the return of sports events programming. And a deep roster of charismatic talent will have a positive impact on viewership over the long-term," Vince said.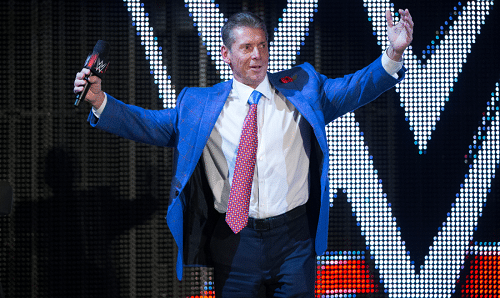 A ratings dip is scary, especially for advertisers and people looking purely at the business and financial side of things.  However, looking at it as a fan, WWE is not going anywhere any time soon.  They are still number one in the ratings even with a dip.
Building New WWE Stars
A key aspect to improving and keeping ratings up is having appealing Superstars.  Building young Superstars who can become major stars in the next few years and keeping that momentum is extremely important.  However, WWE also needs to keep their current big names around so fans have someone to watch each week and each show.
RELATED: NXT STAR ADAM COLE GOES OFF ON PAT MCAFEE DURING INTENSE INTERVIEW
Vince goes into building new talent and the importance of marketing their new stars without having a live audience.
"Sure, I mean you want to continue to build stars no matter what time. It is so, as Paul [Triple H] just mentioned about NXT talent. He has done an extraordinary job of creating new stars, and as they continue to evolve, they'll continue to come up to Raw and Smackdown. So there's this influence of new superstars coming into both Raw and Smackdown and in addition to that, the ways that we now promote talent in a more effective way, [with] digital and social media, as opposed to the normal way.

We do not have a live audience and of course that to us is paramount. They're like the third performer in the ring, in terms of our interaction with our audience. So nonetheless it is a good time to continue with the digital and social imprint and this land grab that we have, which is substantial. We continue that, and again new stars coming up," Vince said.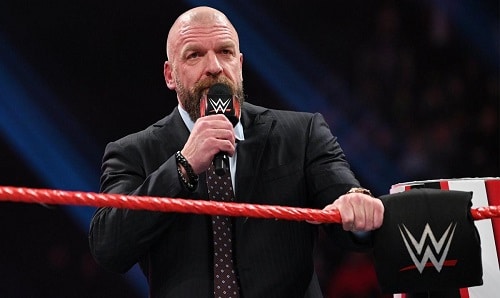 WWE On SiriusXM?
These are not the only interesting questions which were asked during the call. Vince was asked about having a station on SiriusXM. He said it came down to return on investment. If they fit on SiriusXM which Vince believes WWE does then it is something he would be open to pursue.
I don't think it will be live wrestling events over the radio like sports, but WWE does have shows like The Bump which have interviews and discuss WWE. These types of shows would fit very well on a WWE SiriusXM channel. It would be hard to fill all that air time though.
The AEW question was bound to come up. Triple H was asked if AEW is taking up some of WWE's market share.
Triple H On AEW Being A Threat
The AEW question was bound to come up. Triple H was asked if AEW is taking up some of WWE's market share.
"To me, there's a moment in time when you begin something and it's very exciting and it's fresh and there's some interest in it, certainly. But it's a big world. We continue to be focused on our product, continue to be focused on the development of our stars and our performers. And as Vince said earlier, we have a very long track record of doing this incredibly successfully for many, many, many years and we will continue to do so," Triple H said.
The wrestling wars have always been about longevity. WWE is running a marathon and when starting a new promotion it is important to come out of the gate like a bullet, but that pace is hard to keep up. Time is the only thing which can say if AEW is a threat, but WWE is clearly not scared.
Do you think building up new stars is enough to bring the ratings back up? How do you think WWE will do on SiriusXM? Would you subscribe/listen to it? Do you think AEW is still a threat to WWE? Leave those comments below and tell us your thoughts on the current state of WWE.
KEEP READING: AJ STYLES LEFT RAW BECAUSE HE COULDN'T WORK WITH A LIAR
Sources: ProWrestling, Wrestlenomics For Transcription