The manga of the first Super Sentai series, Himitsu Sentai Gorenger, has been announced to be released in English. The manga's license was acquired by Seven Seas Entertainment and will be the first time the Sentai is published in the English language. The title of the manga collection will be called "SUPER SENTAI: Himitsu Sentai Gorenger – The Classic Manga Collection".
RELATED: THE 45TH SEASON OF SUPER SENTAI HAS BEEN REVEALED AS KIKAI SENTAI ZENKAIGER
Power Rangers goes back many years and is nearing its 35th anniversary, however, Super Sentai has existed longer and it all began with Gorenger. This first team has made many reappearances in various Super Sentai shows overtime, but the team has never been adapted into a Power Rangers show. Super Sentai is now nearing its 45th anniversary season, Kikai Sentai Zenkaiger, but now western fans will be able to enjoy the stories of the Sentai that started it all.
Gorenger Comes to the US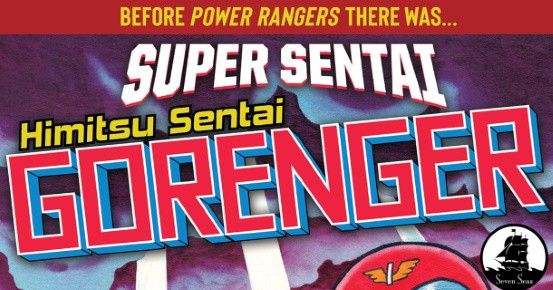 The manga and series were written and illustrated by Shotaro Ishinomori, the creator of Tokusatsu shows such as Super Sentai, Kamen Rider, and others. Ishinomori is a renowned manga artist and became an influential figure in both Tokusatsu, Manga, and also anime. Ishinomori's creations eventually lead to the existence of Power Rangers when it was adapted in America.
In Gorenger, world peace is threatened by the Black Cross Army, an international secret society of evil. In response to stop them, the United Nations create the international peace organization known as EAGLE. However, the Black Cross Army launch a surprise attack against the Japan EAGLE 'block' that wipes out all bases, but five recruits miraculously survive the deadly strike. These five survivors become the secret Squadron known as Gorenger and are the world's best chance against the evil organization. Armed with special battle suits and weapons, they pursue the evil crusaders that killed their comrades and protect the planet.
SUPER SENTAI: Himitsu Sentai Gorenger – The Classic Manga Collection is set for an April 2021 release and has been announced to be $24.99 in the US. If you love Super Sentai and the various seasons, then this is a great item to add to any collection.
Will you be getting this amazing Manga collection? Have you seen Gorenger or wish to have seen it? Let us know in the comments below and follow The Illuminerdi for more Super Sentai and Power Ranger news.
KEEP READING: MIGHTY MORPHIN #1 REVIEW: POWER RANGERS BEGINS A NEW ERA