Some brand new promo art for Thor: Love and Thunder has made its way online, which give us our first look at our hero's new costume, another shot of Valkyrie, and our first look at Jane Foster suited up as the MCU's Mighty Thor. 
From the image, it appears Jane will be wearing a costume and helmet that are nearly identical to the character's look in the comics – a real treat for readers everywhere.
RELATED: THOR 4 PROMO ART GIVES OUR BEST GLIMPSE AT HERO'S NEW LOOK
That being said, Portman is still keeping her natural brunette hair as opposed to turning it blonde for her transformation into the Mighty Thor. Some viewers may miss this detail, but her majestic look can't be denied.
Thor & Friends Promo Art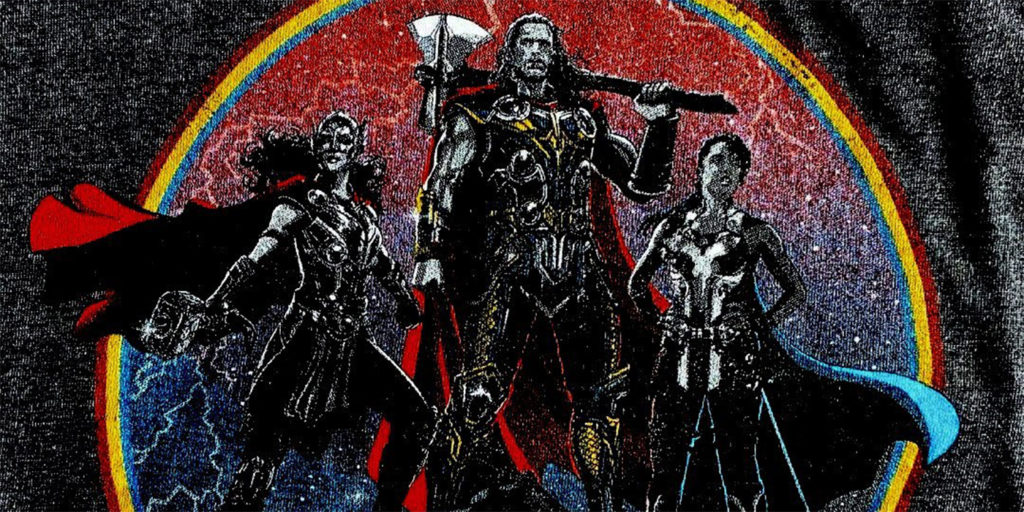 Our main character, Thor, also seems to be getting a new costume – now dressed up in gold and blue. While Valkyrie is also prominently displayed, it's difficult to notice any significant changes from her previous looks.
Wardrobe aside, there is one very intriguing detail in this artwork: Jane wielding the mighty hammer Mjolnir. The iconic weapon once owned by the God of Thunder was destroyed in Thor: Ragnarok, and the one used in Avengers: Endgame was returned to 2014 by Steve Rogers by the end of the film.
So where will the hammer come from? This could be more multiverse hijinks, which seems to be a theme running through Phase 4 of the MCU, or it's also possible that it could be reformed from the shattered remains of the original hammer. That one appears to be on display where Odin died, as revealed in set photos. Only time will tell, but Thor: Love and Thunder is shaping up to be a very exciting entry in the Marvel Cinematic Universe.
Thor: Love and Thunder stars Chris Hemsworth, Natalie Portman, Tessa Thompson, Chris Pratt, Dave Bautista, Karen Gillan, Bradley Cooper, Christian Bale and Taika Waititi and is hitting theaters on May 6th, 2022.
Are you excited for Jane's new look? Let us know in the comments below or over on social media, and check back with The Illuminerdi for the latest MCU news and features.
If you're a fan of the Marvel Cinematic Universe come check out We are Marvel podcast where we discuss all things MCU. Available wherever you listen to podcasts.
KEEP READING: PARK SEO JOON CAST IN CAPTAIN MARVEL 2, THE MARVELS
Source: Comic Book Movie