Digimon Ghost Game will be Simulcast on Crunchyroll alongside the release of the show in Japan. This is fantastic news for Digimon fans as the latest instalment will be accessible on the streaming platform. The latest show from the franchise features new Digimon and characters in a brand-new mystery-orientated story for the Digimon universe.
The new Digimon Ghost Game follows after the Digimon Adventures reboot finished its run after 67 episodes. The Digimon Adventures 2020 was a 20th anniversary creation that allowed a fresh take of the story that first debuted in 1999. There have been various shows that are separate from the events of the Adventure storyline, which have no connection to Tai and the other Digidestined.
RELATED: EXCITING NEW TIDBITS ON THE EVIL SKRULLS IN SECRET INVASION UNEARTHED
However, there hasn't been a series true to the original version since Digimon Data Squad. This is due to shows such as Digimon Fusions and Digimon Universe: Appmon having concepts that differ from the traditional Digivolution lores.
What Goes On In The New Digimon Ghost Game Series?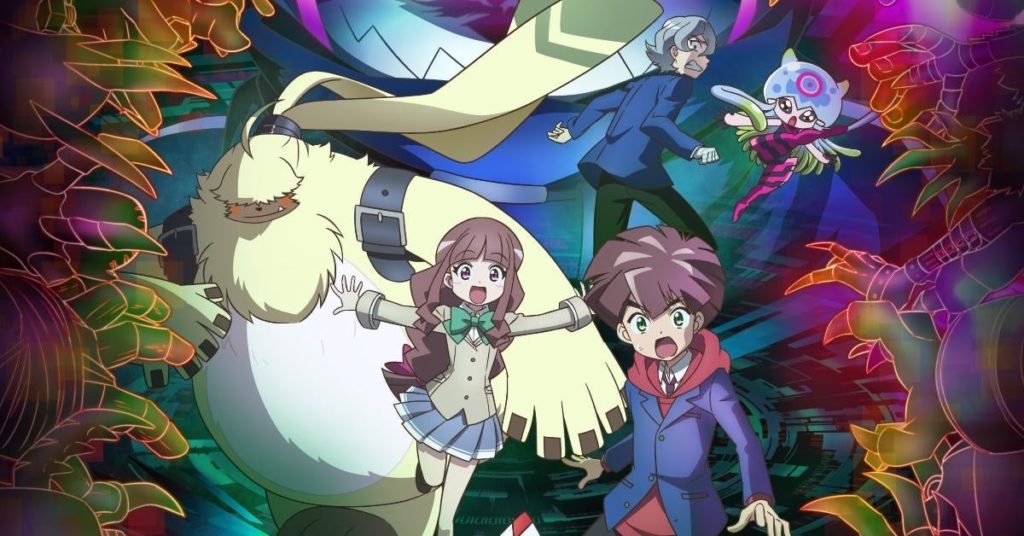 Digimon Ghost Game will start a new adventure that will enter Digimon into a new era. Three new Digimon, along with their Tamers, will be representing this new show. These new Digimon include Gammamon, Angoramon, and Jellymon. Gammamon will be the mascot of the show and clearly has a tricera-based design. Jellymon is a very defined jellyfish Digimon, however, the most interesting Digimon is Angoramon, since this Digimon is based on the Angora Rabbit despite looking like a yeti.
Partnered with these Digimon respectively are Hiro Amanokawa, Ruri Tsukiyono, and Kiyoshiro Higashimitari. The show will mainly follow Hiro as he is the primary character, however, it will be exciting to see their Digital adventure as it happens in the real world, instead of the Digital world.
Digimon Ghost Game Synopsis –

In a little near future when a new technology has developed. On social networking sites, rumors of an unknown strange phenomenon called "hologram ghosts" are flying around. First year junior high school student, Hiro Amanokawa, activates a mysterious device called "Digivice" left by his father. As a result, he is able to see unknown creatures called "Digimon" that are invisible to ordinary people. From the day he met Gammamon, a mischievous Digimon entrusted to him by his father, he becomes involved in a variety of bizarre phenomena.

The "Mouth Sewing Man" who steals human time, the "Mummy Man" who wanders around at night and kidnaps people… The hologram ghosts are right next to us, and they are out to get us. What follows is a story of the other side of the world that no one knows. Together with Gammamon and his friends, Hiro steps into the mysterious world where Digimon live.
The show will also feature a new Digivice that many may have already seen. This is due to the Digimon Vital Bracelet being used as the Digivice of the show, with a new version of the Vital Bracelet, Digivice V, being released with a Gammamon Sim card. As a added bonus, Angoramon and Jellymon will also be getting Dim cards in a future release. Fortunately, the Vital Bracelet is supported for use in the US and now has an English Language option. If you wish to check out the Vital Bracelet, use the following Link.
The all-star Digimon Ghost Game cast and crew list can be seen below:
Hiro Amanokawa – Mustumi Tamura (Sayaka Kanamori in Keep Your Hands Off Eizouken!)
Gammamon – Miyuki Sawashiro (Fujiko Mine in Lupin The Third)
Kiyoshiro Higashimitari – Akira Ishida (Athrun Zala in Mobile Suit Gundam SEED)
Jellymon – Yu Shimamura (Haruka Haruno/Cure Flora in Go! Princess PreCure)
Ruri Tsukiyono – Yu Kobayashi (Sasha Blouse in Attack on Titan)
Angoramon – Kazuya Nakai (Roronoa Zoro in One Piece)
Original Concept – Akiyoshi Hongo
Original Character Design – Tenya Yabuno
Original Digimon Character Design – Kenji Watanabe
Planning Cooperation – Tenya Yabuno, Hiroshi Izawa
Series composition – Masashi Sogo
Series director – Masatoshi Chioka, Masato Mitsuka
Character Design – Mariko Ito
Digimon Character Design – Takeru Shinozuka
Art Director – Mai Ichioka (Bihou)
Art Setting – Toshitaka Amada (Bihou)
Music – Sachi Otani
It will be so exciting to see the first episode of Digimon Ghost Game, as its going to be epic to see a completely new adventure that has never been seen before. It will be curious to see the combat in this series since Digimon Adventures 2020 had more active combat than the original show. For now, the most interesting events will be seeing what 'Digivolutions' the new Digimon will have, but it will be exciting if more Tamers/Digidestined are added.
The first episode of Digimon Ghost Game on Crunchyroll has yet to be announced when it will be available. However, it will likely appear on the streaming platform soon after the first episode goes live in Japan.
What do you think of Digimon Ghost Game? Are you looking forward to seeing the new Digimon? Will you be tempted to get the Vital Bracelet Digivice V? Let us know on social media, and keep following The Illuminerdi for more Digimon hype.