"Filthy" Tom Lawlor discusses recent free agency, if promotions have spoken with him and what he thinks of AEW.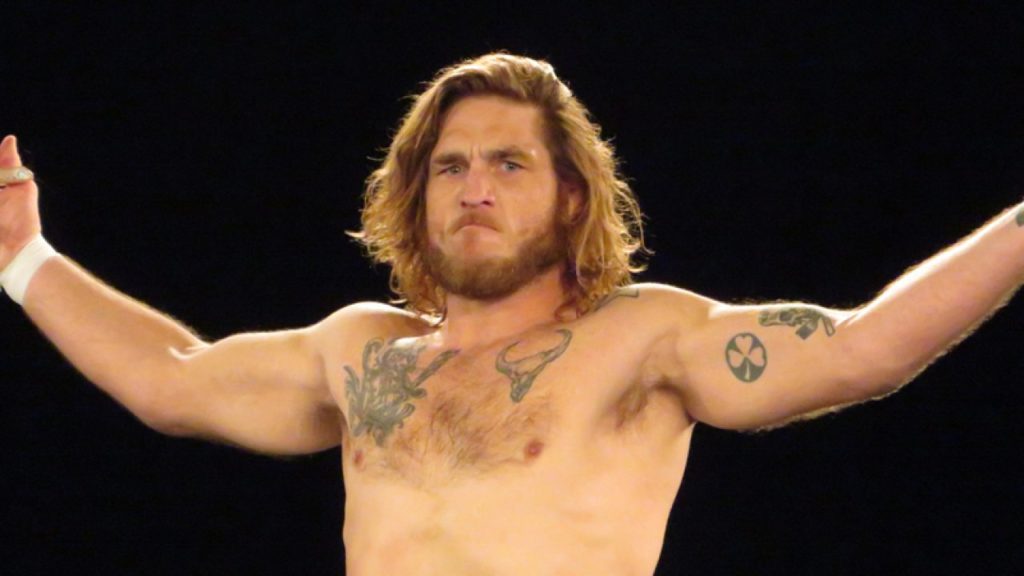 Lawlor recently sat down with The Wrestling Inc. Daily podcast. While on the podcast Lawlor spoke about what it is like being a free agent after working with Major League Wrestling (MLW) for the past four years. However, the big question which every newly released wrestler is asked is if he had spoken to Tony Khan of AEW.
RELATED: BRITT BAKER SPEAKS OUT ON WWE AND ITS INTEREST IN SIGNING HER
"No, not unless unless it was on the DVD VR message board back in the day. I don't remember doing so," Lawlor said. "No, I've had no talks with anybody from that side or the other big one that I'm assuming you're gonna bring up. You're talking about WOW, right?"
'Filthy' Tom Lawlor Isn't The Biggest Name From The Biggest Indie
Lawlor isn't the biggest name in wrestling and MLW isn't the biggest indie in the world so isn't out of the question that AEW hasn't reached out to him. MLW is an indie that is gaining steam and looking at their roster they have some big names who came over from other promotions like IMPACT and Lucha Underground. However, they are not on anyone's radar apart from the most hardcore of wrestling fans.
It is very possible AEW and WWE among other promotions aren't aware Lawlor is a free agent or they could not be familiar with his in-ring work. He may have simply slipped under the radar.
Lawlor is the first-ever NJPW Strong Openweight Champion winning the New Japan Cup USA tournament back in April. He debuted back in NJPW in 2020. He is also a former MLW World Heavyweight champion.
'Filthy' Tom Lawlor's MMA Experience Could Provide A Perfect Spot For Him In AEW
However, even though Lawlor has worked with NJPW and MLW he is most widely known for his MMA career in UFC. He fought for UFC from 2008 to 2018 when he was released from the company.
Because of Lawlor's MMA experience, it would make a lot of sense for him to join ATT (American Top Team) and Men Of The Year if he joins AEW. The whole faction has a ton of MMA stars and it would make perfect sense for him to join it. He was asked what he thought of the idea of joining the faction.
"I don't think they necessarily need me in that angle whatsoever," Lawlor said. "They've got plenty of stars on the ATT side of things. They've got Jorge Masvidal, who's a far bigger star in the world of MMA than I ever was. Paige VanZant, which brings in an entirely different demographic for MMA viewers. Dan Lambert's an awesome mouthpiece. It's not like they need somebody to go out there and talk for them. Junior dos Santos, he was the heavyweight champion in the UFC. It doesn't get much more prestigious than that. He won that huge fight over Cain Velasquez on FOX that had great viewership back in the day. Like I said, I don't think I'm needed for them at all."
RELATED: CODY AND BRANDI RHODES TALK ABOUT IF BIG SIGNINGS LIKE CM PUNK WILL BE INCLUDED ON REALITY SHOW
I agree with Lawlor on that faction not needing him. The MMA side of the faction is full of people who have little to no pro wrestling experience. He has at least four years of experience and it would benefit him to not associate with the faction and separate himself. However, what could happen is having him join The Inner Circle as another counter along with Jake Hager to ATT's influence.
Lawlor was also asked if he has had a chance to watch much AEW and what he thought of the promotion.
"I guess, early on, I wasn't able to watch as much AEW just because of my life schedule, but I found more time recently," Lawlor said. "My kids have grown up. Timing changes a little bit and I found more time to watch the shows and now with Hulu, I can get the West Coast feed live. It's a lot easier to watch it rather than having to watch it later on at night.

So I have caught a lot more of it. For the most part A+. The action's great. The angles aren't insulting, for the most part. I can't think of something. I mean, obviously, there's always gonna be blunders like the explosion with Kingston and Moxley, but I thought they did as good of a job trying to cover that up as they could."
Why Only Questions About AEW?
There were a lot of questions about Lawlor going to AEW. I don't know why he focused so much on that promotion. He has already worked with NJPW and he could continue to work with them or maybe make his way over to IMPACT. WWE is also a big option for him as well. He has another former UFC fighter turned pro wrestler in Matt Riddle. They could even team up and I think they would work pretty well together.
Are you a fan of Lawlor's wrestling career? Where do you think he should end up? Do you think AEW is the best place for him? Whom in pro wrestling would you love to see Lawlor wrestle? Leave a comment below and let us know if you think Lawlor should join or feud with ATT and Men Of The Year.
KEEP READING: AEW'S JON MOXLEY ENTERS AN ALCOHOL TREATMENT PROGRAM
Sources: Wrestling Inc., The Wrestling Inc. Daily, Wrestling Inc.