The Boys level the playing field with brand new, NSF, official trailer for Season 3.
After the actual mind-blowing finale of Season 2, fans have been clamoring for Season 3 of The Boys. Season 2 ended on October 9, 2020. That was over a year and multiple variants ago. The creators and Prime Video did treat us with a little something with The Boys Presents: Diabolical, which was a hilarious and macabre animated anthology series that explored many corners of the show's universes. While it was an absolute pleasure to watch, it only made fans want Season 3 even more. With just about 3 weeks left to go, Prime Video has released an explosive official trailer for Season 3 that is, expectedly, not safe for work.
The Boys Season 3 Official Trailer
Despite the head-popping penultimate episode of Season 2, it ended relatively peacefully. Stormfront was mutilated and taken away, Homelander was put in check, and the team was cleared from any legal issues that prevents them from living their lives. Hughie even interviewed for a government job that he obviously got from the trailer. From the trailer, it looks as if Hughie's job is actually pretty high up. But the issues of uncontrollable supes still linger especially with a stressed and broken Homelander ready to explode at any time. And Butcher seems like he wants the bomb to go off and put an end to this all for good.
RELATED: The Boys Presents: Diabolical Supervising Director Imagines Awkwafina's Areola Smells Like Baby Powder And Gives Season 2 Update: Exclusive
There's a lot to expect this season. The opening of the trailer with Homelander doing a very public and scripted public relations tour does an incredible job of setting the tone. Followed by Butcher covertly still doing his thing. And despite trying to do things the right and legal way, Hughie admits the only way to really do this is Butcher's way. And this time, they'll be able to do it with a serum that gives them the power of supes for 24 hours. It's a lot to take in but only makes viewers want more. So Prime Video also shared some stills of the new season to hype us up even more.
The Boys Season 3 Stills
A-Train gets a new costume, The Deep is back in The 7, and it looks like we're going to get a musical sequence in a mental institution. It's going to be a truly wild season for The Boys. The only downside is that this season will only be 8-episodes long. Which is the same as the first two seasons, but knowing the limit is really the only downside I could find. Also, I guess if you don't like gratuitous gore, but I'm assuming that doesn't bother you if you got this far. But, now is the perfect time to rewatch the first two seasons, pick up the home media version, or watch Diabolocial to prepare for The Boys Season 3
RELATED: The Boys Seasons 1 & 2 Collection Set to Release on Blu-Ray and DVD With Mind-Blowing Extras
The first 3 episodes of Season 3 of The Boys begin streaming exclusively on Prime Video on June 3, 2022, followed by one additional episode each subsequent Friday, and ending with a wicked season finale on Friday, July 8.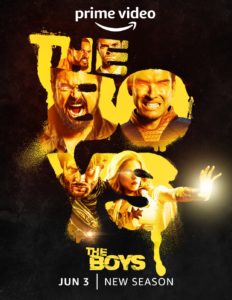 About The Boys
The Boys is a fun and irreverent take on what happens when superheroes—who are as popular as celebrities, as influential as politicians, and as revered as gods—abuse their superpowers rather than use them for good. Intent on stopping the corrupt superheroes, The Boys, a group of vigilantes, continue their heroic quest to expose the truth about The Seven and Vought—the multibillion-dollar conglomerate that manages the superheroes and covers up their dirty secrets. It's the seemingly powerless against the super powerful.

Season Three of The Boys stars Karl Urban, Jack Quaid, Antony Starr, Erin Moriarty, Dominique McElligott, Jessie T. Usher, Laz Alonso, Chace Crawford, Tomer Capone, Karen Fukuhara, Nathan Mitchell, Colby Minifie, Claudia Doumit, and Jensen Ackles.

The Boys is based on The New York Times best-selling comic by Garth Ennis and Darick Robertson, who also serve as executive producers, and developed by executive producer and showrunner Eric Kripke. Seth Rogen, Evan Goldberg, James Weaver, Neal H. Moritz, Pavun Shetty, Phil Sgriccia, Craig Rosenberg, Ken F. Levin, Jason Netter, Paul Grellong, David Reed, Meredith Glynn, and Michaela Starr also serve as executive producers. The Boys is produced by Amazon Studios and Sony Pictures Television Studios, with Kripke Enterprises, Original Film, and Point Grey Pictures.
What do you think of The Boys Season 3 trailer? Do you think anyone besides Butcher will get powers? Is Soldier Boy going to be the end of the Vought? Let us know what you think in the comments below and share your theories with us on Twitter.
Source: Prime Video
KEEP READING: The Boys Presents Diabolical Executive Producer And Supervising Director Breakdown How Animation Can Allow For More Violence, Gore, And Truer Adaptations In The Superhero Genre Than Live-Action