Heroes don't kill, Black Adam does.
Warner Bros. Pictures has just released the official trailer for Dwayne "The Rock" Johnson's, Black Adam. Johnson plays the titular character who he himself has stated, "will shift the balance of power in the DCEU." Black Adam is an iconic member in DC Comics, often a villain, but more often than not in service of himself and to his people, the people of Khandaq. Adam is a king, a god, a force of nature among men, and is set to make his big screen debut on the big screen on October 19, 2022. Watch the world shattering trailer below.
Black Adam Official Trailer
The Black Adam trailer immediately lets audiences know Adam is powerful and not bound by general rules most other heroes abide by. A really interesting aspect of it all is what seems to be a downside/curse Adam's powers have brought to his life as referenced by Pierce Brosnan's character, Dr. Fate. Then the immediate clashing of Adam clarifying he kills despite being told heroes don't really sets the tone. Adam does not entertain "justice" in the "heroic" sense, but he does seem to get the job done.
KEEP READING: The Umbrella Academy Season 3 Release Exhilarating Official Trailer and New Stills
The fact that Adam, being in the sort of "Superman" level of power and not bound to the same codes other heroes. tend to abide by means he will end his enemies. It will result in death. But that doesn't mean a permanent solution. Adam's methods will likely cause blowback and place targets on him and likely cause a chain of events that will inevitably cause a fall out with Adam and those around him. Black Adam could very well bring a new aspect to the super power by making it Adam's saving grace a biggest foil.
Plus, the film looks great. It's still a bit on the darker side, but in this case it makes the vibrant colors truly pop. Get a glimpse of it in the stills below.
Black Adam Stills
RELATED: The Gray Man Clip Highlights Ryan Gosling in a Savage Action Sequence
Aside from the trailer and stills, Johnson has been promoting the film for years. He has countless social posts showcasing his intense training regiment and from the looks of things it is definitely another level. Plus, seeing how and if the film ties to other DC films is always a huge selling point, especially since Black Adam is so closely tied to Shazam, and Adam was subtly referenced in the Shazam! movie. However, we have four months to go, so expect a more trailers, stills, and content about the film to hype up audiences even more until then.
Black Adam smashes his way into theaters around the world on October 19, 2022 and October 21, 2022 in North America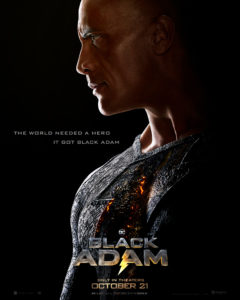 About Black Adam
Release: October 19, 2022 and October 21, 2022 in North America
Director: Jaume Collet-Serra
Story By: Adam Sztykiel and Rory Haines & Sohrab Noshirvani
Screenplay: Adam Sztykiel and Rory Haines & Sohrab Noshirvani
Producers: Beau Flynn, Dwayne Johnson, Hiram Garcia and Dany Garcia, with Richard Brener, Walter Hamada, Dave Neustadter, Chris Pan, Eric McLeod, Geoff Johns and Scott Sheldon
Produced By: New Line Cinema
Cast: Dwayne Johnson, Aldis Hodge, Noah Centineo, Sarah Shahi, Marwan Kenzari, Quintessa Swindell, Bodhi Sabongui, Pierce Brosnan
Based on: characters from DC. Black Adam was created by Bill Parker and C.C. Beck

Description:
Nearly 5,000 years after he was bestowed with the almighty powers of the ancient gods— and imprisoned just as quickly—Black Adam (Johnson) is freed from his earthly tomb, ready to unleash his unique form of justice on the modern world.
What do you think about the Black Adam trailer? Which Justice Society member are you most excited about? Who do you think will cameo in this film? Let us know what you think in the comments below and share your theories with us on Twitter.
Source: Warner Bros. Pictures
KEEP READING: Bullet Train Showcases Badass Off the Rails Action in 2nd Trailer