Inside Job, Netflix's adult-animated series about the secret societies that run the world, reveals the premiere date of Part 2.
Secret societies, conspiracy theories, television… they're all connected in a global effort to control the population. Luckily there are free thinkers who have taken all of that information and put it online for the world to know the truth. And that truth is Inside Job, Part 1 streaming now on Netflix. This brilliant adult-animation comedy exposes the secret societies and conspiracies of the world, as well as those who are responsible for enacting these, sometimes good, but usually evil plots. Of the many societies and conspirators, none are more responsible or more to blame than Reagan Ridley and her father Randy Ridley.
Inside Job | Reagan Goes to Anonymous Anonymous
RELATED: Severance Adds 8 New Stars to Join Hit Series for Season 2
After letting her guard down, only to have her workplace usurped and her life turned upside down by her manipulative father, Reagan has joined Anonymous Anonymous, a support group members of secret societies to support each other… anonymously. That is until Mothman irresponsibly tells everyone to disable their anony-collars. Though it is truly terrible that Sasquatch is referred to as Chewbacca, and Slender Man has mommy issues, it does allow audiences to meet Ron Staedler, Chief Mind Erasing expert for the Illuminati. It also inspires Regan to seek revenge against her father.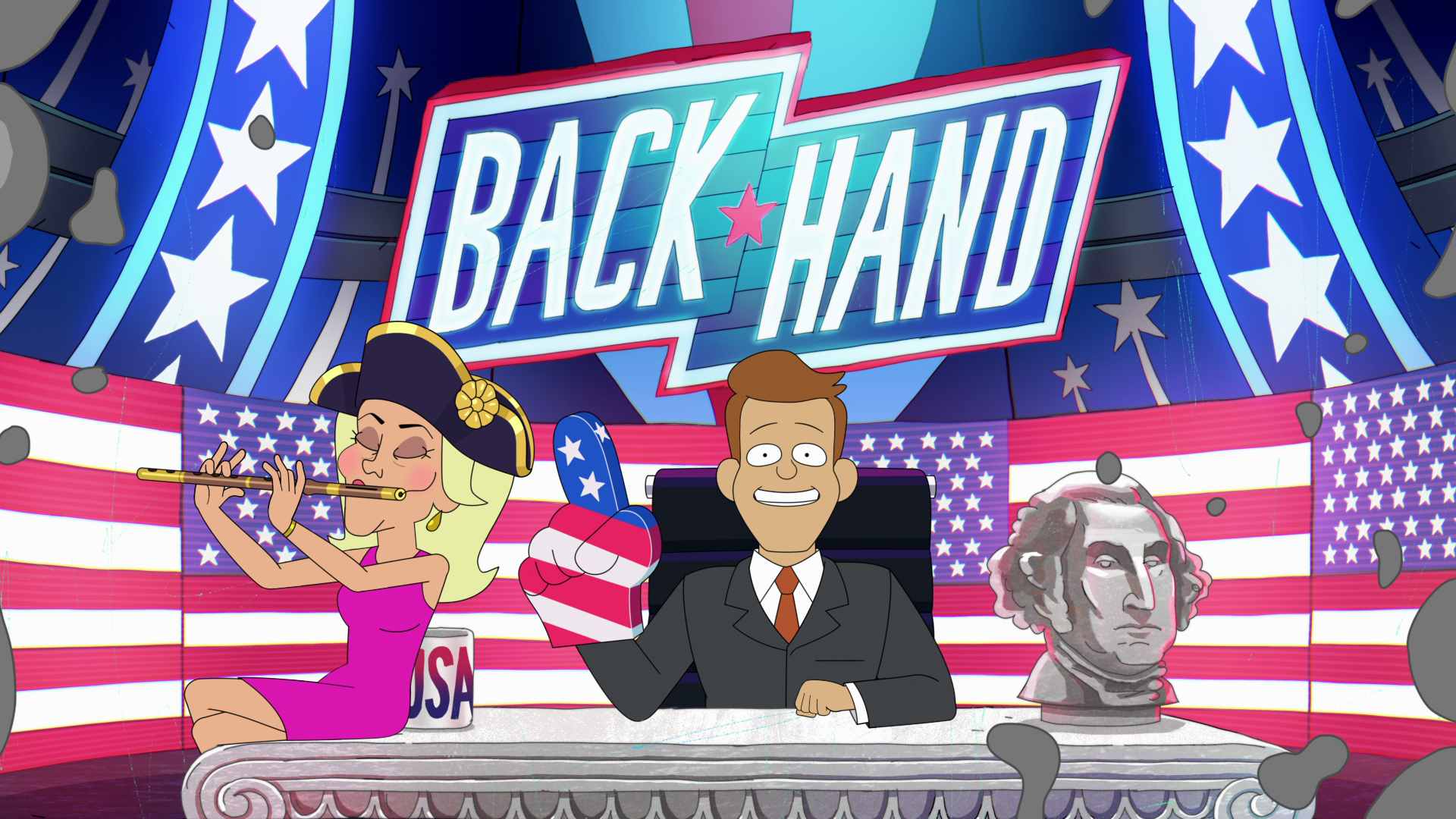 RELATED: The Peripheral Exclusive Interview with T'Nia Miller and JJ Feild
For those who do not recognize the voice, Ron Staedler is voiced by Adam Scott. Scott and Lizzy Caplan have a proven history of comedic chemistry from Party Down and it seems the chance encounter from the Anonymous Anonymous meeting will lead to them interacting more throughout Part 2 of the series. Add in the power-crazy Rand Ridley, voiced by Christian Slater, and the amazing support cast members Clark Duke, Andrew Daly, Bobby Lee, John DiMaggio, and Tisha Campbell, Part 2 of of the series is guaranteed to be as fun and eye-opening as Part 1.
Inside Job Part 2 starts streaming exclusively on Netflix on November 18, 2022.
About Inside Job
Part 2 Premiere Date: November 18, 2022
Created by: Shion Takeuchi, Alex Hirsch
Executive Producers: Shion Takeuchi, Alex Hirsch
Cast: Lizzy Caplan, Christian Slater, Clark Duke, Andrew Daly, Bobby Lee, John DiMaggio, Tisha Campbell, Chris Diamantopoulos, Brett Gelman, and Adam Scott
Synopsis:
Inside Job is an adult animated comedy about the shadow government– and the dysfunctional team whose daily grind is committing the world's conspiracies. From convoluted coverups to secret societies to masked orgy etiquette, navigating office culture at Cognito Inc. can be tricky, especially for anti-social tech genius Reagan Ridley. Even in a workplace filled with reptilian shapeshifters and psychic mushrooms, she's seen as the odd one out for believing the world could be a better place. Reagan thinks she can make a difference, if only she could manage her unhinged, manifesto-writing father, her irresponsible coworkers, and finally snag the promotion she's been dreaming about.
Do you believe the world is run by secret societies? Are you in a secret society? Is Inside Job really an inside look at the secret societies that control the world? If you believe it's possible or safe to do, let us know your thoughts and secrets on Twitter!
KEEP READING: One of Wakanda Forever's Epic Fights Took 4 Months to Shoot