Crunchyroll has announced the US, UK, and Ireland cinema dates for That Time I Got Reincarnated As A Slime The Movie: Scarlet Bond. The movie will continue the story of Rimuru and his companions in a new story arc featuring a new Ogre character named Hiiro. The movie will also include new characters as they make their debut, which fans will finally be able to see at the start of the new year. The release dates were recently announced, along with the latest trailer showcasing the upcoming release with a better preview.
That Time I Got Reincarnated As A Slime will release its first movie, which follows on from the 2nd series of the anime available on Crunchyroll. The latest storyline has also been featured on the mobile game, That Time I Got Reincarnated as a Slime: Isekai Memories, which features a limited-time prequel story event for fans to enjoy and new recruitable characters from the cinematic release. Scarlet Bond has already been released in Japan and now fans around the world can finally watch the movie coming in the first month of 2023.
Crunchyroll finally releasing Slime Movie in US & UK Cinemas 
Crunchyroll has announced that That Time I Got Reincarnated as a Slime the Movie: Scarlet Bond will show in UK and Ireland cinemas from January 18th, 2023, with tickets on sale from January 6th, and United States and Canada on January 20, 2023. The film will be available in both Japanese with English subtitles as well as dubbed in English.
That Time I Got Reincarnated as a Slime the Movie: Scarlet Bond is based on the best-selling light novel, written by Fuse and illustrated by Mitz Vah, and the popular fantasy adventure anime series That Time I Got Reincarnated as a Slime. The series follows Mikami Satoru, an average 37-year-old who dies and is reincarnated as the most unremarkable creature imaginable—a slime.
RELATED: CRUNCHYROLL CONFIRMS A TREMENDOUS NUMBER OF NEW TITLES AT ANIME FRONTIER 2022
Initially, things are pretty grim. He's blind, deaf, and weak. But by combining his two special abilities, "Predator" and "Great Sage," the newly named, Rimuru Tempest, will use his blobby powers to gain both friends and foes alike in a diverse new world. The stand-alone story takes place following the ending of Season 2 of the anime series, currently streaming on Crunchyroll.com. More details about the film will be revealed in the coming months.  
Film Synopsis:

A long-running conspiracy is swirling over a mysterious power wielded by the Queen in Raja, a small country west of Tempest. When a slime who evolved into a Demon Lord named Rimuru Tempest crosses paths with Hiiro, a survivor of the Ogre race, an incredible adventure packed with new characters begins. The power of bonds will be put to the test!

Run time: 110 minutes
The recent arcs regarding the Demon Lords in That Time I Got Reincarnated as a Slime has been thrilling to watch and the movie has been an agonizing wait. The latest release will be so exciting to see especially as Rimuru's evolution has yet to debut his full power. Crunchyroll has blessed fans by starting the new year with the first movie of the franchise and there is a lot of hope that season 3 won't be far behind. To have Slime available in cinemas will truly offer an experience that only the big screen can offer so ensure you find your closest venue as soon as possible.  
RELATED: SWORD ART ONLINE THE MOVIE -PROGRESSIVE- SCHERZO OF DEEP NIGHT RELEASE DATES ANNOUNCED
That Time I Got Reincarnated As A Slime The Movie: Scarlet Bond was released in the United States and Canada on January 20, 2023, plus the UK and Ireland cinemas on January 18th. The Tickets for the UK release will be on sale on January 6th, 2023. The latest movie will also release in Australia on January 19, and in Mexico on January 26, with additional dates for other European and Middle Eastern countries coming soon. For more information, visit the Slime Movie official page using the following link.
What do you think of That Time I Got Reincarnated as a Slime? Are you excited to watch the Scalet Bond Movie? Do you think will be the first of many movies from the franchise? Let us know on social media and keep following The Illuminerdi for more anime news.
About Crunchyroll 
Crunchyroll, LLC is an independently operated joint venture between US-based Sony Pictures Entertainment, and Japan's Aniplex, a subsidiary of Sony Music Entertainment (Japan) Inc., both subsidiaries of Tokyo-based Sony Group.
Films distributed and marketed by Crunchyroll – domestically and internationally – have a proven track record of both box office and critical success. Not only have Crunchyroll films seen box office success but have also been recognised with numerous awards and accolades and have been accepted and screened at international film festivals around the globe.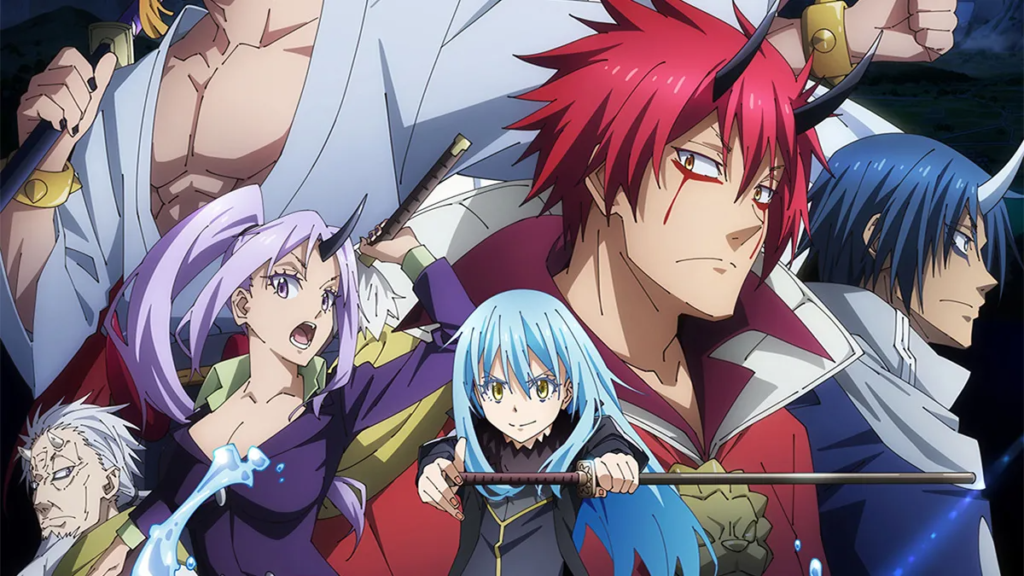 What are your thoughts on this? Will you be checking out That Time I Got Reincarnated As A Slime The Movie: Scarlet Bond when it releases in January? Let us know in the comments below. Also, be sure to follow The Illuminerdi on social media to be notified of more anime news and updates like this in the future.
KEEP READING: CRUNCHYROLL UNVEILS AWESOME ANIME WINTER SLATE
Source: Crunchyroll