It's been roughly four years since fans last experienced the urban fantasy that is Carnival Row. Season one premiered in 2019 and in early 2020, the series was only a few weeks away from finishing season two when the COVID-19 Pandemic hit globally, causing production to come to a halt.
The Illuminerdi was able to get some insight into the filming process with the cast and crew and the challenges they faced while filming the upcoming season.
Picking up where Season One Ended
According to season 2 showrunner Erik Oleson, it was not only important to pick up the story from where season one left off, but also create a new story.
"What we sought to do in season two was to pick up where season one left off, but tell a new story that explore the idea of whether or not we are defined by our DNA or whether we are defined by the actions that we take, the choices that we make and how we behave once we're born and actually get a vote on what we're doing."
Oleson continues in saying that for him, he wanted to make sure that he was spending the resources he had to make something that was meaningful and positive. It was a challenge for the showrunner and those working alongside him but to Oleson, he had to move away from thinking about the challenges and stay focused.
"If I stopped and thought about all of the challenges in advance, I probably would still be curled up in a ball underneath my desk but instead I just dove into it. Like, this is cool. This is cool."
Safety Protocols and New Rules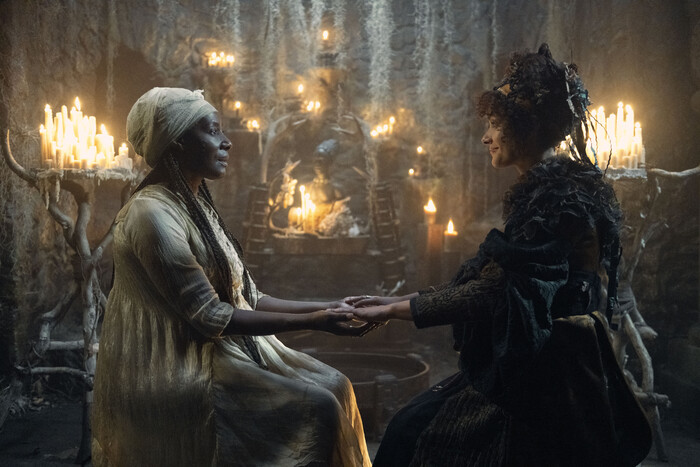 When it came to the COVID-19 protocols that were put in place during the production of season two, Tamzin Merchant who's known for playing Imogen Spurnose in Carnival Row, explains on how the safety protocols were put in place.
"It's been book-ended by COVID and so, there was a bit of a change in protocol and stuff. Who was allowed in where and what. That in itself was a bit of a challenge."
Even with the protocols that were put in place, Merchant says that it was fun since her character was able to experience and understand a whole new world.
"It was fun to play how she kind of grapples with the changes that have happened to her. It was also a big honor and a privilege to be able to go back and shoot with those protocols in place."
Carnival Row Raises The Ante in Season 2
Other than the COVID-19 protocols and the challenges that many faced, there were some upsides. Jay Ali who's a newcomer in Carnival Row as Kaine, spoke about the massive transformation of season two.
"For me, it was just a scale of it. Whenever we did the scenes on the [Carnival] Row, there was hundreds of extras, all in costume and, you know, dressed as fairytale characters. You turn up on set at four o'clock in the morning and there'd be hundreds of people there. The scale of it was unbelievable and straight away, you knew you were doing something very special."
The size of season two has been so massive and surreal for the actors that the story was even more detailed than ever before. For Jamie Harris (Sergeant Dombey), it felt like he was walking into a fuller story. "I know it's a made-up city, but it feels as if there is a history of pain, prostitution, dirtiness and a sort of slavery."
As harsh and difficult the story was, the realism of the environment was something beautiful for Harris.
"If you've done your work, it was so easy to fall into that character because it was depicted so beautifully. Everything has intricate details."
The first two episodes of Season 2 of Carnival Row are out now, streaming exclusively on Amazon Prime with new episodes releasing on Fridays! You can check out the official trailer down below:
So, what do you guys think? Are you a fan of the series? Have you already started watching the new season? Do you have any fan theories? Let us know in the comments or tweet us at @The_Illuminerdi. Don't forget to follow us on all of our socials so you can stay up to date with the latest pop culture news!
KEEP READING: OHSAMA SENTAI KINGOHGER: THE 47TH SENTAI IS ALREADY DAZZLING FANS WITH THE FIRST EPISODE