GKIDS acquire North American distribution rights to Lonely Castle in the Mirror and plans for Summer of 2023 release.
GKIDS, the celebrated producer and distributor of acclaimed and artist-driven animation from around the world, has acquired all North American distribution rights for the Japan Academy Prize-nominated feature film Lonely Castle in the Mirror. The movie, directed by Keiichi Hara, features animation from the acclaimed A-1 Pictures and is adapted from the novel of the same name by Mizuki Tsujimura.
Lonely Castle in the Mirror made its international premiere at the Rotterdam International Film Festival, where it marked the first time a Japanese animated feature was selected for the festival. It also premiered in the United States at the New York International Children's Film Festival, where it was well-received by audiences. The movie was also nominated for the Japan Academy Prize for Animation of the Year and was released domestically in Japan in December 2022.
Lonely Castle in the Mirror Trailer
The film follows a group of teenage outcasts who enter a mysterious door that appears in a mirror, transporting them to an enchanted castle. There, they must face their innermost fears and desires, as they work to find a way out of the castle's maze-like corridors. The movie has been described as a poignant and heartwarming coming-of-age tale that is sure to resonate with audiences of all ages.
RELATED: Digimon Adventures 02: The Beginning Release Revealed for Japan
Lonely Castle in the Mirror is directed by Keiichi Hara, who has previously worked on acclaimed movies like Miss Hokusai, Colorful, and The Wonderland. Hara collaborated with various past collaborators on the project, including screenwriter Miho Maruo, composer Harumi Fuuki, and acclaimed artist Ilya Kuvshinov for visual concept and castle designs. GKIDS handles North American distribution for Keiichi Hara's previous feature films Summer Days with Coo (2007) and Miss Hokusai (2015).
The movie will be released theatrically in North America this summer, in both its original Japanese language and an all-new English dubbed version. GKIDS is well-known for its high-quality English dubs, and fans can expect nothing less for Lonely Castle in the Mirror.
RELATED: Demon Slayer Slashes Into April With Thrilling New Arc Premiering on Crunchyroll
GKIDS' acquisition of Lonely Castle in the Mirror is a significant milestone for the movie, as the company has a proven track record of promoting and distributing critically acclaimed animated movies. The company's focus on artist-driven animation has earned it a reputation as a champion of the art form, and its 15-year history is filled with celebrated films that have captivated audiences around the world.
"We are thrilled to be able to work again with director Keiichi Hara" said GKIDS President David Jesteadt. "His latest film is a deeply emotional story about the private struggles we all go through, and the small yet joyous connections with others that make life worth living. I can't wait for North American audiences to join us on a trip to the Lonely Castle in the Mirror."
The acquisition of Lonely Castle in the Mirror by GKIDS is fantastic news for anime fans in North America. The movie promises to be a poignant and heartwarming coming-of-age tale, filled with beautiful animation and captivating characters. With its reputation for producing and distributing artist-driven animation, GKIDS is the perfect partner to bring this movie to audiences across North America.
Lonely Castle in the Mirror is set to release in North America this summer from GKIDS.
About Lonely Castle In The Mirror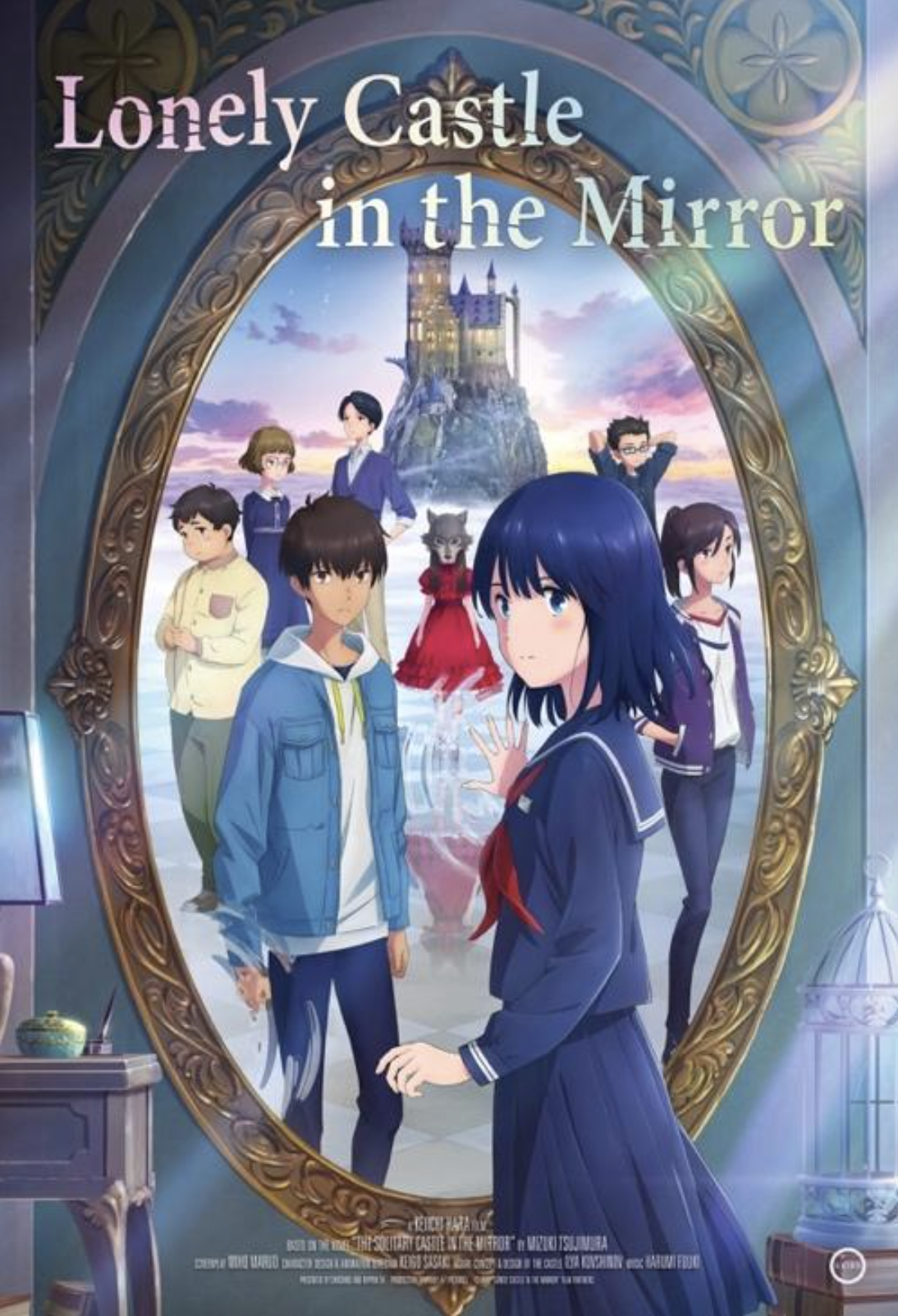 Release Date: Summer 2023 (North America)
Director: Keiichi Hara
Producer: Hirotaka Aragaki, Kei Kishiyama
Script: Miho Maruo
Studio: A-1 Pictures
Music: Harumi Fuuki
Country: Japan
Original Language: Japanese
Runtime: 116 minutes
Japanese Voice Cast: Ami Touma, Takumi Kitamura, Sakura Kiryu, Rihito Itagaki, Naho Yokomizo, Minami Takayama, Yuki Kaji, Mana Ashida
Synopsis
Shy outcast Kokoro has been avoiding school for weeks when she discovers a portal in her bedroom mirror. She reaches through and finds herself transported to an enchanting castle where she is joined by six other students. When a girl in a wolf mask explains that they have been invited to play a game, the teens must work together to uncover the mysterious connection that unites them. However, anyone who breaks the rules will be eaten by a wolf.
Are you excited for Lonely Castle in the Mirror to hit theaters? Will you watch subbed or dubbed? Do you have any dream castings for the dub voices? Let us know on social media!
Source: GKIDS
KEEP READING: Dragon Ball Super: Super Hero Home Media Review – HOW ARE THERE 0 SPECIAL FEATURES?