*Note that the original Japanese-language version was screened for review.*
Suzume comes at a time when animation is consistently labeled as "made for kids," even if animation directors themselves defend the medium as being cinema. Makoto Shinkai's latest should be the final nail in the coffin for anyone who doesn't believe that animation isn't cinema. Suzume is visually stunning and tells an emotionally gripping story with elaborately staged action sequences and a profound emotional core that gives the film the depth it needs to tear your heart into a million pieces.
RELATED: SUZUME: CRUNCHYROLL ANNOUNCES NICHOLE SAKURA AS ENGLISH VOICEOVER
Suzume Has a Unique Story and Staggering Visuals
Unfortunately, the movie's middle section, where a fantasy tale of "worms" exiting open doors from abandoned areas causing earthquakes, turns into a conventional road trip flick. What comes before is amazingly compelling and staggering: Suzume (Nanoka Hara) stumbles upon Sōta (Hokuto Matsumara), looking for an open door in an abandoned area. Wondering why he is looking for that particular object, Suzume follows him and sees a door opening a portal to a place called the Ever-After.
However, worms escape these doors and catalyze multiple earthquakes all over Japan. Sōta is a Closer who travels to Japan to close these doors with a unique key to prevent earthquakes from happening. But while discussing this with Suzume, a cat (!) appears and transforms Sōta into a chair! An exhilarating foot chase ensues between the cat, the chair, and Suzume, where she will now travel through Japan to find the cat and close doors in the process.
That part of the film is incredible, brilliantly developing a world where people with magical powers race against time to stop climate-devastating events from happening. However, these events are multiplying with climate change, and if nothing is done, millions of people could die. The concept is quickly presented, and audiences understand the main threat only shortly after the movie opens.
This allows Shinkai to focus on the characters that populate his film and develop a poignant relationship between Suzume and Sōta, who are usually literal chairs. The fact that Shinkai can draw so much emotional power out of a chair is proof of how good this movie is.
RELATED: CRUNCHYROLL RELEASES NEW SUZUME ENGLISH DUB TRAILER
Suzume's Second Act Isn't As Strong as Its First
After a visually audacious battle in Tokyo, the movie grinds to a halt and morphs into a road trip adventure for the last hour. Unfortunately, it isn't as strong as the movie's first half, even if it picks itself up for a final (final) battle between two worms whose earthquake is about to destroy a significant part of Japan. It also becomes more of a comedy, which isn't bad (since the movie is sometimes hilarious).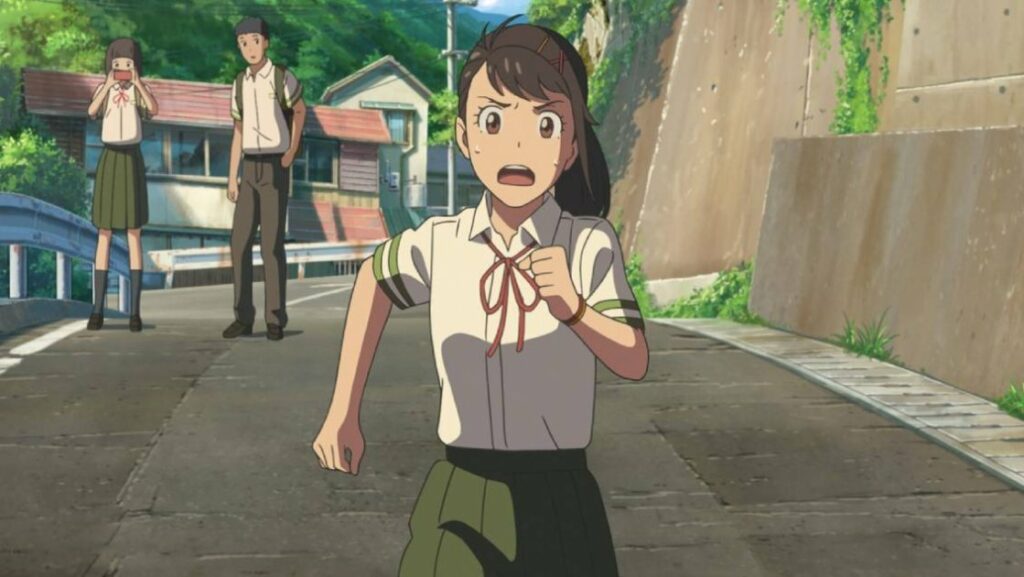 Still, its tonal whiplash doesn't align with the emotional catharsis of the first act and the movie's final moments, where Shinkai always pulls in the heartstrings and shows an ending that even the most attentive audience members did not see coming.
But the film remains a compelling watch: the action scenes are always spectacular on an IMAX screen, the animation is bright and continuously creative, and the voice acting is very strong. The movie's final moments will linger with me for a very long time. Still, Suzume would've greatly benefited from a stronger second act that further developed the relationship between our protagonist, Sōta, and her aunt, Tamaki (Eri Fukatsu).
However, talking about those elements would mean spoiling crucial plot points of a movie you're better off going as blind as a bat as possible. The pleasure of seeing a Shinkai film is not knowing where he will take you next. I was consistently on the edge of my seat for a good chunk of the film, never knowing where Shinkai would transport its audience inside another fully developed and visually arresting world. I cannot wait to see what he does next.
4/5
Suzume is now playing in select theatres. What did you think of the movie? What is your favorite Makoto Shinkai production? Let us know in the comments below, and be sure to follow us on social media!
KEEP READING: ANIMATION IS FILM FESTIVAL REVIEW: ONE PIECE FILM RED IS A MUSICALLY EPIC, ACTION-PACKED, EMOTIONAL THRILL RIDE