Paramount+ and Nickelodeon Studios have whipped up a tasty treat for fans of the iconic '90s feature film Good Burger. The first trailer for Good Burger 2 has been released, and it promises to serve up a hilarious and nostalgic experience. The sequel follows the original characters, Dexter Reed (Kenan Thompson) and cashier Ed (Kel Mitchell), as they reunite at the fast-food restaurant Good Burger with a fresh batch of employees. Good Burger 2 is set to premiere exclusively on Paramount+ later this year.
The Return of a '90s Classic
The original Good Burger sketch first aired on All That in 1994 and quickly became a beloved comedy staple. The feature film was released in 1997, and Kel Mitchell reprised his role as Ed in the All That revival series in 2019.
RELATED: 'Bottoms' Brings a Raunchy Twist to Fight Club… in High School
New Faces and Familiar Flavors
The additional cast members announced for Good Burger 2 include:
Lil Rel Howery as Cecil McNevin, a lawyer for MegaCorp.
Jillian Bell as Katt Boswell, the CEO of MegaCorp.
Kamaia Fairburn as Mia, a cool and confident teen working at Good Burger.
Alex R. Hibbert as Ed2, a mini-me version of Ed and Good Burger's newest trainee.
Fabrizio Guido as Mr. Jensen, a 16-year-old employee struggling to keep his colleagues in line.
Elizabeth Hinkler and Emily Hinkler as Cindy and Mindy, identical twin cooks.
Anabel Graetz as Ruth, the most senior employee at Good Burger.
Original Good Burger cast members, including Josh Server, Lori Beth Denberg, and Carmen Electra, will reprise their roles, with additional celebrity cameos to be announced later. It was a long journey but Kenan and Kel have made the impossible happen.
"I can't believe it's been a little over 25 years since great customer service was born at Good Burger! Being a part of something so many generations of people have come to love has made me so proud and now to be back where it all began working on the sequel is surreal! Love performing with my brother Kel and can't wait to show the fans what these characters have been up to since we last saw them."

-Kenan Thompson, Star and Producer of 'Good Burger 2-
"Ed is one of those timeless characters that has brought so much joy and laughter to fans, and it's such a beautiful blessing to still be doing it after all these years. It's super awesome to come back and continue the stories of Dex, Ed and Good Burger for both the people who grew up watching and their kids."

–Kel Mitchell, Star and Producer of 'Good Burger 2-
RELATED: 'Freelance' – John Cena Takes a New Side Gig That Goes Awesomely Wrong
Good Burger 2 is produced by Kenan Thompson and Kel Mitchell, with Kevin Kopelow & Heath Seifert penning the script. Phil Traill directs, and James III has also been engaged as a writer.
Paramount+ is a direct-to-consumer digital subscription video on-demand and live streaming service, offering a wide range of entertainment, including live sports, news, and original series. Nickelodeon, now in its 44th year, continues to be the number-one entertainment brand for kids.
Ready to Order?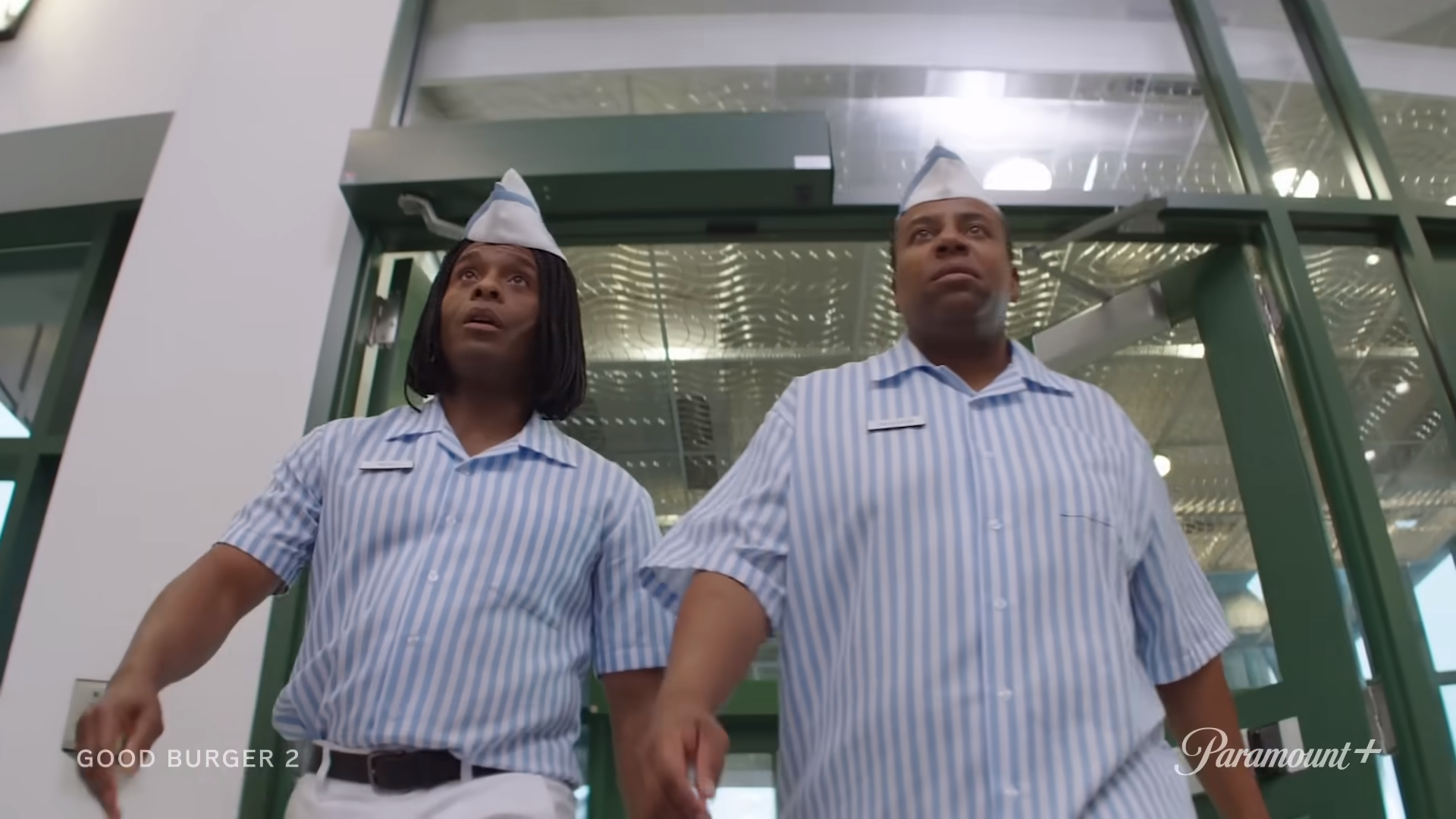 Good Burger 2 is shaping up to be a delightful sequel that will surely satisfy fans of the original film and introduce new audiences to the zany world of Good Burger. With a blend of new characters and familiar faces, this sequel is poised to be a hit when it premieres on Paramount+.
Good Burger 2 will premiere exclusively on Paramount+ this fall.
About Good Burger 2
Release Date: Fall 2023 (November)
Director: Phil Traill
Writers: Kevin Kopelow, Heath Seifert, James Ill
Executive Producers: Kevin Kopelow, Heath Seifert
Producers: Kenan Thompson, Kel Mitchell, Shauna Phelan, Zack Olin, Brittany Cope
Production: Nickelodeon Studios
Distribution: Paramount+
Cast: Kel Mitchell, Kenan Thompson, Josh Server, Lori Beth Denberg, Kamal Fairburn, Lil Rel Howery, Jillian Bell, Gabrizio Guido, Anabel Graetz, Carme Electra, Alex R. Hibbert, Emily and Elizabeth Hinkler

Synopsis
Dexter (Kenan Thompson) and Ed (Kel Mitchell) are back in an all-new movie after more than 25 years! Stream Good Burger 2 exclusively on Paramount+ this fall.
Are you excited to see the return of Good Burger? What are your favorite memories from the original film and sketch? Will you be tuning in to watch Good Burger 2 on Paramount+? Share your thoughts and get ready to relish this delicious comedy with us on social media!
Source: Paramount+
KEEP READING: 'Totally Killer' 1st Look Images of Prime Video and Blumhouse's New Slasher Comedy