Prime Video has just dropped the official trailer for its eagerly awaited Amazon Original series, Gen V. This new series, stemming from the dark and twisted world of The Boys, promises to take viewers on a rollercoaster ride of emotions and action. Set to premiere exclusively on Prime Video across more than 240 countries and territories, the series will kick off with three episodes on Friday, September 29. Subsequent episodes will be released weekly, culminating in a gripping season finale on Friday, November 3.
A Glimpse into Godolkin University
Gen V transports viewers to Godolkin University, an elite institution exclusively for superheroes. Here, young supes are molded into the next wave of heroes, with the hope of securing profitable endorsements. While the world has seen the dark side of superheroes gone rogue in The Boys, Gen V delves into their formative years. Amidst the usual college dilemmas of self-discovery and revelry, these students grapple with the added pressure of their superpowers. As they navigate the treacherous waters of academia and popularity, a sinister plot unfolds within the university's walls. The burning question remains: will these young supes emerge as heroes or villains?
THE WHEEL OF TIME S2 Interview – The Difficulty Of Navigating The Interviews Before the New Season
The series boasts a star-studded cast featuring Jaz Sinclair, Chance Perdomo, Lizze Broadway, Shelley Conn, Maddie Phillips, and many more. Additionally, Gen V will see guest appearances from renowned actors Clancy Brown and Jason Ritter. Fans of The Boys will be thrilled to witness Jessie T. Usher, Colby Minifie, Claudia Doumit, and P.J. Byrne reprising their iconic roles.
The creative minds steering Gen V include showrunners and executive producers Michele Fazekas and Tara Butters. The series also benefits from the expertise of executive producers such as Eric Kripke, Seth Rogen, Evan Goldberg, and others. Produced by Sony Pictures Television and Amazon Studios, the series collaborates with Kripke Enterprises, Point Grey Pictures, and Original Film.
THE WHEEL OF TIME S2 Interview – The Unknown and Essential Work of the Stunt Team That Deserves All the Flowers
More than Just Entertainment
Gen V is set to be a cornerstone of the entertainment offerings available to Prime members, complemented by the convenience of fast, free shipping with every order. Furthermore, fans in the United States can indulge in a plethora of officially licensed merchandise from The Boys franchise, including exclusive Gen V products, available at amazon.com/theboysmerch.
Gen V promises to be a thrilling addition to the Prime Video lineup, expanding the universe of The Boys and offering a fresh perspective on the world of superheroes. With its compelling storyline, dynamic characters, and the promise of unexpected twists, Gen V is poised to be a must-watch this fall.
Gen V premieres exclusively on Prime Video on September 29, 2023.
About Gen V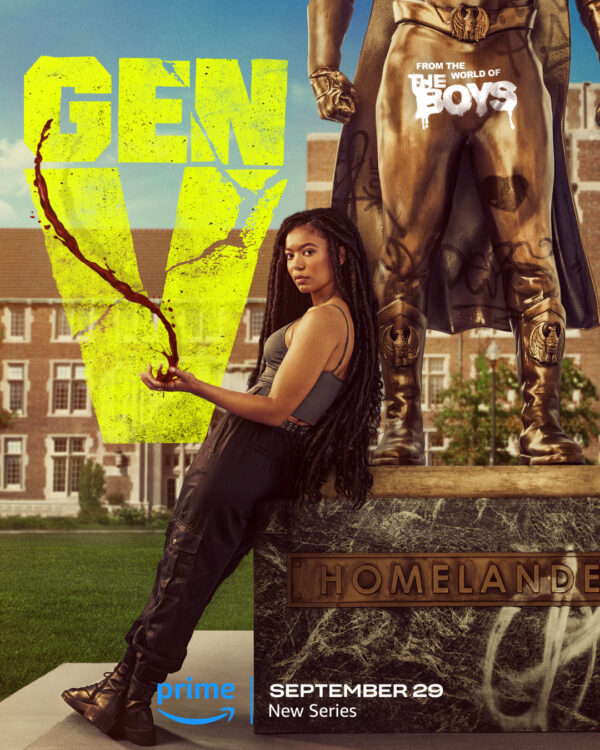 Release: September 29, 2023
Showrunners: Michelle Fazeka & Tara Butters
Executive Producers: Michelle Fazeka, Tara Butters, Eric Kripke, SEth Rogen, Evan Goldberg, James Weaver, Neal H. Moritz, Ori Marmur, Pavun Shetty, Ken Levin, Jason Netter, Garth Ennis, Darick Robertson, Craig Rosenberg, Zak Schwartz, Erica Rosbe, and Michaela Starr
Co-Executive Producer: Brant Engelstein
Produced by: Sony Pictures Television and Amazon Studios, in association with Kripke Enterprises, Point Grey Pictures, and Original Film
Cast: Jaz Sinclair, Chance Perdomo, Lizze Broadway, Shelley Conn, Maddie Phillips, London Thor, Derek Luh, Asa Germann, Patrick Schwarzenegger, Sean Patrick Thomas, and Marco Pigossi

Synopsis
From the world of The Boys comes Gen V, which explores the training of the first generation of superheroes to know about Compound V, and that their powers were injected into them, rather than God-given. These young, competitive heroes put their physical and moral boundaries to the test, competing for the school's highly coveted top ranking. They quickly come to learn that ambition comes with sacrifice, and the difference between right and wrong is not as clear as they once believed. When the university's dark secrets come to light, the students must come to grips with what type of heroes they are going to become.
Are you excited to dive into the world of Gen V? How do you think it will compare to The Boys? Will Godolkin University's students rise to the occasion or fall from grace? Share your thoughts and join the conversation on social media!
Source: Prime Video