Disney is bringing Frozen 2 back to theaters for a special sing-along one-day event.
One of the best things to experience at Disneyland is the Frozen Fun Sing–Along show. Not only does this provide a resting place for parents needing a break and shade, but it's a must-do for Frozen fans of all ages. That's why Disney is making the calculated decision to bring this experience nationwide, with the announcement of the Frozen 2: Special Sing- Along engagement.
It makes perfect sense to keep the Frozen 2 love going by inviting Disney fans to show up and sing out loud. Tickets are on sale now at Fandango. But, you don't have to wait until January 17th, because in the spirit of the special engagement, Disney released the sing-along version of the full "Some Things Never Change" sequence from the film. This song features the whole cast as well as the stylings of the amazing duo, Kristen Anderson-Lopez & Robert Lopez.
The Music of Frozen 2 Revisited
Honestly, there isn't a song that this dazzling duo of song writers has produced for the franchise that I haven't fallen in love with. In fact, two of the best songs, "Home" and "Get This Right," are two songs that never even made it into the second film. Add that to the list of the ever popular songs that DID make the movie; "Into the Unknown," "Show Yourself," "Lost in the Woods," and "Some things Never Change," you have the perfect makings for a sing along.
In Frozen 2, we watch as Elsa, Anna, Olaf, Sven, and Kristoff head beyond the walls of Arendelle to explore the mystery behind Elsa's powers. Along the way, they meet some new friends and dive deeper into their family secrets, leaving Elsa to face a dangerous but remarkable journey.
The movie is directed by Jennifer Lee and Chris Buck and stars Idina Menzel (Uncut Gems), Kristen Bell (The Good Place), Josh Gad (Murder on the Orient Express) and Jonathan Groff (Mindhunter). The Walt Disney Animation Studios' release opened in theaters on November, 22, 2019 and has gone on to be the highest grossing animated movie of all time, with over $1.3 billion dollars in worldwide ticket sales and counting.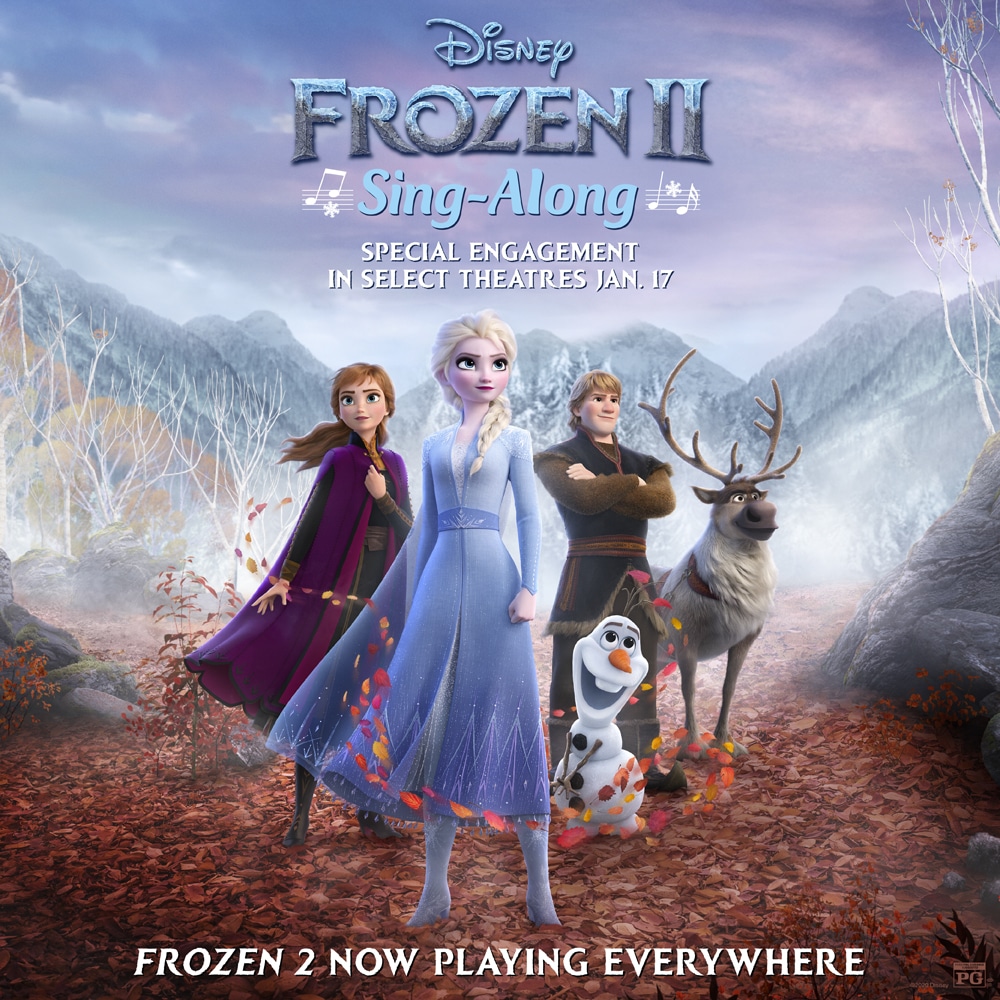 This limited one-day engagement will only be in theaters on January 17th, in selected theaters. In this special event, fans can belt out all the amazing hits from the new movie, along with the crowd and characters on-screen. If you haven't already seen Frozen 2….WHAT ARE YOU WAITING FOR?! Don't forget to buy your tickets early, because if its anything like the movie…its going to be Sold Out.
Source: Disney