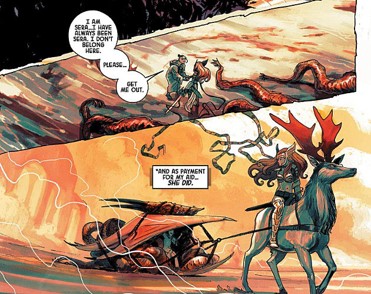 Over the summer, we learned from GWW that Marvel Studios was looking to cast a transgender actor for a future Marvel project. Many have speculated this character would appear in the upcoming Thor sequel Love and Thunder, but The Illuminerdi has come across new information that relates to Loki.
The Illuminerdi has learned that Marvel Studios plans to introduce Sera, Marvel's first transgender character, during the first season of Loki on Disney+. The role is being described as a major supporting character set to appear not only on the series but possibly in future MCU movies as well.
RELATED: CLEA COMING TO DOCTOR STRANGE 2
Sera Expands Asgardian Mythology
Sera is an Anchorite. The Anchorites are a small group of male, wingless Angels who were kept inside a temple in Heven, the Tenth Realm. Sera was the only one of the Anchorites who identified as a woman, thus being the first and, so far, only major trans woman in Marvel comics. She also happens to be in a relationship with the character of Angela who is a daughter of Odin.
The Loki spinoff series will feature Tom Hiddleston as the mercurial Loki and Sophia Di Martino set to co-star as a female incarnation of Loki. Production on the Disney+ Marvel TV Series is expected to begin in the upcoming weeks and more casting announcements should be expected very soon.
Make sure to keep following The Illuminerdi for all the latest MCU updates and developments.