MVP's Raw match with Rey Mysterio was his last according to him, but not the end of MVP.
This year's Royal Rumble had a few former male and female Superstars return for a surprise appearance.  The biggest name for the men was definitely Edge, but he was not the only one. MVP made his return during the Royal Rumble match, decked out in his Black Panther gear.

MVP announced on his Instagram that his match with Rey Mysterio will be his last in WWE.  In the post, he reflected on how his career is coming to an end soon. He never stated he was retired from wrestling, but instead stated his WWE wrestling career is over.  Therefore it is possible we still may see him wrestle a few matches in other promotions, including a possible tenure at AEW. We will just have to keep an eye out for him.
RELATED: CHARLOTTE FLAIR'S RUMORED WRESTLEMANIA OPPONENT

MVP Hopes This Won't Be The End Of His WWE Career
However, the star hopes this won't be the last of him in the WWE. He told Corey Graves on After The Bell that he hopes to transition to a backstage role at WWE.  It's no doubt he hopes to share his extensive wrestling knowledge with the younger Superstars in WWE.
When he made his reappearance, he got a huge pop from the crowd.  However, the man standing in the ring waiting for him to step through the ropes was Brock Lesnar.  MVP gave his best effort, but Lesnar was on a tear and was eliminating everyone. The Superstars who eliminated Lesnar was Ricochet and the man who won the Royal Rumble, Drew Mcintyre. 
MVP has not been seen in the WWE since 2010.  While in the WWE, he won the United States Championship twice and a tag championship with Matt Hardy.  He also feuded with big names like Kane, Chris Benoit and Miz among others.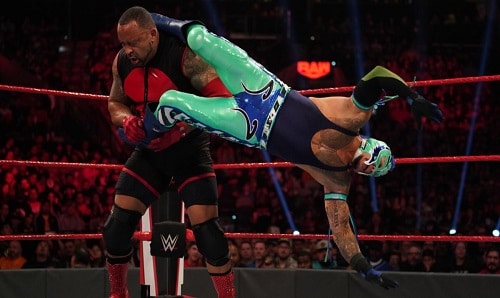 He has also made his way around the other top wrestling promotions including TNA, Impact, ROH and NJPW.  While in NJPW, he won the IWGP Intercontinental Championship via a tournament to become the first person to hold the title.  Also in order to win the title he wrestled and defeated two well-known wrestlers named Kazuchika Okada and Tetsuya Naito.
It seems like wrestling star has accomplished everything he could have hoped to accomplish in WWE, but is there something you have liked to see him do there?  Is there someone else you would like to see MVP wrestle before his retirement? Do you think MVP will be a good backstage mentor for young wrestlers, or do you think he should help at the Performance Center?  Be sure to let us know your thoughts in the comments below and on our social media.

Sources: WWE, After the Bell with Corey Graves