Indie darling Jeff Cobb has made his AEW debut and shaken the foundations of All Elite Wrestling forever.
On this week's AEW Dynamite, Jeff Cobb was revealed to be Chris Jericho's hired assassin.  After Jericho and his posse left Jon Moxley in a battered heap in the middle of the ring, Cobb made his way down the ramp.  As he approached the ring, it was hard to not notice what an absolute beast of a human being he was. Cobb picked up Moxley and gave him a "Tour of The Islands," which is a powerslam that goes in the opposite direction.
RELATED: IS JOHN CENA RETURNING TO BATTLE IN SMACKDOWN LIVE?
And Who Is Jeff Cobb?
The addition of Cobb to AEW is a huge get for them.  Cobb is a former amatuer wrestler who represented Guam in the 2004 Olympic Games before making his wrestling debut in 2009.  However, it wasn't until 2016 that fans really started to take notice of him.  
After a lot of hinting, Lucha Underground revealed that their next big bad, Matanza Cueto, was being played by Cobb. Matanza tore through the competition and showcased his superb strength and suplex skills.  While in Lucha Underground, Matanza went head-to-head with current AEW standouts Rey Fenix and Pentagon Jr. 
RELATED: THE ROCK'S DAUGHTER JOINS WWE PERFORMANCE CENTER HOPING TO JUMPSTART WRESTLING CAREER

Cobb Is No Stranger To High Level Wrestlers Or Titles
Since Lucha Underground Cobb has made his rounds in all the big wrestling organizations including, ROH, Impact, PWG and NJPW. He also wrestled with and against some of the young up-and-coming NXT wrestlers like Matt Riddle, Chris Hero/Kassius Ohno, Kyle O'Reilly and Bobby Fish. However, Cobb also has history with some AEW wrestlers like The Young Bucks, Adam Page and Jack Evans.
Cobb racked up some championships along the way.  While wrestling for PWG he won the PWG World Championship, PWG Tag Championship with Riddle and The 2018 Battle of Los Angeles.  He also won the ROH World Television Championship and of course the Lucha Underground Championship.
RELATED: WWE CONSIDERING MAJOR CHANGES TO ITS SUBSCRIPTION SERVICE

I Eagerly Await More Cobb In My Life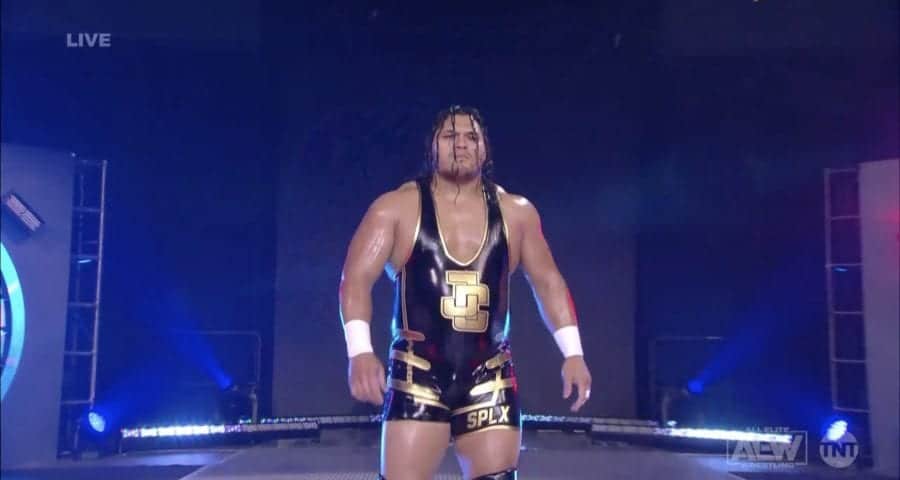 I am looking forward to seeing Cobb in AEW as a fan of suplexes and athletic big men. I am pretty excited. The news of Brian Cage also signing with AEW has me very excited to see these to man-beast meet in a muscle vs strength contest.
Cobb's in-ring skill is undeniable and he has charisma. However, the one thing I am uncertain about is his skills on the mic. Most of my knowledge of Cobb is from Lucha Underground and he didn't speak at all. The good thing is he is part of Jericho's Inner Circle and Jericho is one of the best talkers ever. Cobb just may have Jericho do all his talking for him.
What do you think of Cobb signing with AEW?  Do you think he would do better in WWE reuniting with Riddle?  Who would you like to see Cobb wrestler in AEW besides the Moxley match I'm sure is around the corner?  We want to hear your thoughts on Cobb and what he can bring to AEW.  Leave those comments and hit us up on social media.
Sources: ProWresling, AEW