Samoa Joe suffered an injury during the filming of a commercial and will not be able to wrestle for an unknown amount of time.
According to ProWrestlingSheet, Joe was filming a commercial last week and was injured during the shoot.  The source says Joe hit his head when performing a stunt with a table. The table did not break properly, and it caused Joe to suffer a head injury.
Any more details on the incident are as of yet unconfirmed, but the rumor is Joe will be out of action for a considerable amount of time.

RELATED: WRESTLEMANIA 37 DATE AND LOCATION CONFIRMED
What The Hell Happened To Samoa Joe?
It is not known what he was filming a commercial for, but my guess would be for something WWE related.  We also don't know exactly what the injury is. If the rumors are true and Joe is out for a long time, then it seems to be more than a few stitches.  A mild concussion may have compounded the one he already suffered recently.
The head may also not be the correct term for his area of injury. A neck injury may be more correct and would warrant a longer recovery time.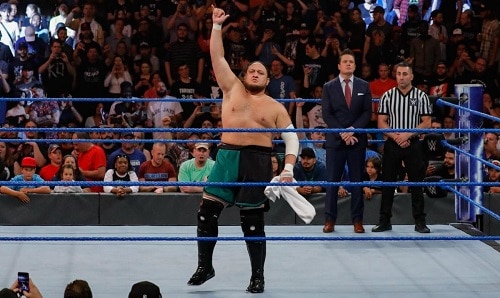 Joe Seems To Be Accident Prone As Of Late
This is not the first injury which has sidelined Joe in the recent past.  Towards the end of last year, Joe returned to Raw after recovering from a broken thumb. Samoa Joe was inserted into the storyline with Kevin Owens and The Viking Raiders vs Seth Rollins, AOP and Buddy Murphy.  However, last month Joe suffered a concussion which kept him from being cleared to wrestle for a little while.
Joe probably thought, "I'll just do a little commercial.  We'll do a simple little table bump and I'll go home." However, Joe instead seriously hurt himself again somehow.
RELATED: UNDERTAKER'S WRESTLEMANIA OPPONENT MAY HAVE LEAKED OUT

We Hope He'll Be Back For WrestleMania
This is scary news for Joe and his fans. An injury which will keep him out of action for a considerable amount of time sounds serious. I am really interested to hear exactly what happened during this commercial and what exactly went wrong. Joe has been around forever and knows how to take all kinds of bumps from different angles safely. I would like to know if it was a perfect angle and force to cause an injury or if it was just gross incompetence with the guy setting up the stunt.
We here all wish Joe the best and a safe and speedy recovery.  Hopefully the considerable amount of time he is rumored to miss is false and we see him back in the ring very soon for a WrestleMania match.

Sources: ProWrestlingSheet, WWE