AEW's roster gets a little bit fuller with the inclusion of 6-foot-8-inch big man, Lance Archer.
The current AEW roster is lacking in the big men department.  It looks like they only have Jake Hager and Luchasaurus.  However, with the addition of Archer the roster will have a third option for battle of the big men matches.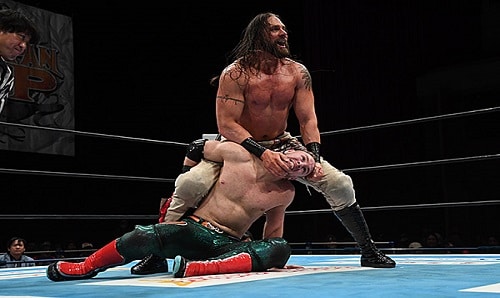 And This Lance Archer Is Who?
Archer has close to 20 years of wrestling experience. He has wrestled in some of the world's top promotions like NJPW, TNA, WWE and soon AEW. On Wednesday AEW released a statement on the signing.
"February 26, 2020 – All Elite Wrestling today announced a multi-year deal with Lance Archer, a global professional wrestling sensation renowned for his brutal, powerhouse moves including the Blackout and EBD Claw.
Archer, a Texas native and former collegiate quarterback, is also known by his menacing monikers – "The Murderhawk Monster" and "The American Psychopath." Standing at 6'8" and weighing in at 260 pounds, Archer's dominating stature and natural athletic prowess have defined his 20-year career.
"I've been in the business for almost half of my life, but with AEW, I'm setting my sights on the best chapter of my career so far," said Lance Archer. "This company champions the creative, competitive and electrifying environment that I've been waiting for my whole career. No matter where I go—no matter who steps in front of me—I'm the one you should be afraid of at AEW."
"Lance Archer is explosive, dynamic and unpredictable, making him perfect for AEW," said Tony Khan, President and CEO of AEW. "He's made his mark in every corner of the world. He's brutal, colorful and will be a factor the minute he steps into the ring."
I'm Not Too Familiar With Archer, But What A Resume
When the news broke Archer only had one thing to say on his Twitter, everybody is apparently going to die. It doesn't sound like a very fun time to be an AEW wrestler who may have to go against Archer.
Just to be honest, I am not at all familiar with Archer.  Usually I have at least heard something about the wrestler, but not with Archer.  The internet is definitely abuzz with this news. It looks like he went to war with Jon Moxley in NJPW. 
If he is able to go toe to toe with Moxley that lends some credibility to him as a wrestler.  He also is a three-time IWGP Heavyweight Tag Team Champion with Davey Boy Smith Jr and a former IWGP United States Champion.  We will see what Archer can do in the next few weeks and if he and Moxley have settled their rivalry. 
What do you think of Archer? Is all this hype worth it or is he all hype? I want to hear from you and tell me what I need to know about Archer. Please be sure to leave your comments below and on social media.
Sources: ProWrestling, All Elite Podcast With Press Release, NJPW,