The Justice League Dark crew is road tripping to Apokolips.
The upcoming movie Justice League Dark: Apokolips War released its trailer on IGN today, and the movie looks to be making a major impact. This animated DC movie will be have an R Rating movie for Bloody Violence, Some Sexual References and Language, joining the ranks of Batman: The Killing Joke and Gotham By Gaslight. The movie is directed by Mark Peters and Christina Sotta, and it will have the largest voice cast in the years that the DC Animated Universe movies have been running.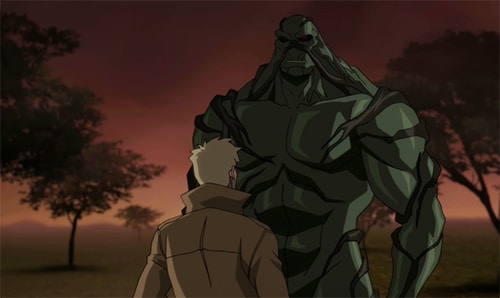 RELATED: JUSTICE LEAGUE DARK APOKOLIPS WAR CAST CONFIRMED
Justice League Dark Lives Up To Its Name
Things from the trailer that are worth noting include the fact that it looks like Superman may or may not lose his powers and end up fighting against the enemy, as he did in the Superman Truth comic storyline from last year.
Another glimpse shows us that Cyborg may become corrupted by Darkseid because of his armor's connection to Apokolips. We also see the Teen Titans and Damian Wayne as perhaps the new leader of the League of Assassins.
Justice League Dark: Apokolips War is set to be released later this year. And while no official date has been made, it is certain to be a grabber. What things are you excited to see in the movie? Make sure you keep with The Illuminerdi for more movie news and DC Universe content.