CM Punk throws out some names which may entice him to unretire from prowrestling.
There has been a lot of bad news in regards to coronavirus and pro wrestling lately. Raw and Smackdown Live have moved to the WWE Performance Center and, in huge news, WrestleMania will also be held there.  However, on the more lighthearted side, Punk is edging closer to a possible return.
On the podcast Swings & Mrs ,Punk talked about what it would take for him to come out of retirement.
"I get that question a lot, and the answer changes. You know, it's a very fluid answer. Currently? If the business was right and I had somebody that motivated me across the ring from me, I think, might be able to get it done. But you know, nobody has dangled the correct carrot," Punk said.
RELATED: WRESTLEMANIA 36 VENUE MOVED TO THE PERFORMANCE CENTER IN RESPONSE TO GLOBAL EMERGENCY
CM Punk And WWE Have Had A Rocky Relationship Recently
In the past it seemed like Punk was over wrestling and didn't have a desire to return to the ring. He never said never ever, but it didn't seem like a likely thing we would ever see. However, in the past few months Punk has seemed to warm up to wrestling again. What is even more interesting is that it seems like a return to a WWE ring is a big possibility.
Six years ago Punk left WWE on extremely bad terms. Punk had less than kind words to say about the WWE doctor and lawsuits were thrown around. He had become extremely fed-up with the way WWE was treating him and other wrestlers and was very vocal about it.
However, in November Punk appeared on Fox's WWE Backstage as an analyst and began a working relationship with WWE again.
Who Can Get CM Punk In The Ring Again?
Punk said he would return to the ring if the right person was across the ring from him. He threw out a couple names which might get him to lace up his boots again.
"Um, as far as people that I've worked with before, I think, you know, if there was like a clean slate, so to speak. And if the money was right, I think a guy like Daniel Bryan I would go, 'I would listen to your idea.' If you said John Cena, I'd probably listen to your idea. Rey Mysterio, I would listen to your idea.

For people I haven't ever wrestled before? I think Will Ospreay, I would listen to your idea. But there's — like, I said, there's a lot of moving parts. But I'm busy doing other stuff. And nobody, I think, has found the right combination of ways to approach me. It's not all up to me, ladies and gentlemen. It's up to the people who actually run the companies," Punk said.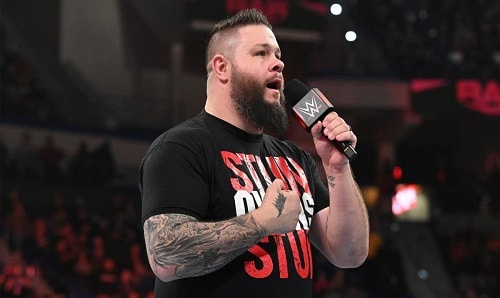 How Other Wrestlers May Match-Up With CM Punk
Those are some big names and names which are with WWE with the exception of Ospreay.
All those names would provide some great matches for Punk. As far as some WWE names I would love to see Punk wrestle I have a few to throw out there. First is an obvious answer from me and that is AJ Styles. I am just such a big fan of his.
The second is the Ricochet and I think that would be a good substitute for Ospreay. Personally I like Ricochet a lot more than Ospreay, but that's just personal preference.
However, my dream match-up would be Punk vs Kevin Owens. The promos they could throw against each other just makes me giddy just thinking about it. It has to be heel Owens and probably heel Punk though. It is just when they are at their best.
Who do you think would be worthy opponents to pull Punk out of retirement?  What do you think about the names he threw out there? Don't let Punk give you the GTS just yet and make sure you drop a comment below and on social media
Sources: 411Mania, Swings & Mrs, WWE