WrestleMania has been split up into a two night wrestling weekend.
Just when wrestling couldn't get any weirder, WWE drops another bombshell on wrestling fans.  The biggest wrestling event of the year, which is usually an extra hour compared to most other WWE PPVs, is always contained to one night.  However, this year it will be split up between Saturday and Sunday, Apr. 4 and Apr. 5.
Two Nights? I Can Barely Handle One Great Night Of WrestleMania
This year's WrestleMania will take place at the WWE Performance Center because of the Coronavirus, as was reported earlier.  However, we don't know why WrestleMania is now being split between Saturday and Sunday. My guess is they don't want too many wrestlers and WWE staff there at one time which is the obvious answer. 
However, NXT Takeover which is almost always the day before the big four WWE PPVs is apparently cancelled, postponed or moved up. This may be WWE filling that spot with wrestling for fans.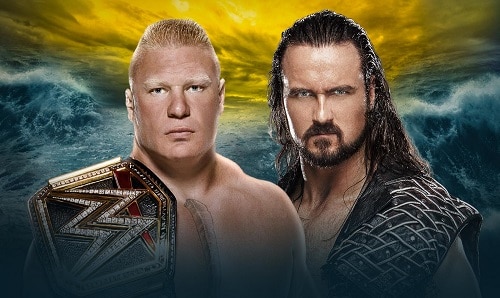 Match Schedule Possibly Listed
ProWrestling has listed which matches will take place on which night.  However, their link to source the information was just the WWE homepage. Despite there being an article from WWE talking about the WrestleMania split, but it doesn't list which matches will be on Saturday or Sunday. 
The WrestleMania match card page lists all the matches that will take place on Saturday and Sunday, except for Kevin Owens vs Seth Rollins which has only Sunday's date listed.  However I think WWE just forgot to change that.  Their listings make sense and will most likely be correct, but this is not verified.
Night One: Apr. 4 will have the WWE Championship match with Brock Lesnar vs Drew McIntyre. Rhea Ripley (c) vs Charlotte Flair for the NXT Women's Championship. The Undertaker will go against. AJ Styles.  Seth Rollins vs Kevin Owens if the listing on WWE's website isn't a typo.
Night Two: Apr. 5 will have the WWE Universal Champion Goldberg vs. Roman Reigns. The Raw Women's Champion Becky Lynch will face NXT destroyer Shayna Baszler.  Finally John Cena for some reason wants to wrestle "The Fiend" Bray Wyatt.
It should also be noted that Edge vs Randy Orton has not been added to the card yet. The match has not been accepted or declined by Orton yet. They got to keep kayfabe alive and such.
I Don't Hate This Idea, But Will Add To The Weirdness
The other big news about the event is that this year's two night WrestleMania will be hosted by Rob Gronkowski.
I don't really mind this two night WrestleMania.  It has its benefits like not being overwhelmed with wrestling.  However, I am very curious about what will happen with NXT Takeover and the Hall of Fame ceremony.  If I were Vince (maybe someday if I say my prayers and eat my vitamins) I would have the HOF ceremony on Friday and postpone Takeover for the following weekend. 
WrestleMania will take place Saturday and Sunday, Apr. 4 and Apr. 5, at 7 p.m. EST and 4 p.m. PST.
What do you think of the two night WrestleMania?  Would you rather have it all in one night?  Let us know in the comments below.
Sources: ProWrestling, WWE