Community's Destiny
The destiny I'm referring to is that of the legendary #sixseasonsandamovie. In the early days of the series, that slogan was thrown around casually by fans and creators, but eventually it evolved into something more. The hashtag became something to hope for, an aspirational dream for fans and cast members alike, and it became that much more important when the series narrowly escaped the jaws of cancellation time and time again.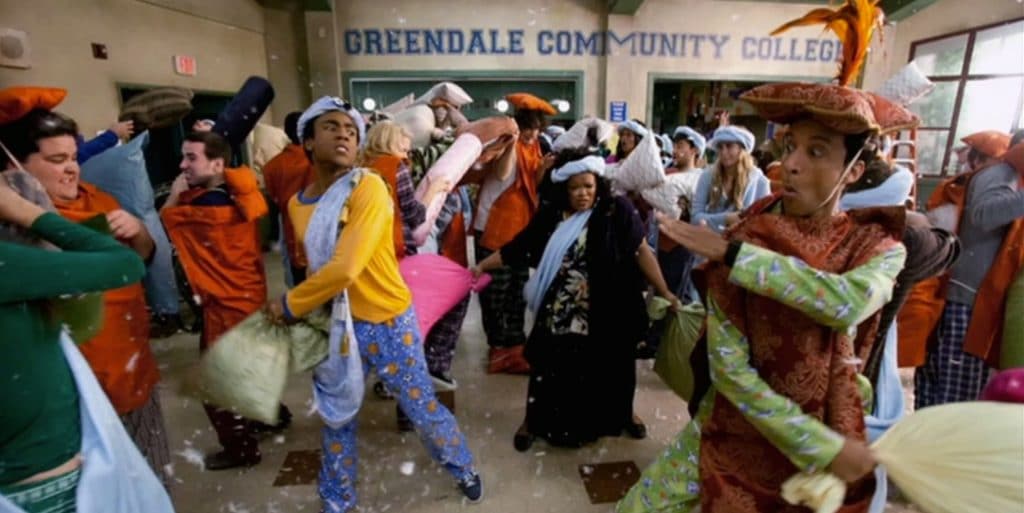 Season six was not picked up by NBC, instead going to the now defunct streaming service known as Yahoo Screen, on the very same day that the cast's contracts would have expired. One half of the prophecy came true, and the series came to a satisfying and heartfelt conclusion in June of 2015. 
Unfortunately, the second half of #sixseasonsandamovie has not come to pass…yet. A Community movie has been teased several times and has long been the dream of fans across the globe, but it simply never materialized. That hasn't stopped fans from dreaming, and if Alison Brie and Joel McHale aren't pulling our chain, those dreams may become a reality someday in the near future. Joel McHale recently spoke to Variety saying:
"There's way more rumblings than there used to be…Alison [Brie] tweeted that she got a phone call from Sony. They still haven't called me, maybe Matthew Lillard will take over. But I would say there's a better chance than there's ever been. … For a long time I was like, 'never gonna happen.' And now I think with the renewed interest, and I know the cast is interested, that it could happen."
The Alison Brie "tweet" he refers to is most likely her exciting response to a fan question in a Reddit AMA thread, pictured below.
While Alison Brie's comments and Joel McHale's subsequent stoking of the flames may ultimately amount to nothing, there's no reason that has to be the case. This is the perfect time for a Community movie, or rather, it would be if it weren't for the COVID-19 epidemic.