WWE has released 30 employees and the number keeps rising including Superstars, trainers and backstage staff. However, one Superstar, Karl Anderson, may have already hinted at where he is going next.
RELATED: MARK HENRY ON BRAUN STROWMAN'S SUCCESS AND HOW HE DISCOVERED THE SUPERSTAR: EXCLUSIVE

To no one's surprise, and least of all my own, the coronavirus has taken another shot at pro-wrestling. Over the last two days, WWE has been forced to release and furlough a lot of people from the company because of pandemic-related budget issues. One of those released was Anderson, who then hinted at a possible new destination for his career.

Karl Anderson's Next Step
On Anderson's Twitter he posted a video of a plane flying from Santa Monica, California to Tokyo, Japan, with Japanese commentary over the flight.
Japan May Be His Second Home, But He Has Options
Karl Anderson was in NJPW for eight years before being signed to WWE in 2016. In 2013, Anderson became a founding member of the Bullet Club and helped to start the Too Sweet craze once again. While in NJPW, Anderson won the IWGP Tag Team Championship four times among other notable accomplishments.
RELATED: DARK SIDE OF THE RING MAY COVER CORONAVIRUS
The clip definitely implies that he is returning to NJPW, but it could be a misdirect. I would be surprised to not see him appear in AEW. A lot of former Bullet Club guys are over there including Kenny Omega, Young Bucks and Hangman Page.
AEW May Be Getting A Lot Of New Talent Soon
However, the most convincing argument for him to go to AEW is that they will be crazy to not hire talent from the WWE released list.  A lot of those guys will show up in AEW and at the top of that list is Anderson and Rusev as well.
I would put money on Karl Anderson showing up in either AEW or NJPW as opposed to ROH or Impact Wrestling. A big question to come out of this news is where will Luke Gallows end up. The pair have been tied together since their time with NJPW, since three of those IWGP Tag Team Championships are with Gallows. They also won two Raw Tag Team Championships. It is hard to think of one without the other at this point.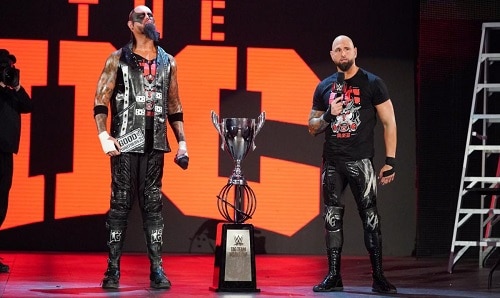 The Garbage Fire Also Known As WWE's Tag Division
The WWE has the worst tag division and because Karl Anderson is a tag guy, he suffered from bad booking. If you aren't the New Day or the Usos, then you have to hope WWE puts you in the third party slot. Right now that slot is occupied by Miz and John Morrison. However, if you aren't in one of those three teams, then you are lucky to wrestle once a month. Luckily for Gallows and Anderson they got teamed up with AJ Styles. Styles has been involved in big feuds lately and just wrestled Undertaker at WrestleMania. They have gotten more TV time in the last few months then they had in their entire WWE run.
RELATED: WWE STAR MARK HENRY KILLED "SILVERBACK" ANGLE BECAUSE OF RACIAL UNDERTONES: EXCLUSIVE
However, AEW has probably the best tag team in the world, The Young Bucks, not to mention The Revival will probably be showing in AEW pretty soon.  I'm not as familiar with the tag division in NJPW, but it can't be as bad as WWE's.  
We Have To Wait At Least 90 Days To See Anderson's New Wrestling Home
We won't have an answer as to where Anderson ends up for a while for two reasons. The first is that with the coronavirus all wrestling promotions probably won't be signing new talent right away. Secondly WWE has a 90-day non-compete clause so none of these wrestlers can wrestle on TV for 90 days. Hopefully wherever Anderson ends up, he will be able to showcase his skills whether that's as a tag or a singles competitor.
RELATED: HOW WRESTLERS ARE OCCUPYING THEIR TIME DURING CORONA LOCKDOWN
Where do you think Karl Anderson will end up? Was there a release you are really sad to see leave WWE? Be a good brother and comment your thoughts below and hit us up on social media.
Sources: ProWrestling, Karl Anderson's Twitter, WWE Released List