Fans of Daniel Suarez and his sci-fi novels rejoice, the movie adaptation of Influx is currently in the works and some notable people are starting to get tapped for the project. Zak Olkewicz (who's a writer for the upcoming Fear Street movie) has been confirmed to be writing the script and David S.F. Wilson (who recently directed Bloodshot) will be taking the lead in directing.
Wilson made his directorial debut with Bloodshot, which was released into theaters March 13, 2020, just a few days shy of when theaters were starting to close all across the country due to the COVID-19 pandemic. Unfortunately, this means there were only a few days in which the public was able to get to the theaters and watch the movie, but audience scores for the film has generally favorable reviews on Rotten Tomatoes.
Thus, it seems that Wilson has been pretty successful with the popular Valiant Comics superhero's first foray into the movie world. And based purely off the sci-fi nature of Bloodshot, Wilson will be well-prepared for the challenge of taking on Influx.
RELATED: MARK RUFFALO'S IDEAS FOR HULK'S INCREDIBLE FUTURE INCLUDE WOLVERINE
What Is Influx About?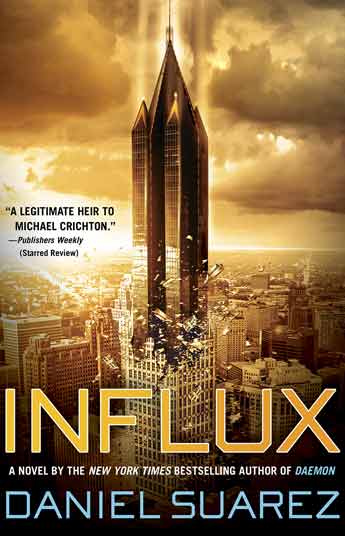 Influx is the fourth sci-fi novel by Daniel Suarez, which came out in February of 2014 and won the Prometheus award in 2015. The story of Influx centers around Jon Grady, a particle physicist who creates a device that reflects gravity. With this new discovery, Grady expects worldwide renown, but instead finds his lab being locked down by an unknown organization whose goal is to prevent social upheaval brought upon by technological advances.
This organization lives in a different future from the rest of society, as they put to use the technology that they've been confiscating over the years. Grady is given the opportunity to join this dark organization to continue his research in secret, but when he resists, is thrown into a high-tech prison full of other technological geniuses.
There's no question that Influx is an exciting story with an interesting premise. What would it be like to fight an organization that's half a century more technologically advanced than that of the world you lived in? The story lends itself to the potential of a great movie, and hopefully any changes that are made will reflect thoughtful planning by both Olkewicz and Wilson. They certainly have a lot of source material to mine from, so it'll be exciting to see what ultimately makes it to the screen.
Are you a fan of Influx, and will you be excited to see it in theaters? Let us know on our social media!