Preparing meals while you stay at home? Marvel's got just the cookbook for you.
With the entire world on hold due to the Coronavirus pandemic, people all over the world are looking for new and exciting ways to pass the time while confined to their homes in quarantine. For Marvel fans, an all-new book has just released that will either make this time inside easier, creep fans out, or both.
RELATED: POWER MORPHICON 2020 OFFICIALLY CANCELED, BUT POWER MORPHICON 2021 ANNOUNCED
Insight Editions has just teased a brand-new cookbook entitled Marvel Eat the Universe: The Cookbook, which is available for pre-order right now in anticipation of a June 28 release. The book is written by culinary superstar Justin Warner, a Food Network regular and the winner of Food Network Star season 8. Warner also hosts his own show for Marvel.com, entitled Eat the Universe, where he comes up with meals inspired by the best of the best in the Marvel comics universe.
Cookbooks The Marvel Way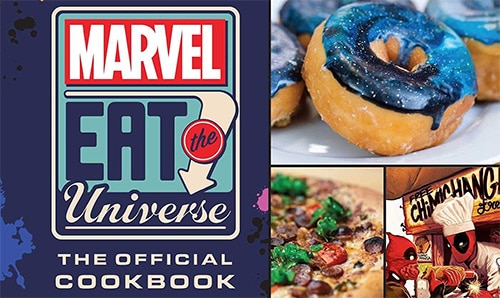 His new book has previewed highlights of two dishes inspired by two of the most iconic Spider-Man villains of all-time. The first of these recipes is, let's just say….visually terrifying.
A vegetarian dish inspired by the anti-hero symbiote Venom is the first dish to make its debut, with the very fitting name of "Venom Pad See Us." Taking inspiration from the Thai dish pad see ew, the noodles gain their black coating from activated charcoal before a 1/4 of a red pepper is added to give the look of Venom's tongue.
Warner obviously has the credibility as a great chef from his work over the years, and he also has a history making different and unique dishes. While this Venom dish could certainly be tasty and delicious, it's a trip to look at. Although, Venom is one of the most singularly unique characters in all of Marvel due to his looks, so this dish may be the perfect counterpart.
The second dish is a tribute to maybe the most popular Spider-Man villain in character's history, the Green Goblin. Taking inspiration from the classic orange bombs, this recipe uses the look of that weapon as the look for pumpkin-filled Green Goblin bombs. Filled with pumpkin, chocolate, gummies, and even more sweetness, these gooey sweets sound like not only a fun dish to make, but a tasty tribute to Norman Osborne's villainous alter-ego.
The two full recipes have been released online before the full edition of Marvel Eat the Universe: The Cookbook releases on June 28.