Daily High Club was kind enough to send us their April El Primo box to take a look at, while it didn't arrive in time for 420, the selection of products included in the box are great for anytime use.
"El Primo" is their top level package, but there are three different levels you can choose from based on your needs. The El Primo level always includes the "essentials", rolling papers or cones, lighters, etc, it also includes a new piece of glass every month, the April box included that Champagne Bottle bubbler you can see in the above video. Their current box for May is 80's themed and is pretty dope. I really do kinda want that brick phone bong.
The "Connoisseur" level is $9.99 a month and includes a variety of just the essentials, no glass. The 3rd and least expensive tier they have is the "All Natural" box, which is only $1 a month. It's a bare bones collection of just the necessities, items like rolling papers, matches, wicks, and filter tips are included.
Daily High Club May 2020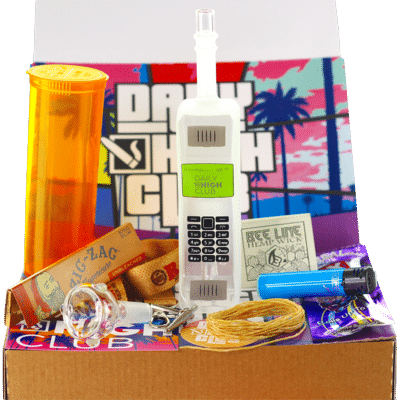 The May El Primo box includes similar items to the April box. Here's the full list of what to expect.
Daily High Club Brick Phone Bong
Premium 14mm Male Glass Bowl
RAW Lanyard + Roach Clip
Zig Zag Rolling Papers King Size
Full Size Neon Clipper Jet Lighter
Royal Blunts XXL 2 Pack Grape Hemp Wraps
XL Airtight Poptop Stash Jar
Beeline Organic Hempwick
Daily High Club Sticker Set
Keep checking back for more product reviews and unboxings. Coming up next we'll be taking a look at the Hydrology9 from Cloudius9 right before we talk about the new episode of Rick and Morty Sunday night on Twitch.