The reveal of Spider-Man: Miles Morales for the PlayStation 5 made headlines recently, as new details continue to emerge about the scope of project.
In yesterday's live-streaming event, Sony debuted footage from their upcoming line-up of games in an effort to build hype for the PS5, One of those blockbuster debut's was Spider-Man: Miles Morales. Immediately following the new game's announcement, fans began to wonder if this will be at true sequel to 2018's Marvel's Spider-Man, or a simple expansion of the original game that was released for the PlayStation 4.
RELATED: THE PLAYSTATION 5 IS FINALLY REVEALED – HERE'S A LOOK AT SOME OF THE HIGHLIGHTS
Today, Insomniac Games attempted to clarify the confusion on their Twitter account:
New Details on Spider-Man: Miles Morales
In the tweet Insomniac assures the game will continue the adventures of Spider-Man within the continuity from the first installment. The new game has been compared to Naughty Dog's spin-off game, Uncharted: The Lost Legacy, which shared elements, graphics and tech, from the fourth installment of Uncharted: A Thief's End.
RELATED: TOM HOLLAND RUMORED TO SHOOT UNCHARTED AND SPIDER-MAN 3 BACK TO BACK
It should also be noted that The Lost Legacy had a significantly shorter runtime than the previous installment as well. Another recent report from Bloomberg confirms that Spider-Man: Miles Morales will follow the same strategy, and will take less time than the original. The first Spider-Man game ran over 40 hours long, not counting any added DLC. What Spider-Man: Miles Morales will have that will differ from Uncharted: The Lost Legacy is that the latter used and was built from PS4 processing power. Spider-Man: Miles Morales will be focusing primarily on Miles, while the improved PS5 technology can't compare to the PS4 game.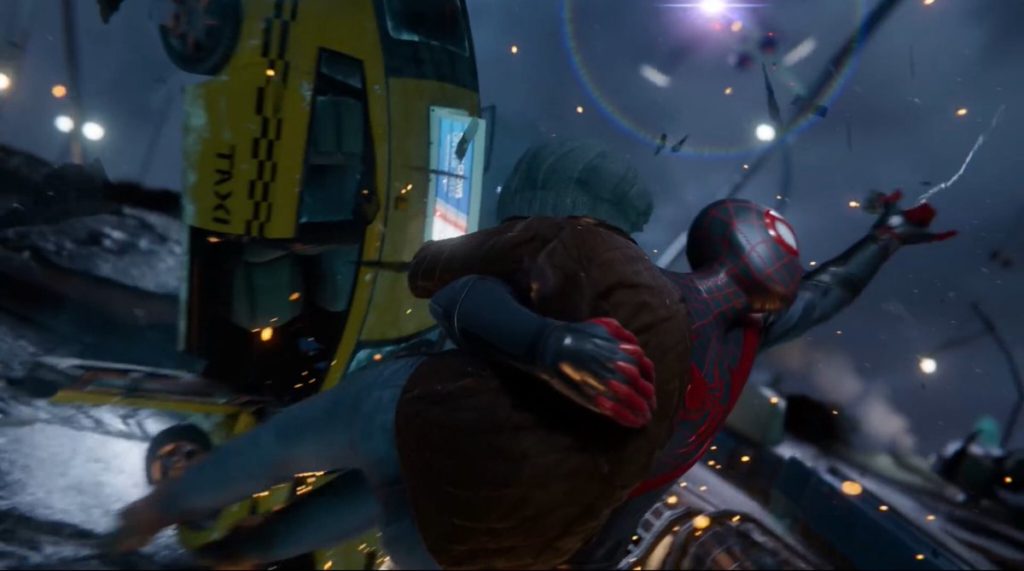 In the Spider-Man: Miles Morales trailer, we can hear the voice of Peter Parker making a speech that seems to pass the baton of city's hero to Miles. Of course with more promised details coming in the future, more answers will reveal themselves on who will be in the game and who will be playable.
What do you think? Are you hyped to play as Miles Morales? Do you want to have both Spider-Man available to play? Check out The Illuminerdi's video coverage on Playstation 5's event and comment below. Make sure you keep your web shooter's full and stay with The Illuminerdi for more news and content!
KEEP READING: WATCH NEW JAW-DROPPING SPIDER-MAN: MILES MORALES GAME TRAILER ANNOUNCED TO RELEASE WITH PS5
Source: The Verge