Greyhound is a brisk and engrossing war epic, a fascinating game of cat and mouse, that highlights the importance of strategy, leadership, and trust, in not only yourself, but in those you surround yourself with.
There are a lot of World War II centric films, and understandably so. It was a conflict that engulfed the planet and the battles won and lost shaped the world we currently live in. You may not get the character arcs and raw emotion of brothers in arms on the battlefield like you do in other war movies, but Greyhound does an exceptional job at displaying how precise war can be. One wrong sonar reading, one misplaced artillery shot could lead to the decimation of your entire unit.
A Movie about Leaders and Decisiveness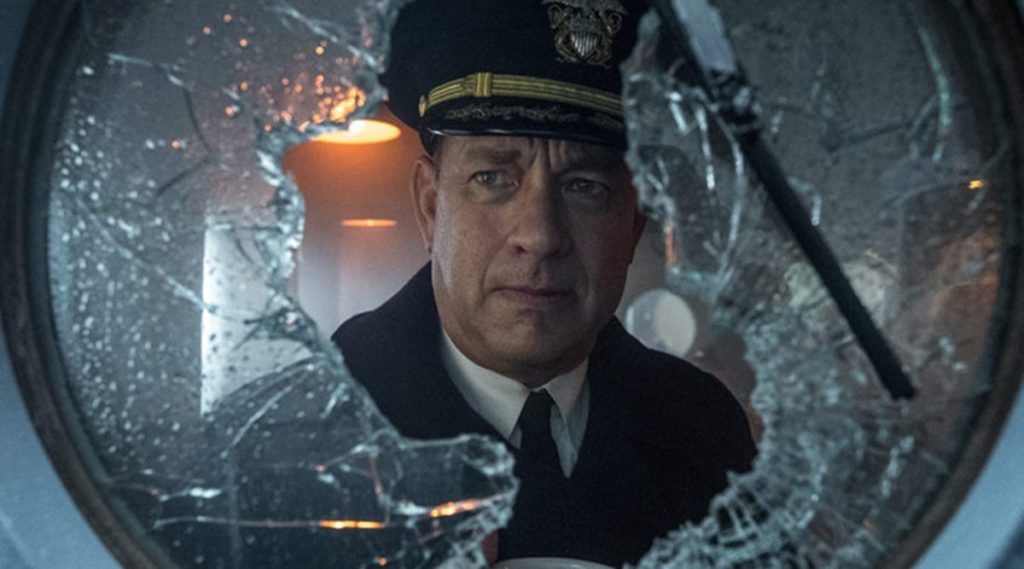 I loved the fluidity of the battles in Greyhound. Everything from the relay of information to command to maneuvering the destroyer for the most effective shot on U-boat lurking beneath the deep – each calculation and decision needed extreme precision. A war film entirely on the high seas was also a fresh change of pace from what we usually get produced from this era in history.
RELATED: WATCH THE NEW TRAILER FOR THE ONE AND ONLY IVAN COMING TO DISNEY PLUS
While we don't spend too much time focusing on our characters, it is clear that Hanks' Cmdr. Krause is a man of faith who holds all the men that serve under him in great esteem. All the way down to the messmates onboard. The movie makes a point to show the way his crew address him, and the camera often holds on their gaze as they await his orders. Their eyes tell stories of respect, admiration, and trust in their commander. Krause is a man who will do what must be done to preserve the life of every man onboard – and the movie doesn't dawdle its 90-minute runtime to get that point across.
Final Thoughts
At times the effects are a tad suspect, but the real time progression of the battles make up for the lapses in CG. Greyhound benefits from a smaller scaled story and with Tom Hanks at the helm, this movie is smooth seas for war film aficionados, and is a very pleasant surprise.
"U.S. Navy Cmdr. Ernest Krause (Tom Hanks) is assigned to lead an Allied convoy across the Atlantic during World War II. His convoy, however, is pursued by German U-boats. Although this is Krause's first wartime mission, he finds himself embroiled in what would come to be known as the longest, largest and most complex naval battle in history: The Battle of the Atlantic."
Did you check out Greyhound over the weekend? What did you think? Comment your opinions below